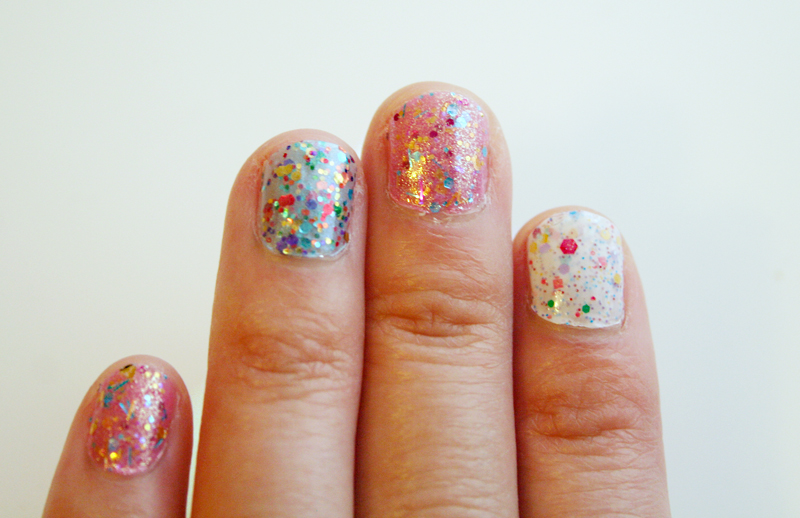 In my search to find a readymade, awesome looking Jawbreaker nail polish, I came across Hard Candy by PrettyPolishnThings.  I know there is also a polish actually called Jawbreaker by Pretty & Polished (these company names are a bit similar eh…?), but from looking at swatches, I wanted my glitter to come out a bit brighter and less milky.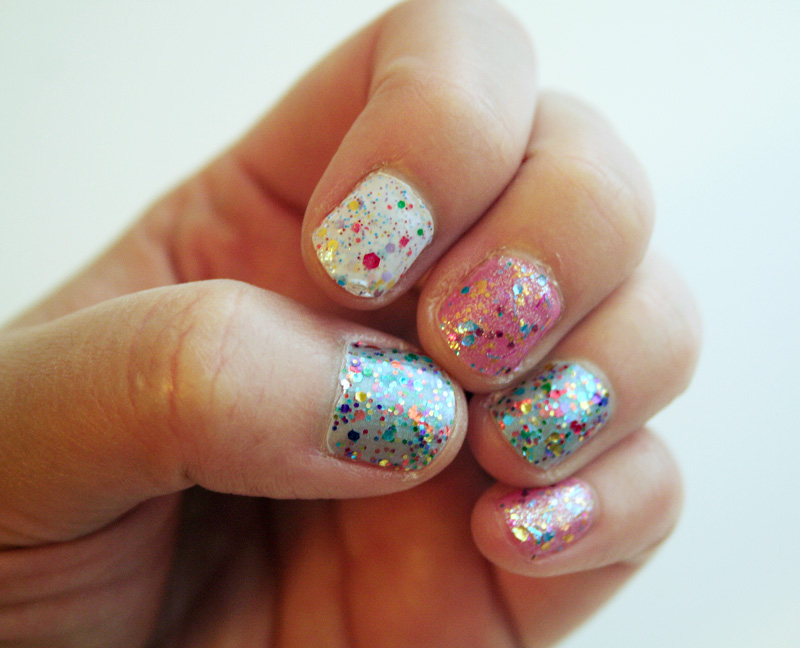 If you click on the Etsy listing for Hard Candy, I would say that the first/main photo is a bit misleading and the other photos are more realistic, as far as how milky the glitter goes underneath the white polish. This was about 3 coats. I liked the result, and it reminded me of marshmallow cereal in milk, but it seemed a bit difficult for me catch the bigger glitter on my brush. Perhaps more aggressive shaking is necessary!
The blue and pink polishes (also 3 coats) are GLITTER PACKED. They are both by Rainbow Honey from the Equestria collection. Blue = 20% Cooler. Pink = Pinkie Promise.  I was really impressed with the density of glitter in both bottles, plus I really like that Rainbow Honey offers mini bottles if you just want to try a color. I wish the site would show swatches on nails, though. That would be cool! The blue in 20% Cooler isn't quite as BLUE as I'd hoped from the photo on their site, but I guess that's what keeps the glitter so … glittery. Next time I might do a base layer of blue or white underneath first.
All in all, I am feeling very glitter-tastic, and I do not look forward to having to remove the glitter crust from my nails!