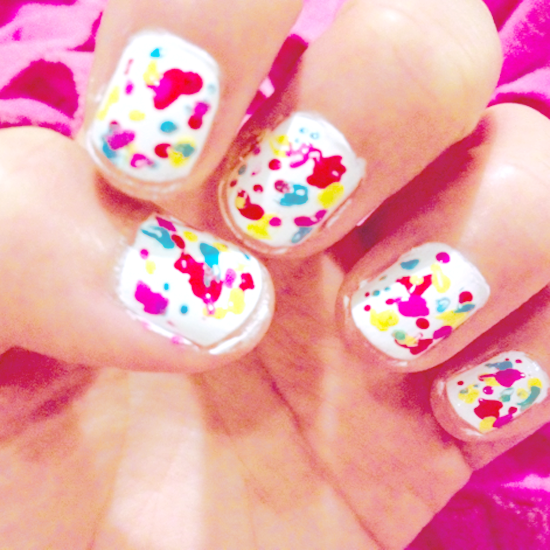 After giving Bibi a bath, I decided to paint my nailz! I'd been wanting to try a jawbreaker-inspired mani. If I did this again, I would use fewer flecks of color and leave out the pink. Sorry these are horrible phone cam pics, and sorry I didn't clean up the messy nail polish yet! I am going to L.A. tomorrow for 24 hours just to see the Sweet Tooth show, and I haven't really packed or prepared yet and it's 2am!  I also JUST realized that I accidentally booked a SMOKING room and they are already out of non-smoking! Crossing my fingers that when I arrive there, there might be a cancelation or something…
Okay back to the nails! This mani is super duper easy peasy. A couple coats of white for the background. Red, yellow, and blue polish. A couple toothpicks. And you're set!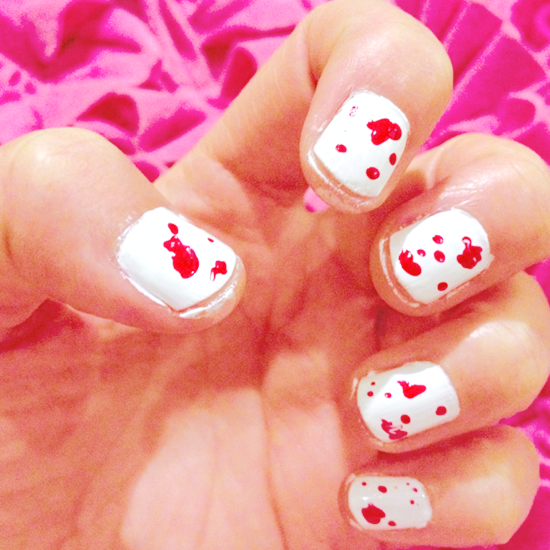 Just dip your toothpick into a color and then tap and drag it in dots all over your nails, some big, some small. The messier the better, I think!  You don't even have to wait for the first color to dry because even if the colors mix a little, it's ok! As easy as this is, my right hand still looks a thousand times crappier than my left hand. Oh well!
Enjoy! I do know there are glitter polishes out there that are meant to resemble jawbreakers as well. After picking through some images online, I ordered two! We'll see how it compares!
Don't forget to come say hi at Backside in Echo Park tomorrow for the Sweet Tooth show 🙂 8pm! Please forgive me if I smell like a thousand cigarettes :(.