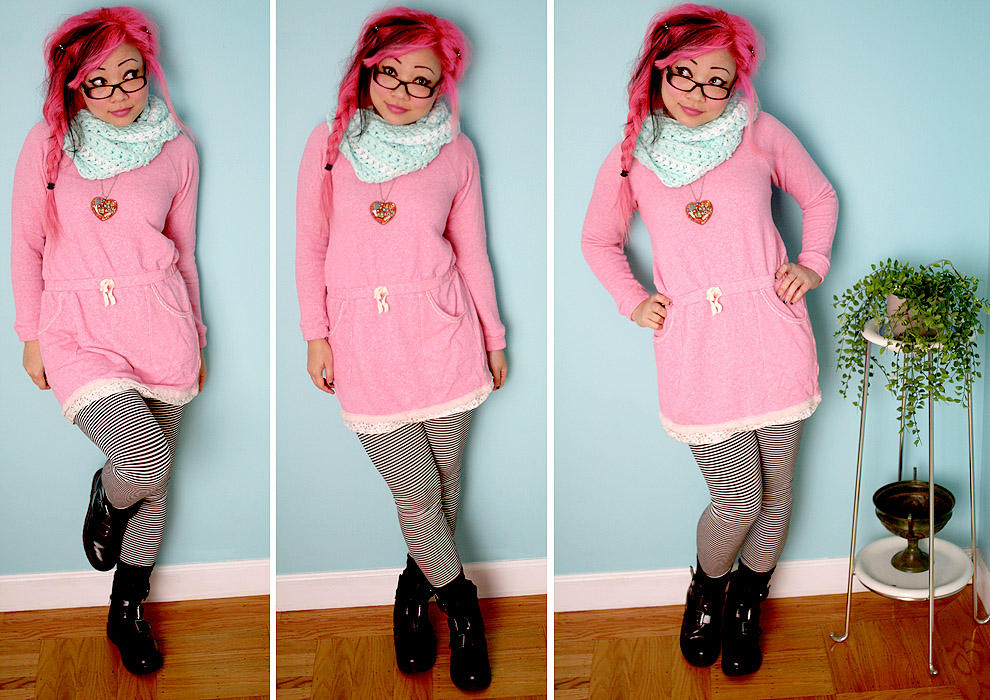 I woke up today wanting to feel 100%c comfy and cozy! So I threw on this sweatshirt dress that I bought from the girls department at Target. I can SOMETIMES fit into the XL there, but I always test first if my arms will fit in the arm holes. This one was a winner.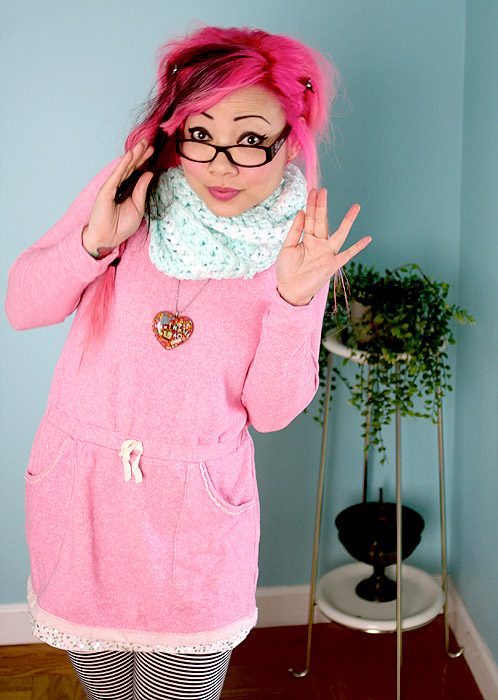 This photo was sort of an accident. I wasn't quite ready for the timer to go off on my camera, and I sort of spazzed and lept in front of the camera and did THIS. You can see me holding my remote button thingie. Oddly, it's the only sort-of close-up that I got before my camera ran out of juice!
It's hard to see here, but there's a sequin detail at the bottom of the dress. Very sweet! The sequins are kinda scratchy, though, so just don't touch that part of the dress or wear it inside out ….haha.
The cowl I'm wearing is from one of my wonderful blog sponsors this month: the Pink Samurai. Her shop is full of all kinds of colorful cozies, and you can also win one of her cowls in my current giveaway.
I love outfits that feel like pajamas. Okay, so this one really does kinda look like pajamas, but I still felt cute while running around to the post office and to ImagiKnit. I also met up with Australian blogger/crafter  Ruby Velour and her man at the tail end of their U.S. vacation! We had chowder in bread bowls, watched the sea lions at Pier 39 hoot and howl into the night, and had a nice coffee and pie at the Grove. A very productive and relaxing and nice day!
Dear iPhone flash: you're fired.
Dress: Cherokee Girls from Target, Leggings: Uniqlo, Boots: Forever21, Necklace: AthinaLaBella, Coat: from Macy's a few years ago and needs to be retired because it looks like a 50 year old stuffed animal.