Hi Gang!!!
It's the 15th of the month, so it's time to launch a new blog sponsor giveaway! Thanks so much to my generous sponsors for offering us these wonderful goodies! One lucky winner will receive:
1. A Grey Ombre Wimberley Cowl from the Pink Samurai
2. 1 free copy of a Very Merry Advent e-book by Heidi Kenney/My Paper Crane and Amanda Kreuger
3. Double Triangle Necklace from Art School Dropout
4. Sad Cookie wooden brooch and Happy Cookie polymer stamp, plus some extra badges and postcards, from Asking For Trouble.
5. Super cute candy and cookies necklace from Glamasaurus
6. Four PDF crochet patterns of your choice from Baca Creations (Salena is also the founder of Design Wars Challenge)
7. A 20 euro ($27 USD) gift certificate to PetitsPixels Etsy shop
8.  A $25 prize pack including: Bobby Pin Set $12/Pretzel Earring $5/Rad Dudes Cards $5/Ice Cream Puppet $3 – from Pygmy Hippo Shoppe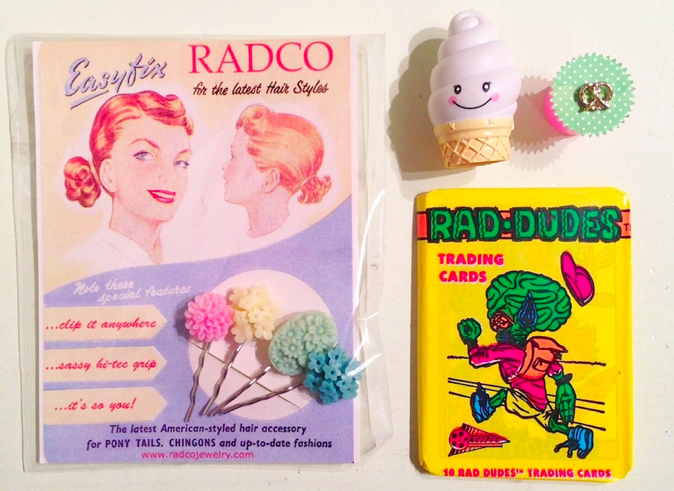 9. Two sweet little crochet hair bows by Quiet Tiger
10. Fancy Bear (eating cake!) Pillow from Super Good
Just follow the Rafflecopter widget for all of your chances to win! (p.s If you are new to Rafflecopter and think it's weird, I just ran into this hand dandy guide.)
Giveaway is open worldwide and will run for a week until next Friday night, Nov. 22nd, at midnight. Good luck!
a Rafflecopter giveaway