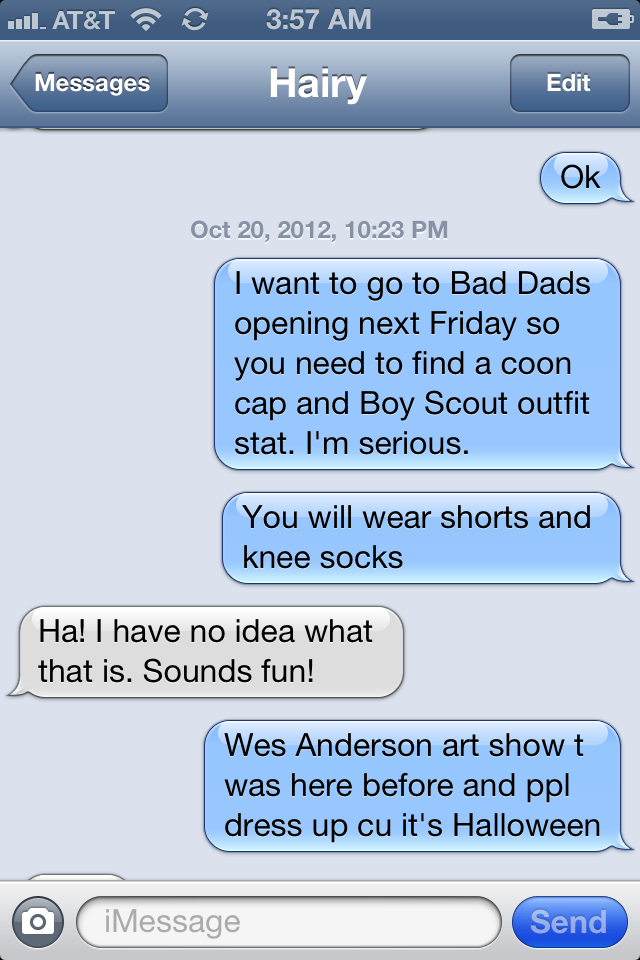 I did not plan to do anything for Halloween this year, but when I got a Facebook invite last Saturday to check out Bad Dads – an art show tribute to the films of Wes Anderson, which was also a costume party with prizes, I told Hairy we were going to do this, and dress up. He is not big on the dressing up, especially in SHORTS, but, I told him, IT WAS HAPPENING. Oddly enough, he didn't put up much of a fight, and he actually helped make his own costume, and was also oddly in good spirits while wearing it. Win!
(Sorry you can also see my horrible iPhone typing skills.)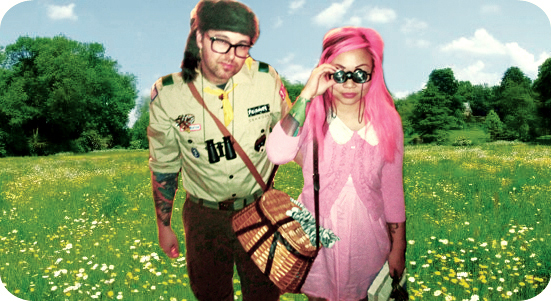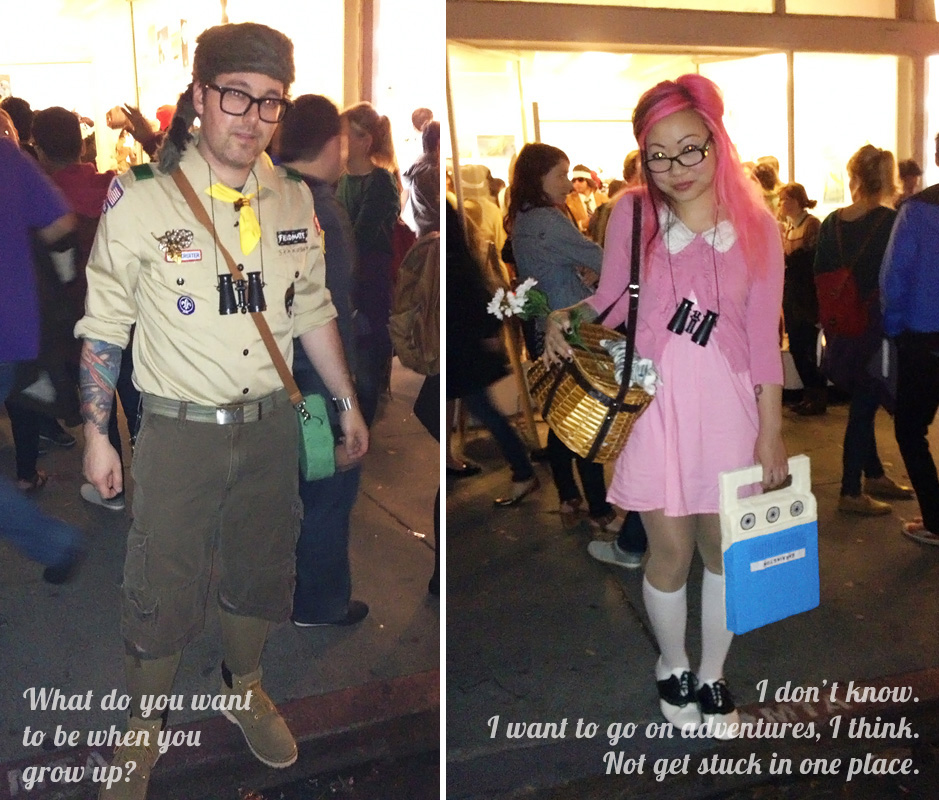 I have always been an enormous fan of Wes Anderson films, ever since my friend Peanut and I rented Bottle Rocket from Hollywood Video back in the day. The first DVD I ever owned was Rushmore. It was a gift, and I didn't even own a DVD player at that time. I super duper loved Moonrise Kingdom, so we decided to dress up as the main characters, Suzy Bishop and Sam Shakusky.
We didn't have a lot of time to put this together. Amazon 2-Day shipping was in full effect. I DIY'd my peter pan collar (I ordered a dress, but it didn't fit, and I found out only a few hours before we had to leave), my record player (styrofoam and plaster bandages), his canteen (styrofoam and fabric, plus the cap off one of my paint tubes and a purse strap), his gold and pearl brooch (Premo polymer clay and beads), and I helped Hairy with some of his scout patches but encouraged him to try doing it himself.
I think I kind of just look like myself, plus some random details like a fishing creel purse and a binocular necklace.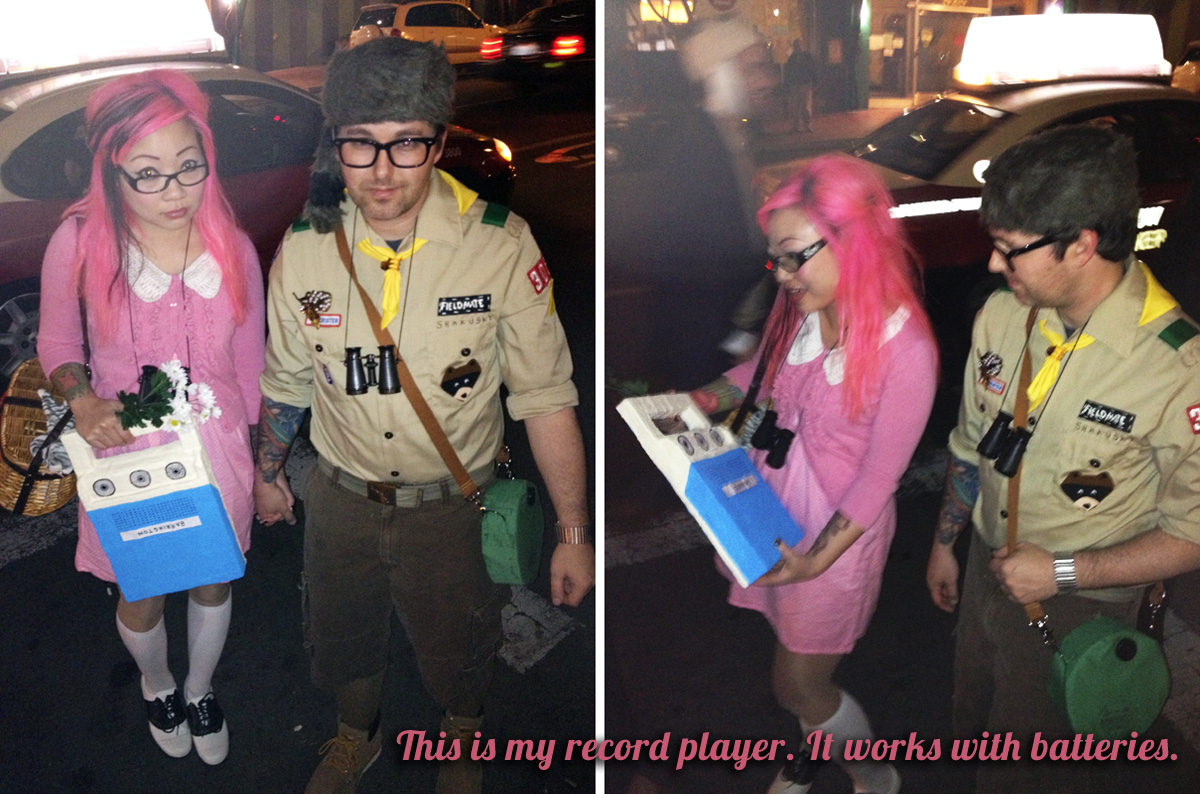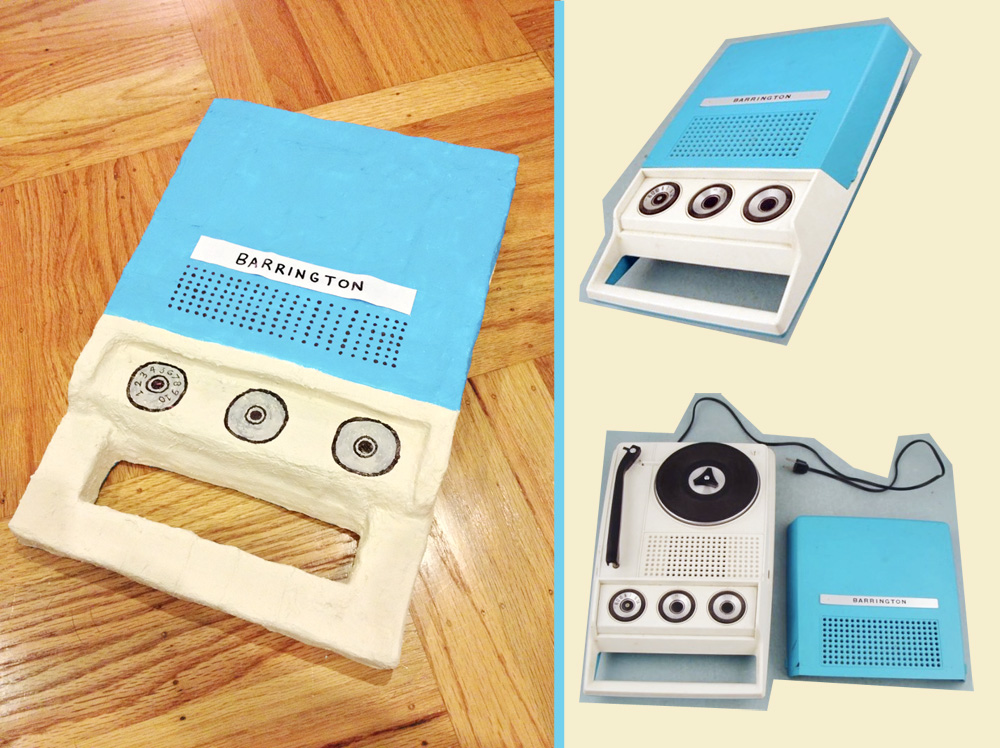 Okay, the pride and joy of my outfit was the portable record player. I really knew that I absolutely wanted to have one for my costume, and I considered crocheting one, but ended up gluing together styrofoam boards, cutting/carving them with a steak knife, and covering the whole thing with plaster bandages. I thought plaster bandages might dry faster than paper mache, and time was of the essence! I wanted to also smooth out all the lumps and bumps with modeling paste, but ran out of time. I could still feel moisture on it while I held onto it for the night. I am glad my sweat didn't disintegrate it. It's not what I was hoping for, but it has a rough-hewn, handmade charm, I guess!
Here's some close-ups of Hairy's outfit:
During all my furious crafting, I was channeling Craft Wars and cursing at all my glue boogers and the fingerprints all over the Premo clay. Craft Wars fail! Costume win!
And here are some shots from inside the gallery. It was really packed all the time, and I get anxious about taking photos when there are a ton of peeps in the way, or when I'm in the way of a ton of peeps. Plus my fishing basket kept ramming into everybody. Plus it was hot! So I apologize for the crap photos and lack of photos.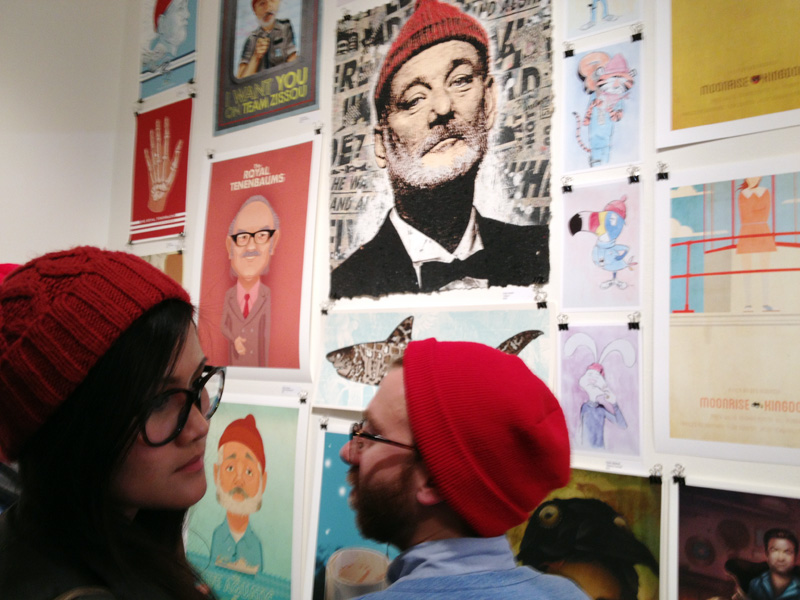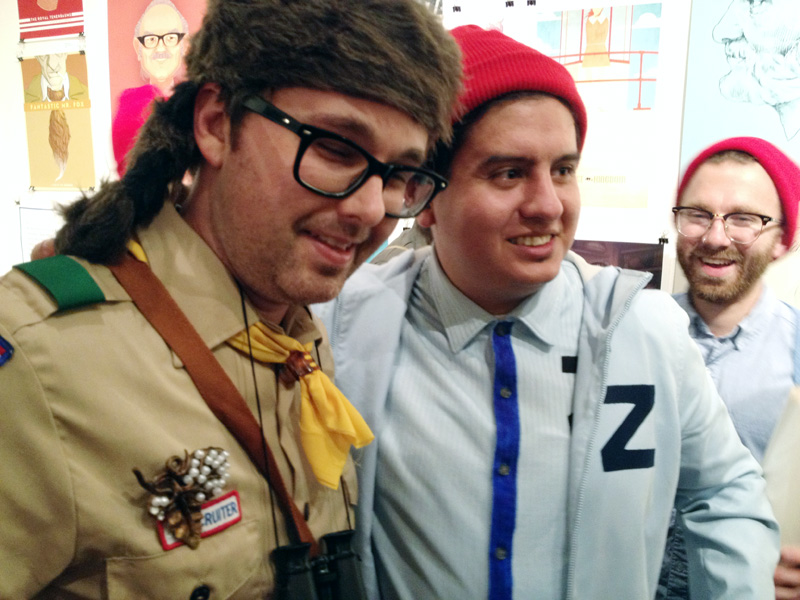 There were a lot of Team Zissou costumers, a lot of animals a la Fantastic Mr. Fox, there was a troop of multiple Richie Tenenbaums taking a picture together, but I don't know if they came together or just met, a few Margot Tenenbaums, a Max Fisher or two, another Sam and Suzy, and some randos like astronaut ladies and Duckie from Pretty in Pink.
We went into the back room before leaving to get dinner, so Hairy and James could get beers. The gallery owner thought we had some great costumes, so he gave us free Moonrise Kingdom prints! Score! I was wondering how they were going to conduct their costume contest, but I guess they just decided to give free prints/posters to costumes they liked. Hairy thought I had been too stressed about getting the outfits just right, because when I do something, I wanna do it all the way. But see, when you strive for excellence, YOU WIN THINGS!
Here's a short video clip that Hairy took. Again, it kinda sucks and might make you barf, but is a nice shot of the crowd and the gallery walls. We had a lot of fun, and I'm glad we made the effort to dress up and go! I want to go to the park one day and get better photos to commemorate our costumes.
p.s. Dang, I just watched the video after uploading it, and the quality is really pixely. Sorry about that! I promise the next video will be better!