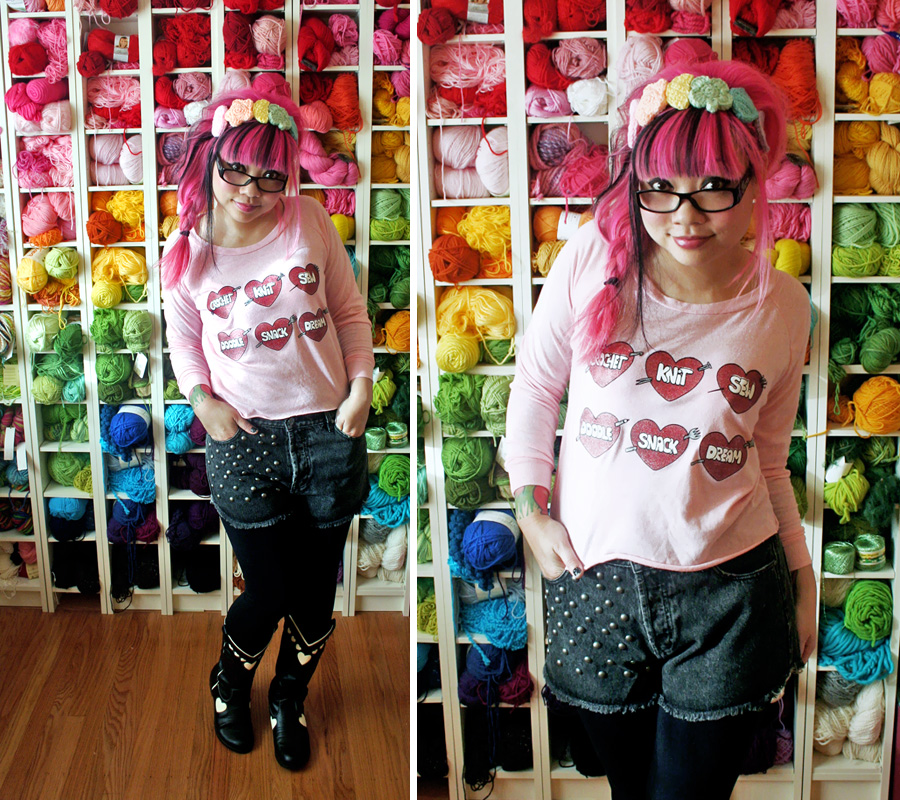 I kind of panicked on this outfit today.
I needed to take a photo in my craft room for another craft-room tour feature on a friend's blog.  But it was one of those days where I threw my hands up in the air over what clothes to put on. You win some, you lose some.
You may recognize the top. It's the same print as my tote bags, which I am still waiting for Hairy to re-print in pink. I tried out this allegedly slouchy shirt, but it was really small on me and already a size large, so I stopped considering selling these until I find shirts that I like and would wear myself.
I didn't even end up keeping this outfit on. At least I liked my hair today! Hehe.
Shirt:  by me. Shorts: Drop Dead Clothing. Boots: ModCloth. Head band: by me.
I'm starting my planning for Renegade Holiday market. I never know what to bring. People will buy different things all the time at various shows, so it's hard for me to predict the right inventory. Which means I end up trying to bring everything and stressing out!
We've also been working on some last minute Halloween costumes. I haven't had Halloween plans for years. I got a Facebook invite to an art show opening/Halloween party for Friday night, so we started to frantically plan costumes in less than a week. It's shaping up rather well, I'd say. Although, I don't think I'll be able to try the whole thing on until the day of. Fingers crossed!
Here's a hint. It will be very obvious to some people, and completely nonsensical to others!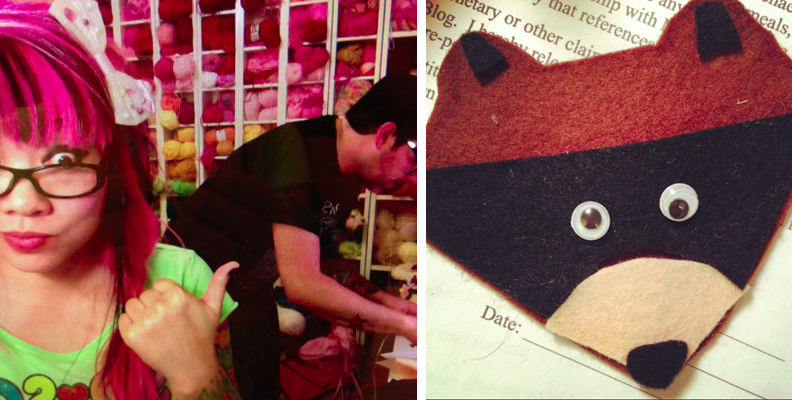 Yep, that's Hairy in the craft room, getting his craft on. He kept saying he didn't know what he was doing, and I'm told him to just do it. I'd be a great mom/teacher, right? "Uh, shut up and just DO IT!"
And yep, that's a contract/release thingie that his patch is sitting on. I hope to announce that news soon!