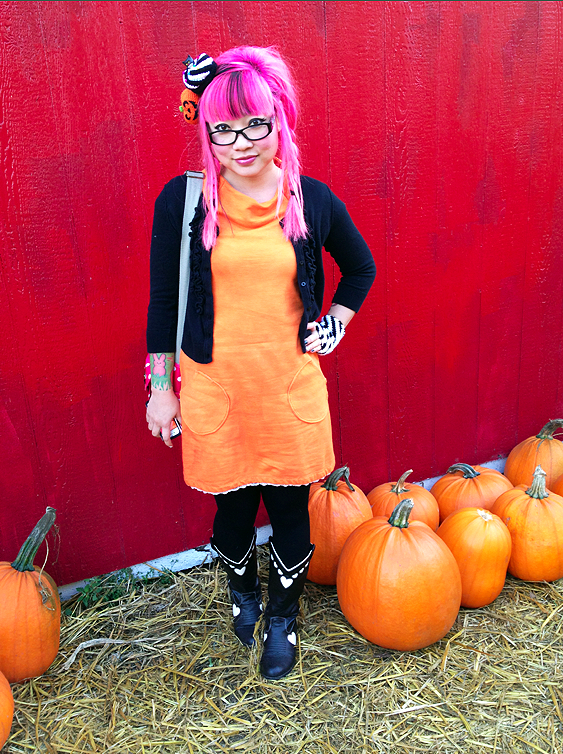 (Hair clips and stripey glove: my Etsy shop, Dress: Katastrophic Design (worn before in my Final Frontier post), Boots: ModCloth, Cardigan: Target)
I haven't been to a pumpkin patch in years. I kept begging Manda to go with me this year and wear our pumpkin/Halloween gear, and Sunday was the day!
I'm lucky enough to live nearly next door to this pumpkin patch, and it has tons of pumpkins, a bouncy castle, a bouncy slide, and even a little train that departs every 10 minutes. I thought we would kind of hop in and out of there and then go costume shopping, but we ended up spending over an hour picking our most favorite pumpkins, me trying to talk Manda into buying a giant humongous pumpkin, Manda trying to talk me out of carving and sticking my head in said giant pumpkin like the headless horseman.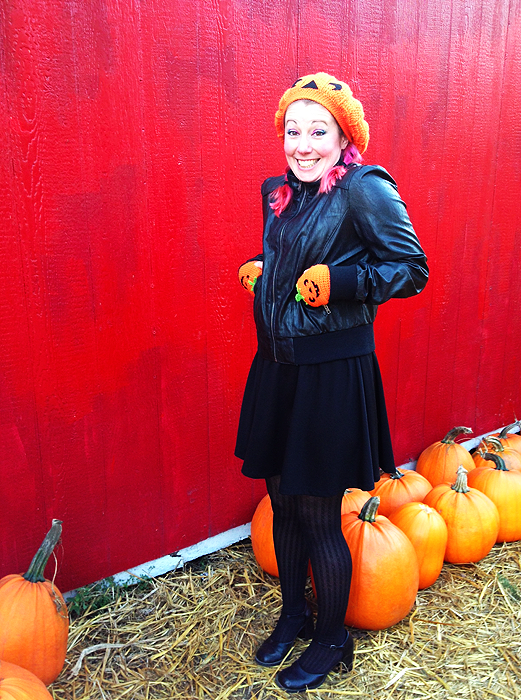 (I don't know much about Manda's outfit except her hat and mitts are from my Etsy shop, and her jacket is Material Girl.)
We got quite the response at the patch and were told we were really prepared!
I came home with one small pumpkin and two baby pumpkins, and Manda bougnt like a kabillion pumpkins (but not the one big giant one!). You will see more of our pumpkin shopping in a short video that I will post soon!