This week has been a flurry of top secret Yummy You! activity that I hope to be able reveal soon!
In more immediate news, I was really happy to contribute in some small way to the first ever Blogcademy in NYC hosted by Kat from RockNRollBride, Gala Darling, and Nubby Twiglet. It's happening this weekend, and I totally wish I could be a fly on the wall! I really love how people can come together and make things happen. That's kind of a lame way to put it, but the making of the things is kind of magical.
Each Blogcademy graduate gets a custom coffee cup cozy crocheted by yours truly included in a bag full of other goodies. At first, I thought I might make cupcake coffee cup cozies, but when Kat asked if I could use the Blogcademy colors, I decided to go a different way completely and create a crochet version of their branding. My work is not really known for being classy, clean, or modern, but I think I did okay and added a bit of cozy grandma-ness to the mix!
(Pic ganked from Blogcademy blog.) I drew most of my inspiration from their button design.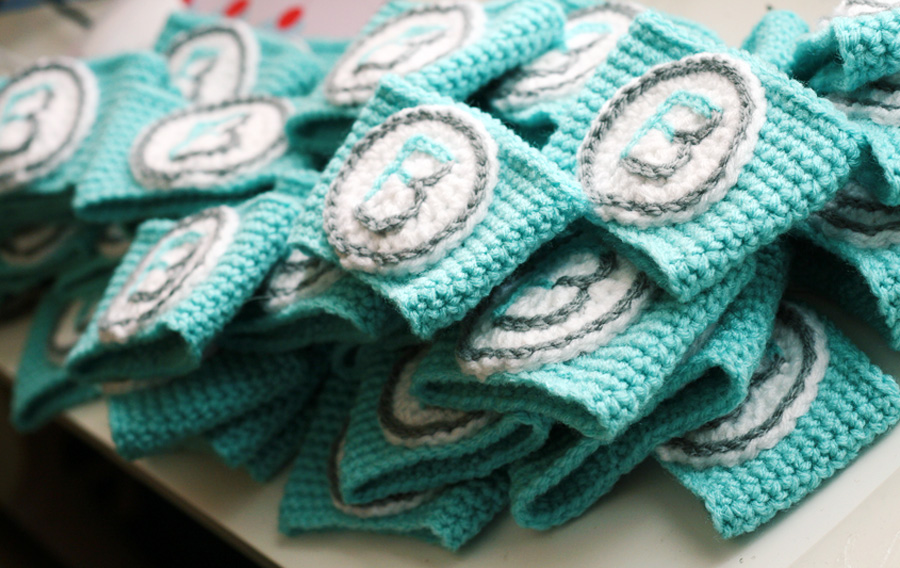 I picture many bloggers out and about in places with coffee/tea and wifi, so I figured a coffee cup cozy would be the most useful item I could provide. I'm excited to see how Blogcademy grows, and maybe one day they will be headed to a city near you!
(For anyone new to my blog, here's my Q&A at Gala's blog, and here's my tutorial at Kat's blog.)