click to go to Etsy listing

We re-stocked the red/white striped candy cane heart necklaces!

I also FINALLY snapped some pics of the GIANT pile of clothes I need to sell! I have to do it in segments or else I'll go insane, so here is the first installment!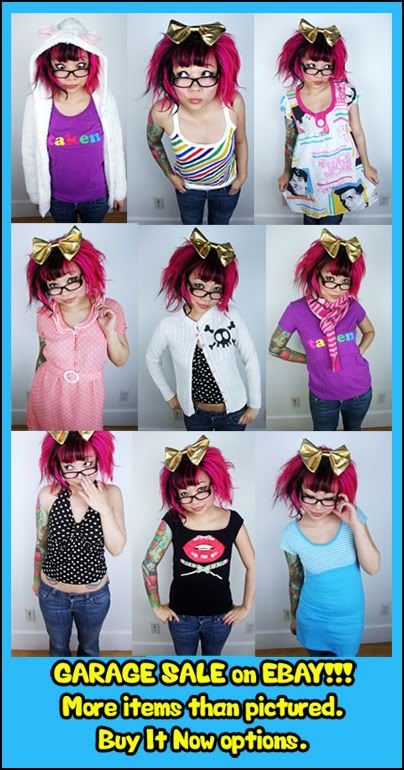 I have to deliver my finished book of patterns as well as samples of every item to my publisher on or before October 15, so now I am in full throttle mode!!!! I wrote down, day by day, what projects I need to complete on which day. It's a bit intense. I'm also making some accessories for an outfit for a fashion show which I will post about later, but that is due on October 20th! We have to be in in Houston the weekend of October 17th, so I need to try to have everything done before we leave. It's really hectic inside my brains!!! I still need to buy red shoes!! EEEEEE!!!
Also our internet connection has been spotty. I'm shocked it even works right now, cuz it hasn't all day. Also the reply-comment function on my blog was busted, but I think it might be fixed! Sorry if I have not been replying to comments. I still read all of them!
P.S. We saw Jennifer's Body on Saturday night, and I have to say that I expected it to not be great, but….it was pretty not-great, and I love me a bad horror movie. The only gem I took away from it was, "You give me a wettie."