Do you have your outfits planned for 4th of July weekend?? Stars and stripes are always a staple, but I also think that fun, summer-time themes, LIKE POPSICLES, are cool, too!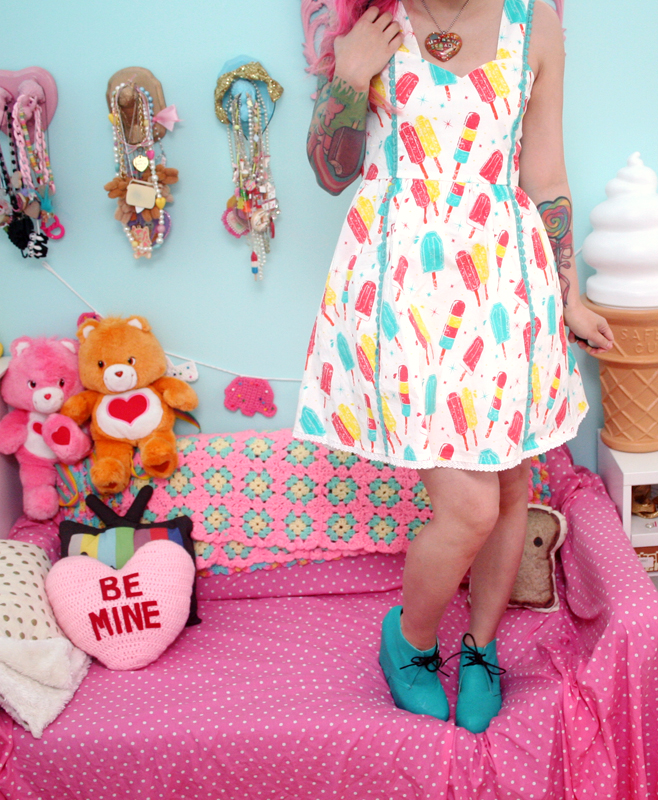 This lil popsicle dress was sent to me by Unique Vintage. The brand is Sourpuss Clothing, and this is a size medium. I think I could have gone down to a size small, and I also think that this dress might be better suited for a gal with boobins. I'm a AA cup, so I don't have a lot to fill any dress, but I could definitely see some loose cloth in the armpit area that I tried to pin down with my arms in these photos (and that I might try to talk Manda into tailoring for me)!
Aside from some slight fit issues, this dress could not be more colorful or cute! Fit-n-flare is a definite favorite of mine, and I think it's flattering on lots of different body types. Plus, it's perfect for twirling.
The print on this dress even inspired me to crochet a little bear-shaped frozen treat: a frozen banana dipped in chocolate (it's white chocolate with blue coloring!) with some marshmallow and chocolate drop decorations to make his face. Pardon my un-polished finger nails. I decided to give them a little break. (Is that something we need to do? It seems like a good idea?!)
I'm also a huge sucker for ric-rac, and the candy blue trim here does not disappoint! It's on the back, too.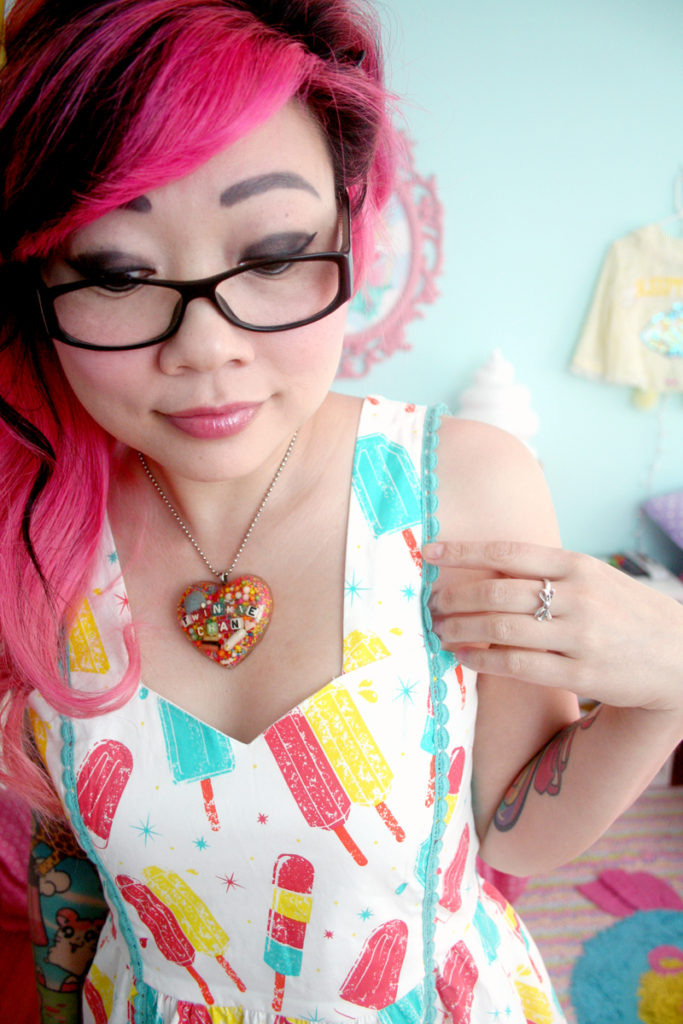 And in case you crocheters were wondering, I'll be posting the crochet pattern for the frozen banana bears hopefully tomorrow!! I have the pattern finished, but I need to make another bear so I can shoot some step-out photos. It's actually a really quick and easy pattern. Just make sure you have a popsicle stick!
*****
Dress: c/o Unique Vintage, Shoes: Iron Fist, Necklace: Athina LaBella
Thanks, Unique Vintage, for sponsoring this post! Check out their other amazing dresses here!