This is my fourth and final bento box lunch that I made for the JapanLA 10th Anniversary party and Super Kawaii Food Art Show! (Box #1, Box #2, Box #3)
I actually had something different planned for my fourth box, but I wanted all the boxes to look cute together as a group, and my initial idea had too much white in it, and I had already made the boiled egg chicks. So the bear hamburger was born!
Burger Bear with Fries. Or Hambearger. (Which name do you like better?)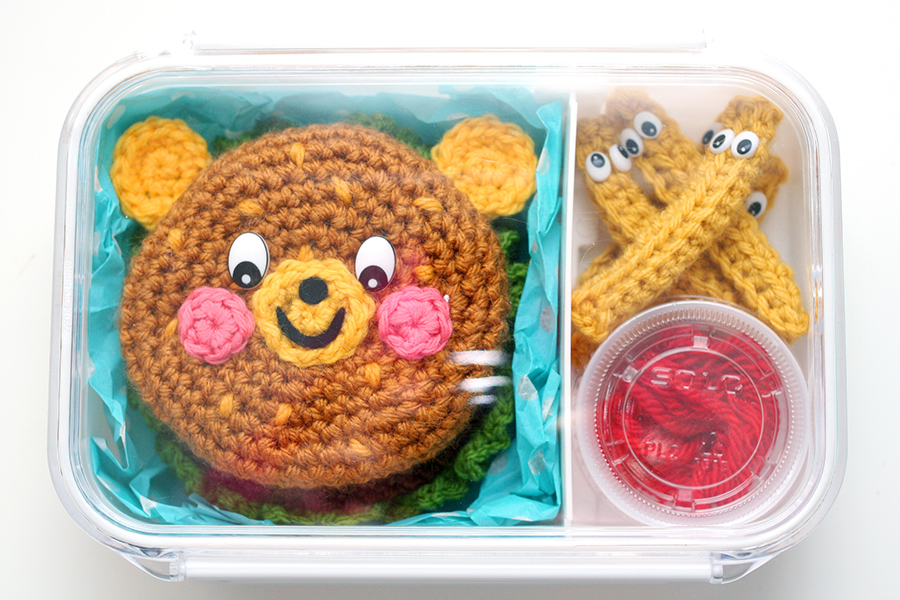 I was trying to make the burger as thin as possible, but his face is still pretty smushed up against the window. He has a top bun, a meat patty, and a bottom bun.
It actually took me a while to decide on fries. At first I wanted to do tater tots! But I wasn't sure they'd read well due to not really having a yarn color I loved. I also thought that fruit salad would be cute as a color contrast, but in the end, classic french fries won, and I think they turned out cute!