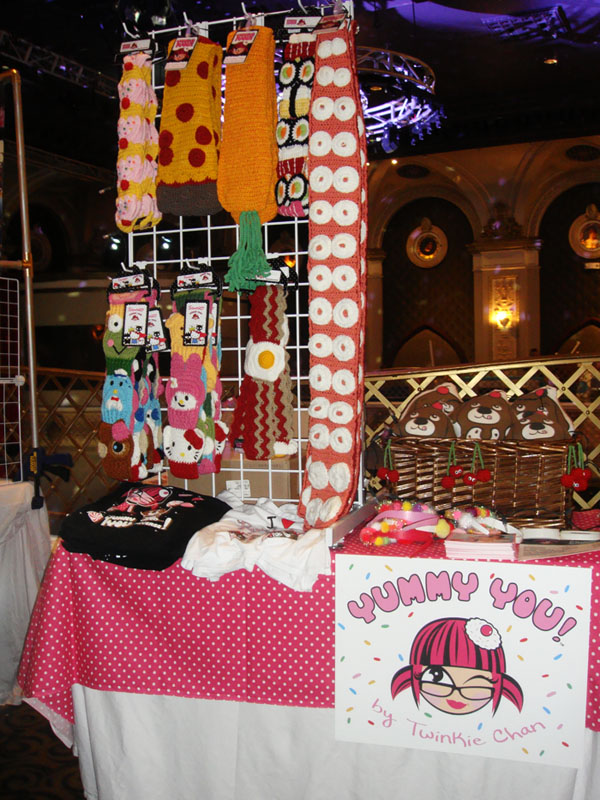 Last Saturday night, I took Yummy You! to San Francisco's first Kawaii Land , a cute shopping event and fashion show, at Ruby Skye. I debuted our new Bibi character in the form of t-shirts, tank tops, and a plushy pillow!
I'm still not sure what to officially refer to Bibi's cartoon character as! She looks like a scoop of vanilla ice cream with hot fudge dumped on her head! I've been calling her Bibi the Ice Cream Pup or Bibi the Sundae Pup, but if you have any cute suggestions, I am all ears!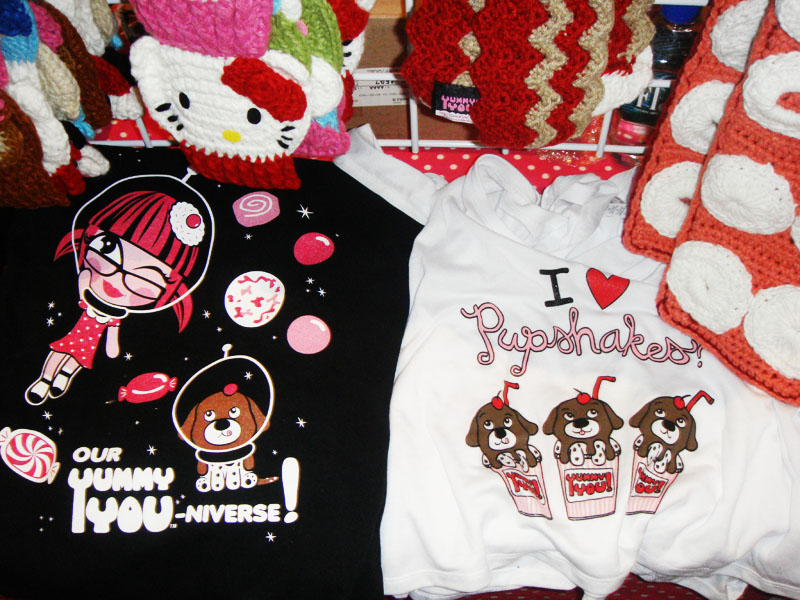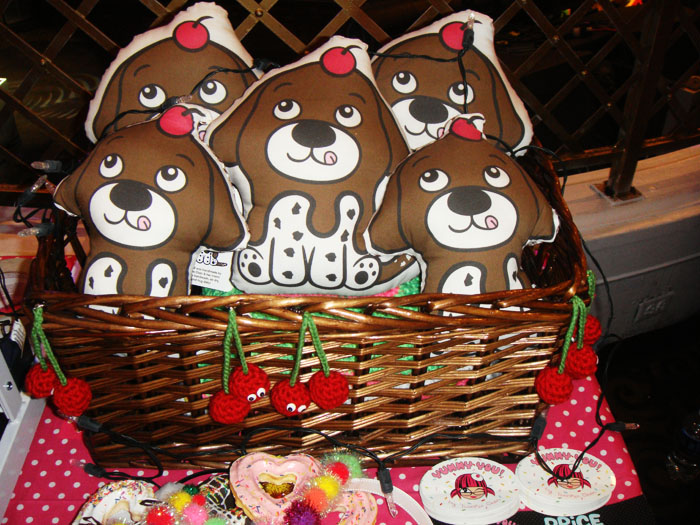 Sorry for all the crazy flash photos!! This was a night-time event inside a night-club, so there was a lot of dim mood-lighting, which you will see in the video below!
My buddy Elysse came to help me in the booth, and she wore one of the squishy donut & pompom head bands I made the night before. Donut princess power! I ended up having to experiment and use 3 different adhesives on one headband, cuz certain things don't want to stick to other certain things, and it took 3 different glues to get it all working.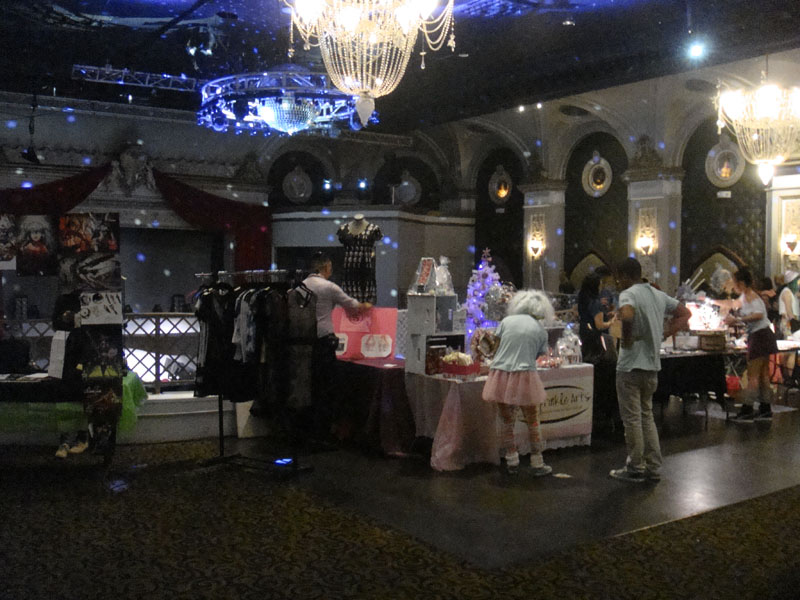 We ran around a little bit to take photos in the DoooDolls photo booth.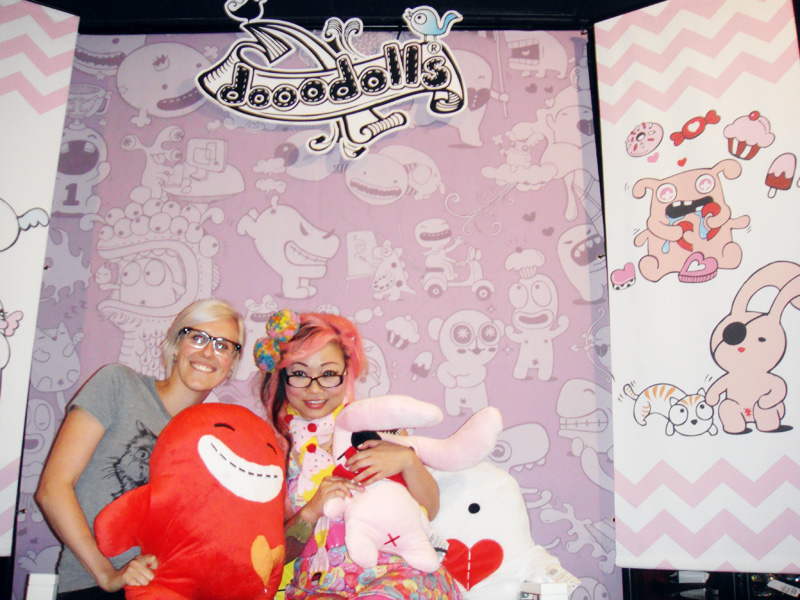 This is where I met Mish Monster in person! These events are always fun cuz you end up meeting people you've only seen on Instagram! She was in the runway show for Interro Bang.
And speaking of meeting awesome people…
Tiny Tangerines (cutest crocheted headbands & more!), moi, XanaduJulie (yummy custom decoden!), their friend who is a photographer but I totally forgot her name because I am a terrible person, and Kiki (Bay Area tattoo artist!)! What a powerhouse of cuteness, niceness, supportiveness, and wondermentness!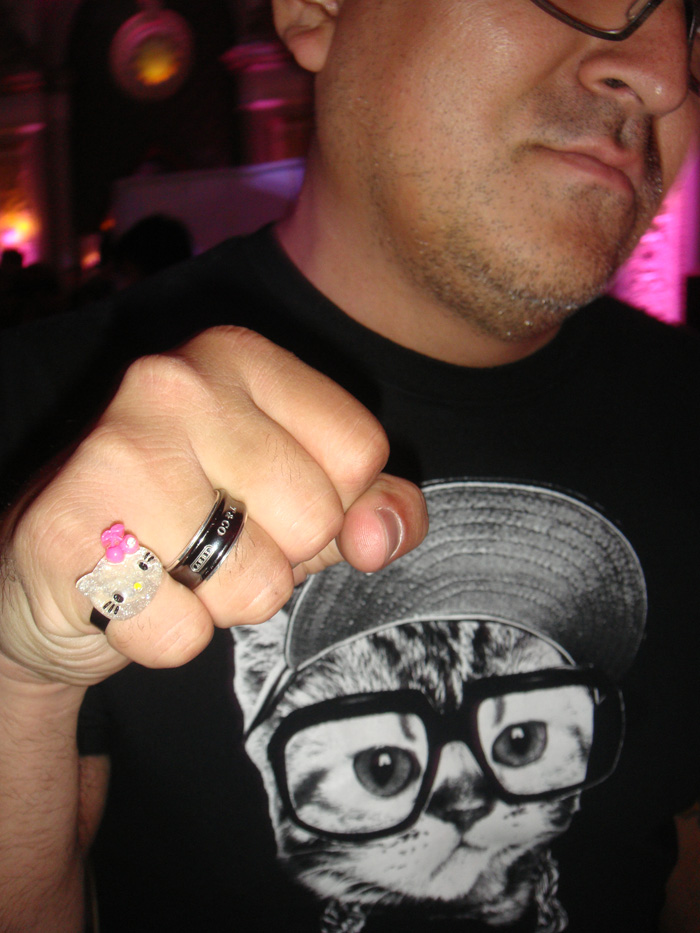 My buddy Guapo came and bought his friend's daughter a Hello Kitty ring, and I thought it was funny that he wore it around that night on his pinky, like Joe Pesci. I kept going, "Pose like Joe Pesci!" But I don't know that that really means anything to anybody…
Here's me and Tiffany. We hardly ever take photos together, so I forced her! I am not even going to tell you who she thinks she looks like when she smiles…    This is my face when I have run out of smile-juice.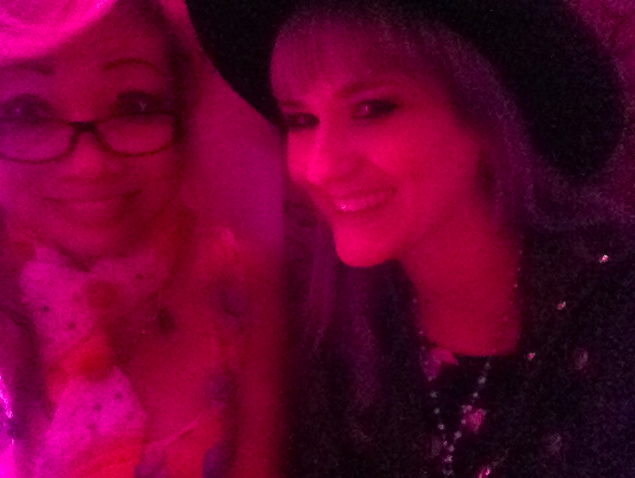 Here are a few snaps that I stole from Instagram!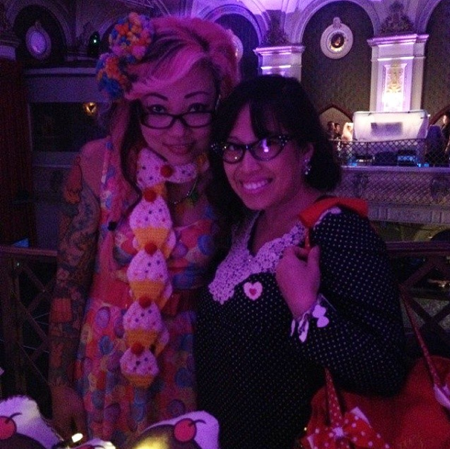 Everyone is the cutest and the sweetest!! Sometimes people come to say hi at events and apologize for appearing stalkery or fangirly, and I'm like, it's the internet, we all stalk each other and fangirl over each other, so it's all good! That's the point! I love when you guys say hi!
Here is a photo that Guapo snapped of the table. I don't think that I was originally visible, but I could see him taking a photo through the gaps in my grid wall, and then I popped my head out.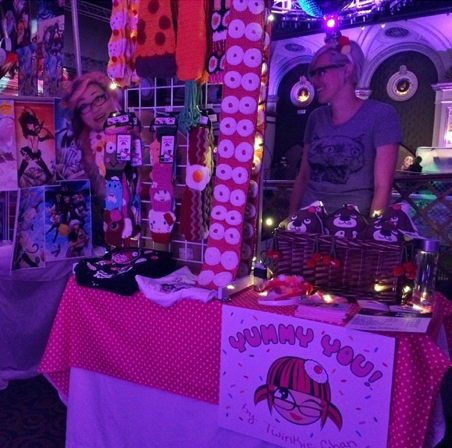 Okay, here's some video! Sorry it's kinda dark, cuz, well, it was dark in the venue :P. Also, I realized, my point-and-shoot is on its last legs, and doesn't focus that well for video anymore, plus it blows out everything, so it's hard to see the fashion show in any kind of detail, and I completely left out the bikini designer (sorry!). BUT, you still get an idea of what it was like. Plus, watch for the kilts… you'll like it, I promise. (p.s. I uploaded this to Vimeo for now instead of YouTube, because I feel like I promised YouTube that my next video would be a tutorial, and I need to work on that this week! Which means: new free pattern here on the blog, too!)
Kawaii Land – San Francisco – August 2014 from Twinkie Chan on Vimeo.
 There are some tees and some Bibi plush dolls leftover (sewn by my mom!), and I will get them up in the Yummy You shop as soon as I can, but I have to snap some better photos of them first :). I also have some donut headbands leftover, so if those seem appealing, I will post them as well!
Oh, I will include my outfit deets, too, in case anyone asks! 😉
***