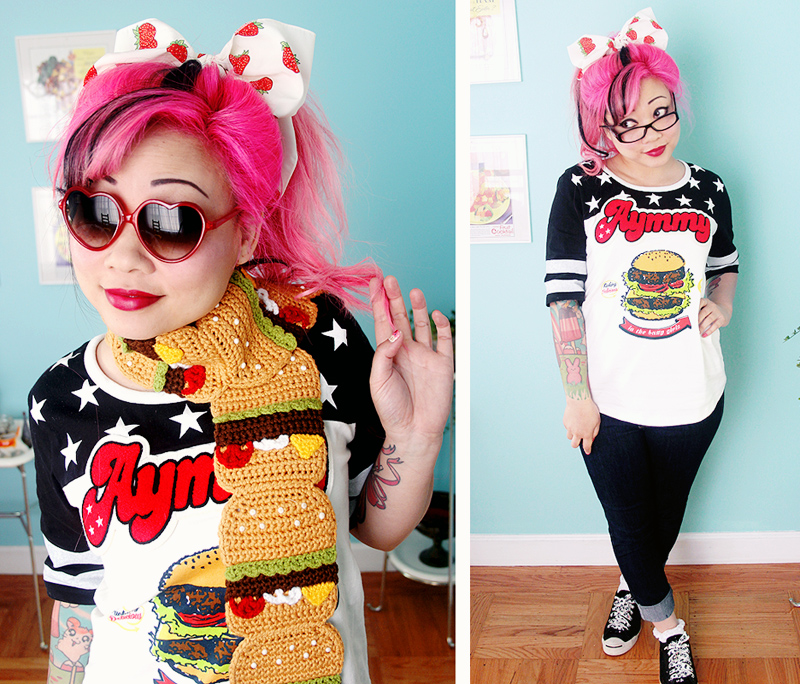 Last weekend, I met up with friends for brunch, and then we went to Japantown to shop and take photobooth pictures (and buy cupcakes!). At the New People building in JTown, I saw the most amazing varsity jacket with embroidery depicting tigers eating cheeseburgers. WHAT!! I was like, "WE ALL NEED TO BUY THIS JACKET." Then, I looked at the price tag and said, "Okay, maybe we can all share one…."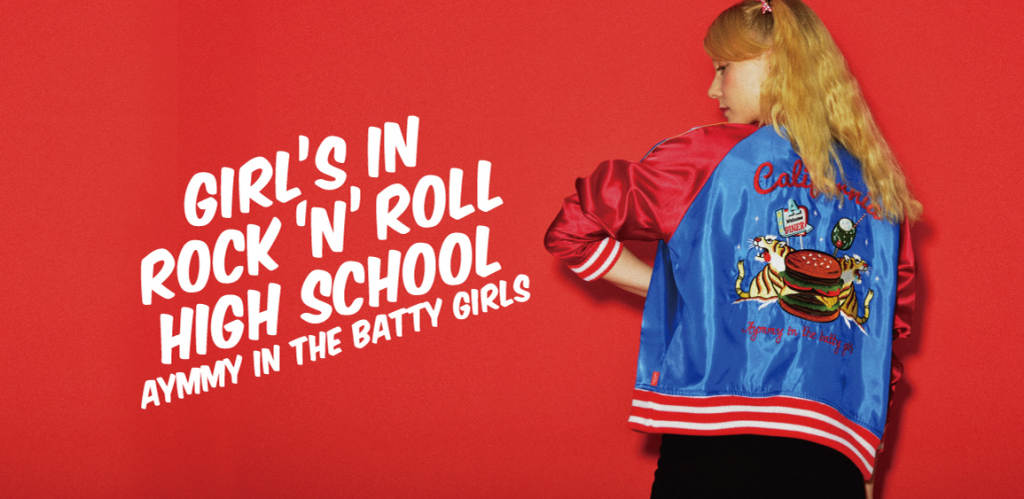 The brand was Aymmy in the Batty Girls. I'm completely in love with the whole spirit of the brand, based on a highschool girl named Aymmy who loves punk rock and zombie movies and either lives in the 50s or is obsessed with the 50s. I can't read the Japanese on the site, so I don't know the whole story, but they did translate it onto a piece of paper at the store, but I didn't read the whole thing! They have a pop-up in the New People building, and you can see toooons of their products, from tshirts to jackets to cheerleader skirts to backpacks to rompers. So many goodies!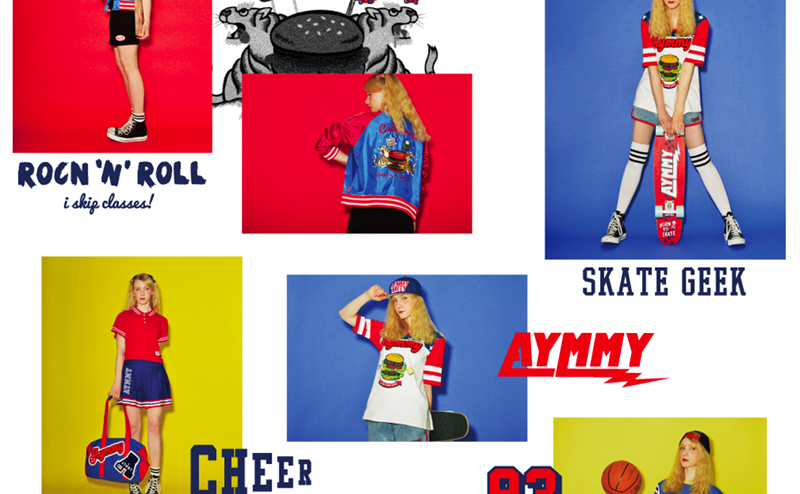 Since the embroidered jacket was super out of my price range, I opted for the cheeseburger tshirt that I couldn't stop thinking about. I probably could have left without buying anything, but then Mars grabbed the cheerleader skirt, and Steph grabbed the junk food romper, and I didn't want to feel left out! I figured the shirt might not fit anyway, because Japanese clothes are small, and sometimes my arms don't fit in the arm holes, but I guess it's supposed to be a super loose-fit shirt, and my limbs fit in there just fine. SOLD!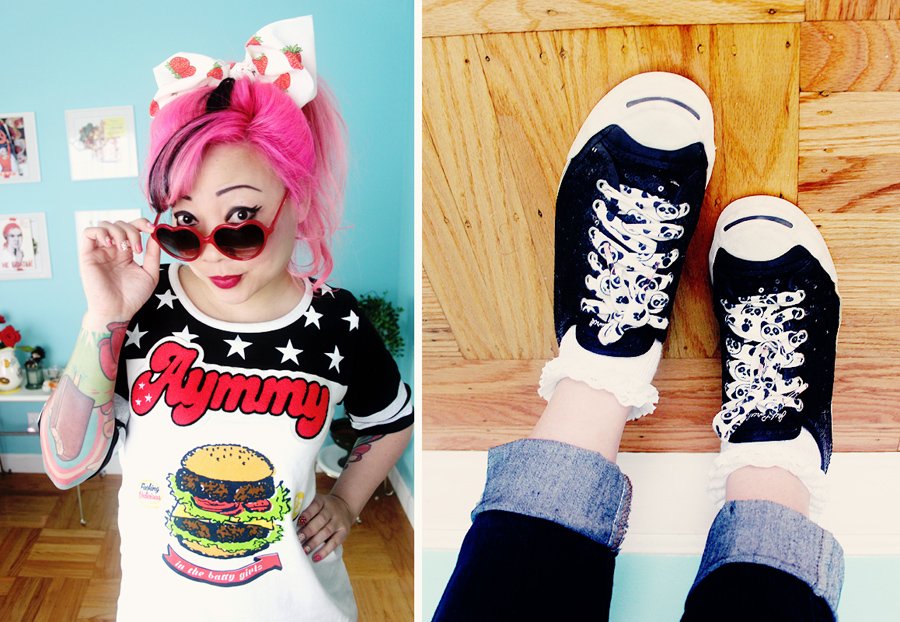 I paired my burger shirt with rolled up skinnies, sequins Converse, ruffle ankle socks, a high pony, and heart glasses. Super casual but super fun! I usually feel that skinny jeans and flat shoes make me feel squatty and chubby, but I think they just fit the theme too well!
P.S. Stay tuned for my Mother's Day present YouTube tutorial! The project is kinda out-there, but it's what I'm actually making for my own mom :).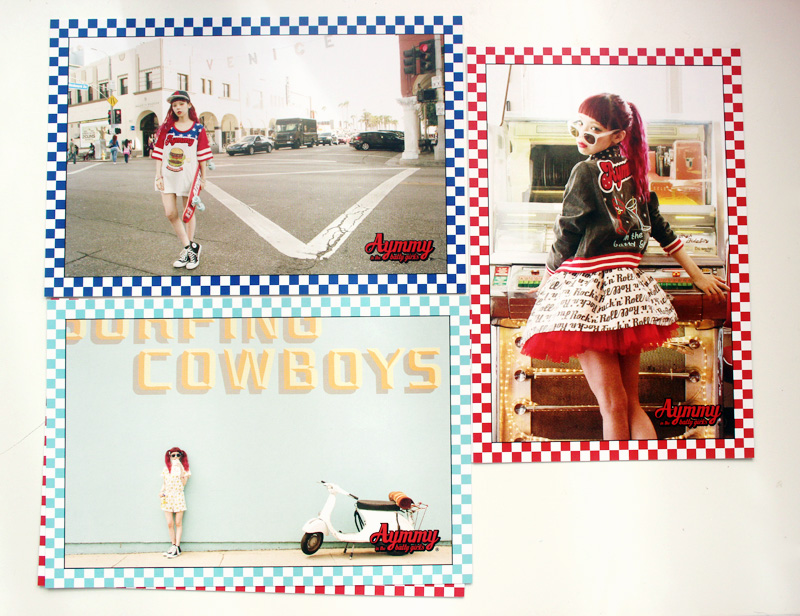 Shirt: Aymmy in the Batty Girls, Jeans: Modcloth, Shoes: Converse (similar), Ankle socks: can't remember, maybe F21 or ASOS?, Head Scarf: Modcloth, Burger scarf: made by me, Heart sunnies: eBay.