Last weekend, we vended at DesignerCon with Yummy You! This was the first convention I've ever vended at, PLUS, it was the first time I had ever had a Yummy You! booth anywhere!
I LOOOOOOVE doing events in L.A., because I know way more people there than in S.F., and it's so fun to see all your buddies come out! Greatest buddies ever!
I have quite a few photos, so I'm going to post things in chronological order, starting with Friday, when Manda and I flew into Burbank to set up the booth with my business partner.  I think it will be funny to refer to my partner as Charlie, like Charlie from Charlie's Angels, because he doesn't really like to be "seen."
I didn't really know how to design the booth so that it would all fit in 2 suit cases, so that's why I have a bunch of little posters rather than one big poster :P. I noticed a lot of booths had these neat, gigantic vinyl banners as backdrops, and I want one of those next time!!
So Charlie brought this mannequin torso thing along, and we were all a little dismayed that it was clearly a MALE torso (considered bringing a bra for it), but we decided to use it anyway to display our tshirt. I decided to name him Terry, but sometimes I accidentally called him Bruce…. We managed to set the table up in about an hour, and then we ate dinner and passed out!
On Saturday morning, we woke up at 7am. If you know me at all, you know that I'm usually still up at 7am from the night before, so this was very disturbing and horrifying for me. Manda and I decided to splurge and have our breakfast delivered, because I was worried we would never eat once we got to the convention center. Bagel and latte delivery is AWESOME.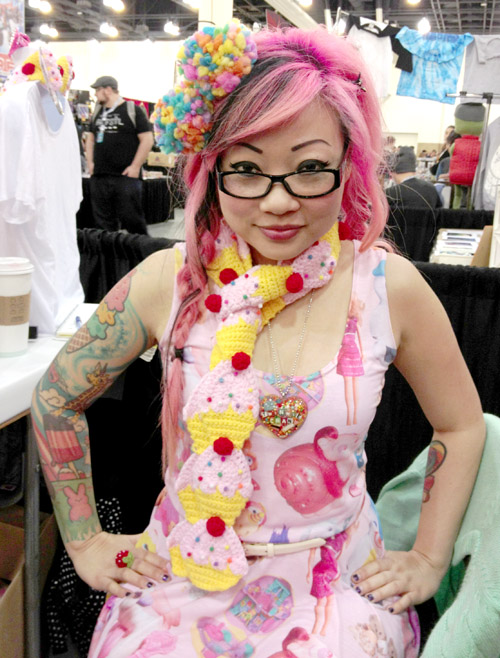 "Hey Manda! Take a picture of my outfit!" (While seated?!?)
Me and Selina! She is our social media manager for Yummy You! and she rules! I'm old enough to be her teen mom!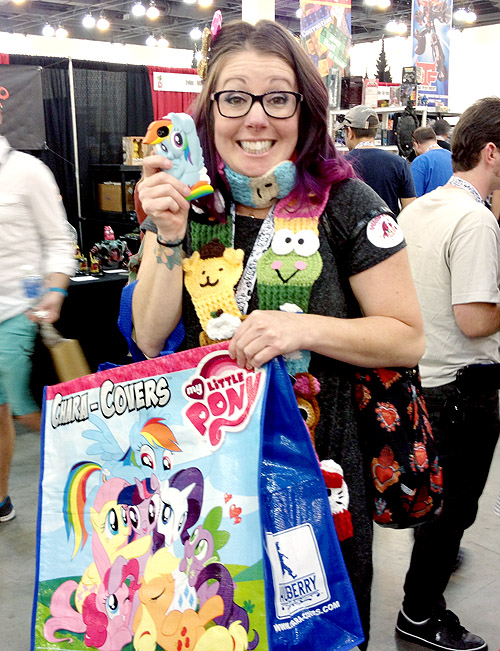 Manda saw someone walking around with one of these giant My Little Pony bags and asked them where they got the bag. The bags were from Chara-Covers, and she also picked up an MLP phone case from them! I actually have no idea what other things she bought at the convention, because we all had to have a look around separately while the others manned the booth.
Visits from Steph and Irene! They had done some modeling at the convention as well.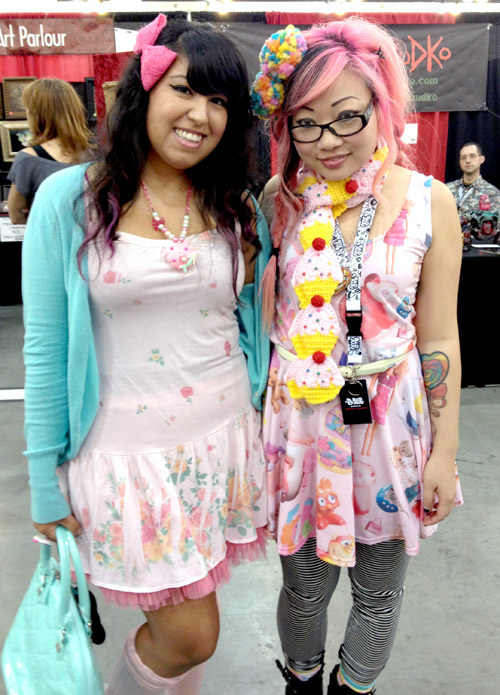 Me and MessyPink being pastel princesses! Check out her shop if you ever wanted to see what I look like as a mermaid….!
I have been dying to meet Sharodactyl from Hello Cavities! Yay! And yes, both Selina and I picked up a mint green sweatshirt….
At some point, Charlie left the booth to have a walkaround, and he came back with these TENTACLES for YOUR FINGERS.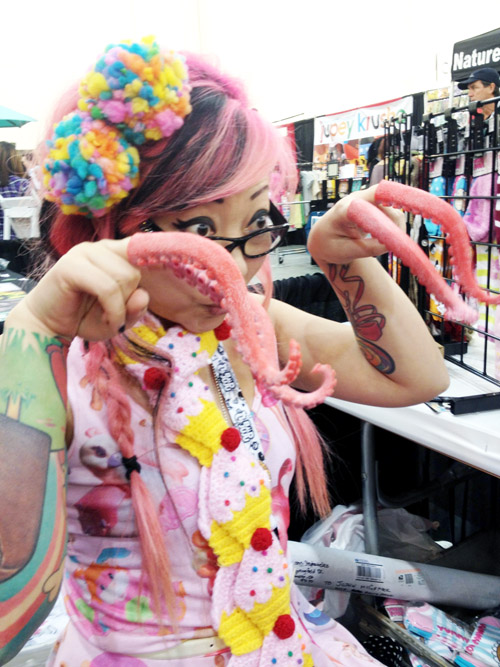 They make your fingers smell.
After taunting Selina with my tentacle fingers, Charlie and I went to walk the floor a little bit.
Here's me and Paul Frank! He has a new brand called Park La Fun.
Me and Michelle from Crowded Teeth! Her new shop just opened, so you better check it out!
After the show, we hooked up with Nellie from Quiet Tiger and her buddy whose brand I can't remember the name of (sorry!!!) to walk across the street and eat at Yard House. The restaurant is pretty big, and the bathroom is really far away. When Manda and I were going there I yelled, I AM GOING TO BE DEAD BEFORE WE GET TO THE BATHROOM. We made it.
The most notable part of dinner was dessert. HELLO, FRESHLY BAKED S'MORES BROWNIE. WELCOME TO OUR MOUTHS.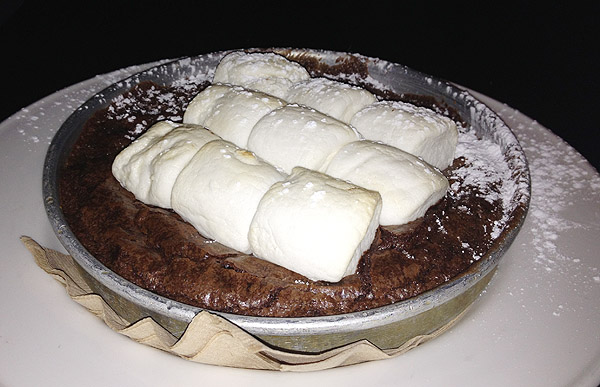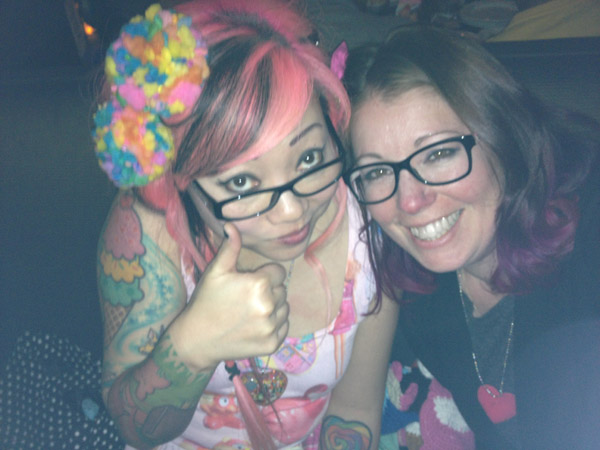 My buddy Alek grew up in Pasadena, so I told Manda to take a picture with me during dinner so that I could text him.
After dinner, we kicked up our feet and chillmaxxed in the hotel cuz we crazy like that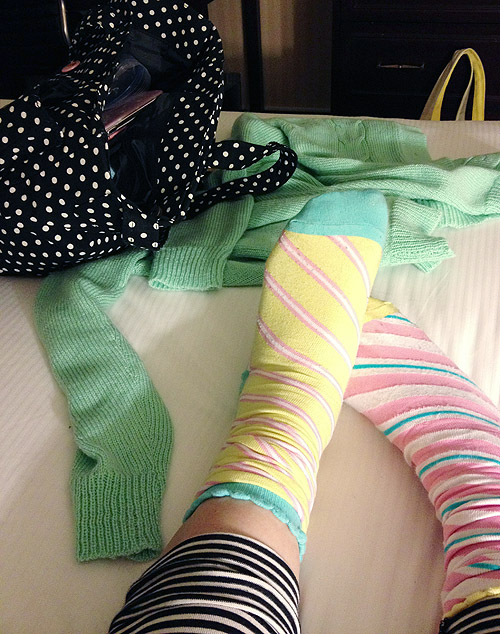 On Sunday morning, the room service guy brought us FOUR bagels instead of the TWO that we ordered, because we are so awesome. We packed up our suitcases and rolled them noisily over to the convention center, which was luckily only two blocks away (glad I cancelled my res at the HoJo).
Sunday kinda seemed like a blur because Manda and I had to leave a bit early to catch a plane back to SFO. This is me and Monica. Sometimes she will Tweet me from Michaels and ask for yarn advice! I feel bad if I don't get the tweet right away :P.
The back of the zipper on this dress was scratching me, so Manda made me a duct tape peter pan collar. PRETTY RAD, AMIRITE!? Yes, our duct tape is pink with polka dots, natch.
Visits from June MightyJune and Angie VitaminCats! At around 3pm, I decided I needed to visit the booths I hadn't visited yet, since our cab was arriving in an hour, so I zipped over to visit Angie and June.
By the way, if you're going to photobomb, do it in a flying squirrel kigu. Take that sage advice from June.
Here's me inside the UnicornCrafts booth. See what I mean about these giant vinyl backdrops!? Faheema is wearing a toast scarf that June made from my book!
While I was at these booths, I ran into Bebe who said THE POCKY TRUCK HAD ARRIVED. We didn't see the actual Pocky truck, but we did get a big giant box of Pocky from Steph, who is a Pocky girl! CUTE!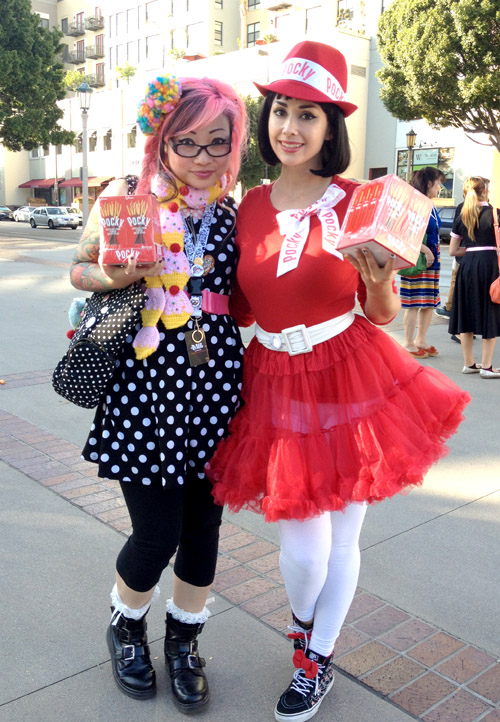 After talking to the PockyBossLady for a minute, I ran back inside to the booth to start packing up our stuff. Luckily,  I was able to catch Yume and Tess before I left!!!
The cabbie called me while I was in the loo, and then I ran back and grabbed Manda and said all of our goodbyes. I'm so lucky to have Selina who stayed behind with Charlie to pack up the booth (which they did in like a record 30 minutes!).
Overall, the convention was a very interesting learning experience. I think it helped us get re-excited about our brand, and hopefully some fun collaborations will come out of our networking!
Here's a really short video I made, just so you can check out the booth! We were so busy that we didn't really have time to fart around and make silly videos. Next time!