Oh my jeez! H0ld onto your butts! Sourpuss Clothing asked if Ahoy Miss and I would want to shoot photos together in their Shake & Shimmy Dresses in Pink and in Aqua. I was like, "We are buddies, but we still kinda live a couple hundred miles away from each other…!" and Sourpuss was like, "It's the perfect excuse to get together!" OKAY YOU ARE RIGHT SOURPUSS CLOTHING! SO VERY RIGHT!  I was very lucky that she came for visits during Renegade Craft Fair a few weeks ago so we could make this happen! Hairy watched my booth while Danielle and I ran around outside Fort Mason.
I am used to shooting photos of myself, by myself, with a remote clicker thingie, and I totally freeze up and get weird when someone else is pointing a camera at me. Danielle's hubby Jose took all the photos, and he is super duper nice. He said something like, "Just let your individual personalities come through!" So I did this …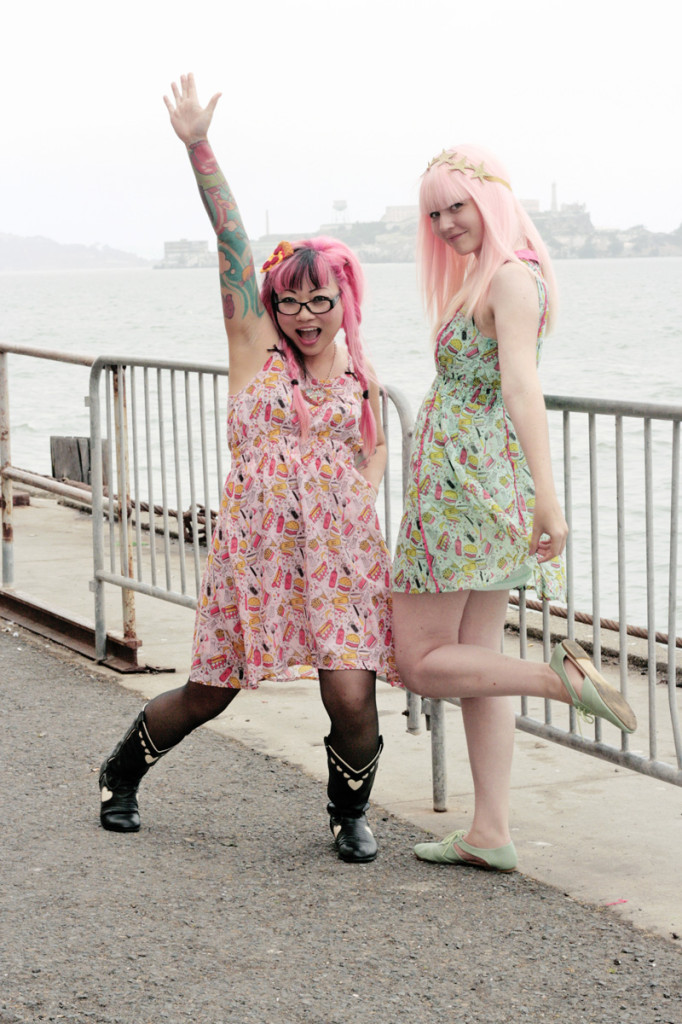 I emailed Danielle that she was the lady and I was the spazz. Lady and The Spazz. That's the name of our love story.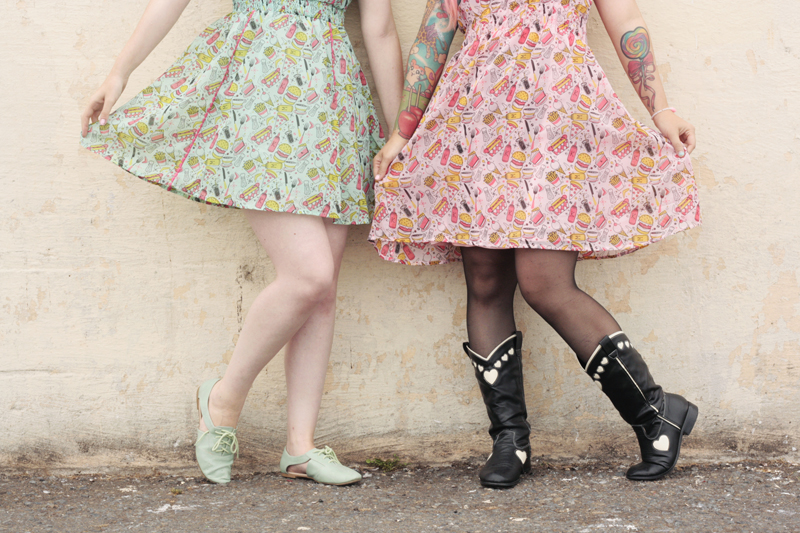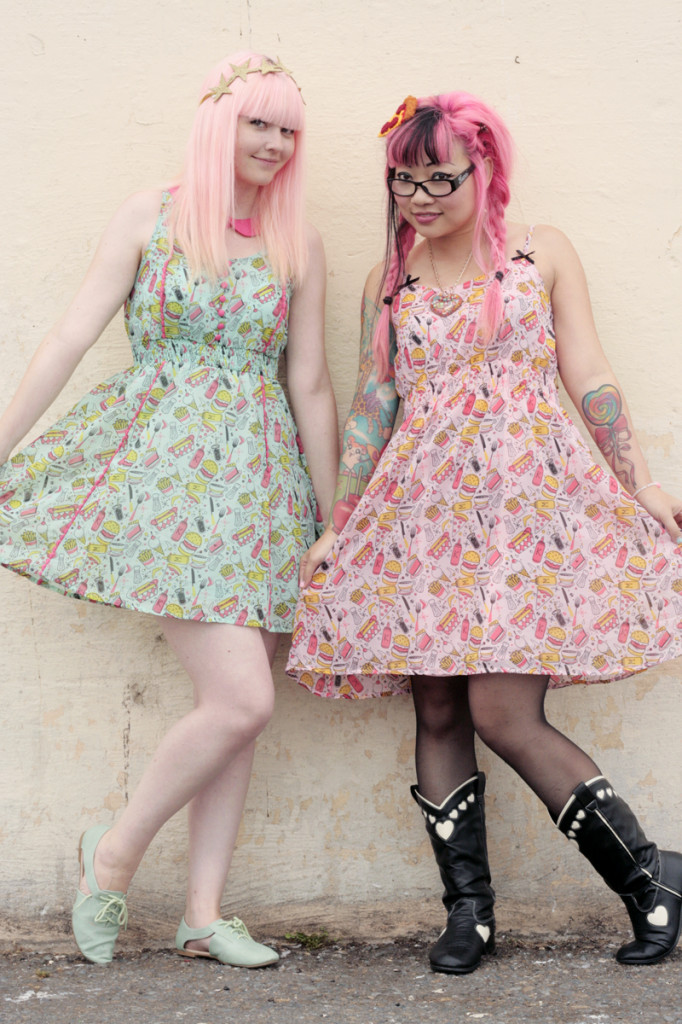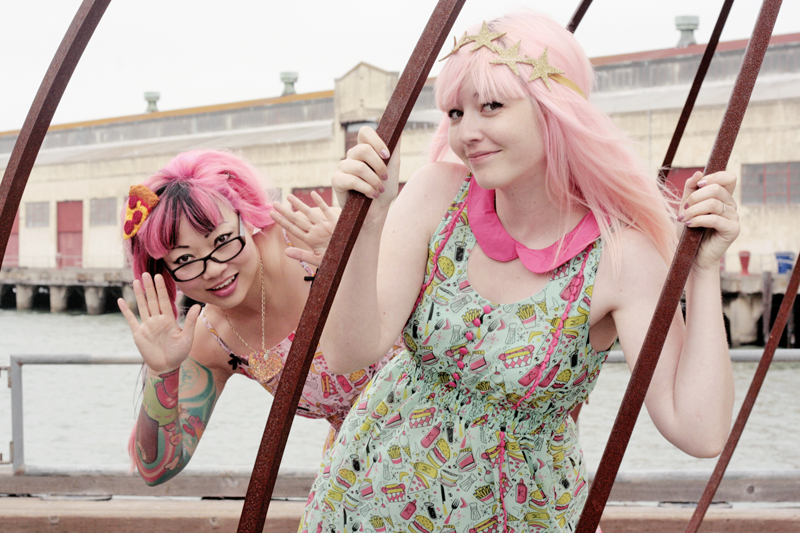 I have to add that my dress was extremely comfy, flowy, and lightweight. Also I had the dresses crumpled up in a bag at the craft fair, and they didn't really wrinkle, so they would be really perfect for traveling! My pink version has little black bows, adjustable spaghetti straps, and smocking in the waist for fit and comfort! Her aqua version has a cute peter pan collar, tiny pink buttons down the front,  some super cute pink ric-rac-kinda trim, and also that comfy smocking.
If you haven't had enough of us yet, you MUST watch this amazingly funny video that Danielle made! DO IT!!! IT'S AWESOME!! I'm allowed to say that with gusto because I didn't make it. DO IT!!!!!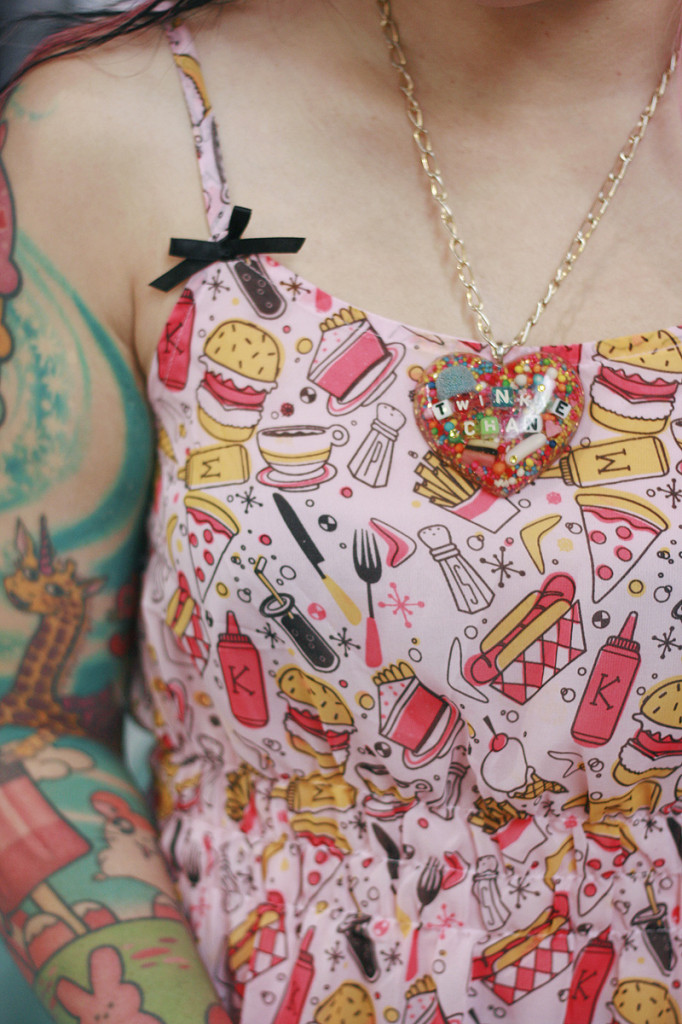 Also wearing: my trusty necklace by
AthinaLabella,
my trusty
T.U.K. boots
from
ModCloth
, and a pepperoni pizza hair clip
by me
! (I might add that I may have chosen alternative footwear on any other day, but since I was vending and standing all day at a craft fair and having to take down my booth at the end of the day, comfort was KEY!)
We also decided to copy TinyTangerines and pick some other stuff we liked from the Sourpuss website!
Sourpuss has also given our readers a 15% off discount code! The code is UNICORN (all caps) and is active until October 14th! (Just FYI, we do not make a commission off this code. It's just for you guys to enjoy!)
Check out Ahoy Miss for her photos and details!