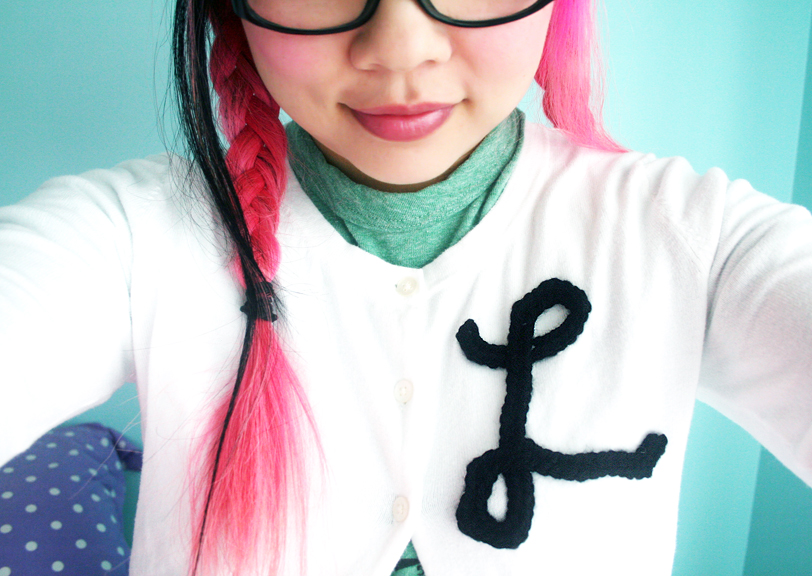 Wow, today's post is like a triple whammy!!!! 1) Free crochet pattern 2) Experimenting with a new fabric glue 3) Pimping out 2 cool Etsy shops. Let's go!
So if you couldn't tell from the blog title, today's post is all inspired by LAVERNE & SHIRLEY. The younguns may not remember this, but us olduns do! It's the funniest, goofiest, BFF  TV show!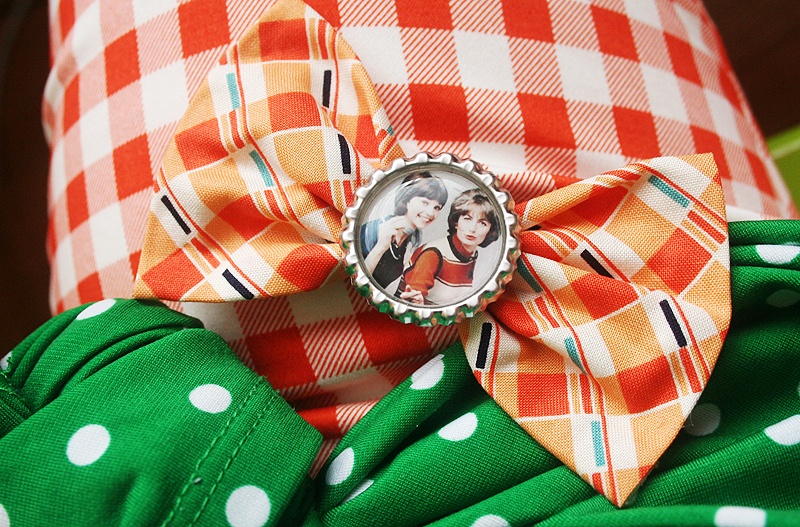 Joy from Lucky Cupcake Hair Clips sent me this amazing Laverne & Shirley hair bow, and I scrambled to think of what outfit I could put together to do it any amount of justice. I don't have a lot of Laverne-y pieces in my closet (YET), so I sort of improvised … by making my own Laverne-inspired cardigan!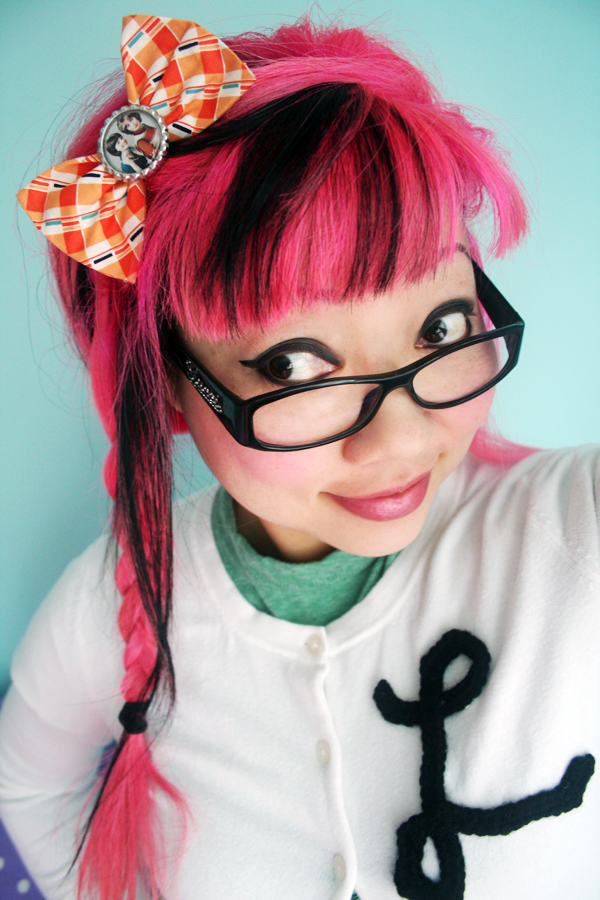 To create the "L" for my Laverne cardigan, I used Norma Lynn's "Love in Cursive" crochet pattern for inspiration. You should grab her pattern to spell out the whole word!
Here's what I busted out for the Laverne "L" : ch 71, sk 1st ch, 2 sc, (2 sc), 10 sc, (2 sc), 2 sc, (2 sc), 2 sc, (2 sc), 18 sc, sc3tog, 2 sc, sc3tog, 2 sc, sc3tog, 2 sc, sc3tog, 10 sc, (2 sc), 3 sc.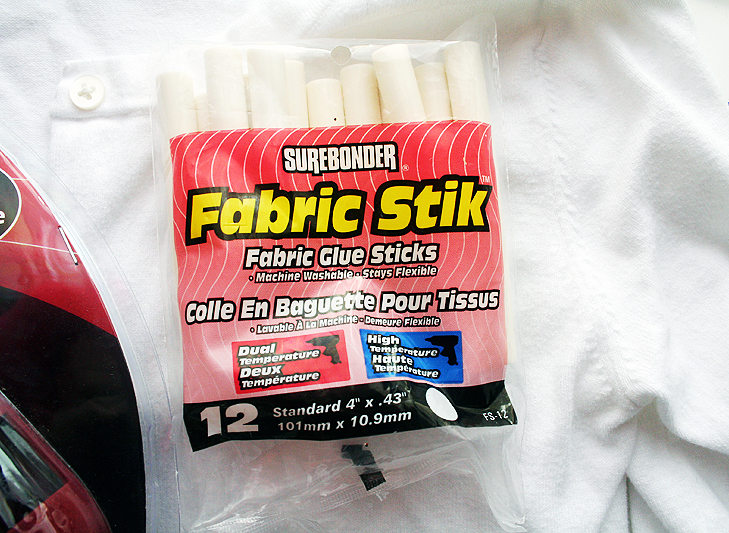 Then, I experimented with Surebonder Fabric Stix: hot glue for fabric! That's flexible! And washable! I can't vouch yet for how it washes. Only time will tell. I was just excited to try this out. It kinda stinks that it's white and not clear, but for this project, it was fine. It also, kind of literally stinks. It's a bit smellier than regular hot glue, so you might want to pop open a window if you're afraid of chemical smells. It's no way near as bad as E6000, though. Ultimately, I think that hot fabric glue is an easy solution for some quick embellishments, but since it's GLUE, it is kinda bulky and not as delicate as hand-sewing.
Here's an action-packed video I made while using the Fabric Stix for the first time!
I would say that it is certainly a quick n convenient way to glue stuff to other stuff, but I felt like I was being too messy with it, and it was kinda stringy, and……..it's WHITE. So, there are some definite down sounds to working with it. I'm interested in how it would hold up to gluing bows to jeans and stuff like that. More experimentation later!