If you guys are already members of Fab.com, then you might have already received the newsletter mentioning Yummy You! in their "Young at Heart" shop!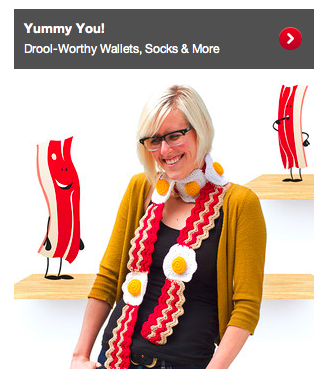 (p.s. my model and buddy Elysse is vegan, and here she is completely surrounded by BACON!!!! I have the omnivore's guilt!)
You can check out more of our goodies on sale at the Yummy You! Fab.com page here!  I have only been a Fab.com member for a short time. My brother told me about the Sanrio shoe sale they were having, and I bought a pair! A week or two ago, I also bought USB-powered hand-warmers and foot-warmers! Can't wait to show you guys those!
Okay, don't forget: our Fab sale only runs for a week, so grab stuff while you can!