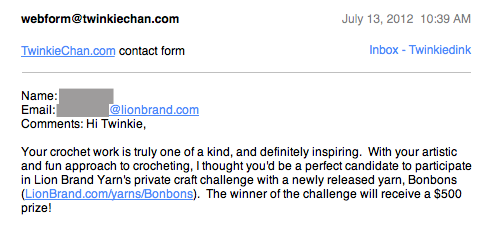 I sent in my entry for the Lion Brand Bonbon's challenge today!
It took me a long time to even decide what I wanted to do. I finally narrowed it down to two projects: little sparkly gummy bears, or, a sparkly gum-ball birthday cake tissue box cozy.  A quick Twitter poll yielded 100% votes for the gummy bears, so I listened to the people!!! Hairy said that it was a different project than I normally make, which was a good thing. But I said, well, everyone makes amigurumi so while I don't normally do it, it's still pretty normal! I figured LB contacted me so that they would get a weird, wacky, wearable project, but I could not deny what The People wanted! Plus, you know me, you can stick a hair clip or pin on anything and wear it! You could make a head band, garlands, pencil toppers. Really, the possibilities with small amis are endless!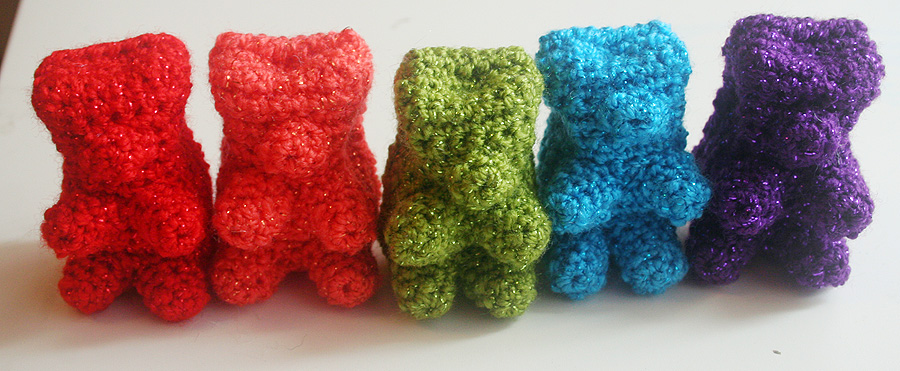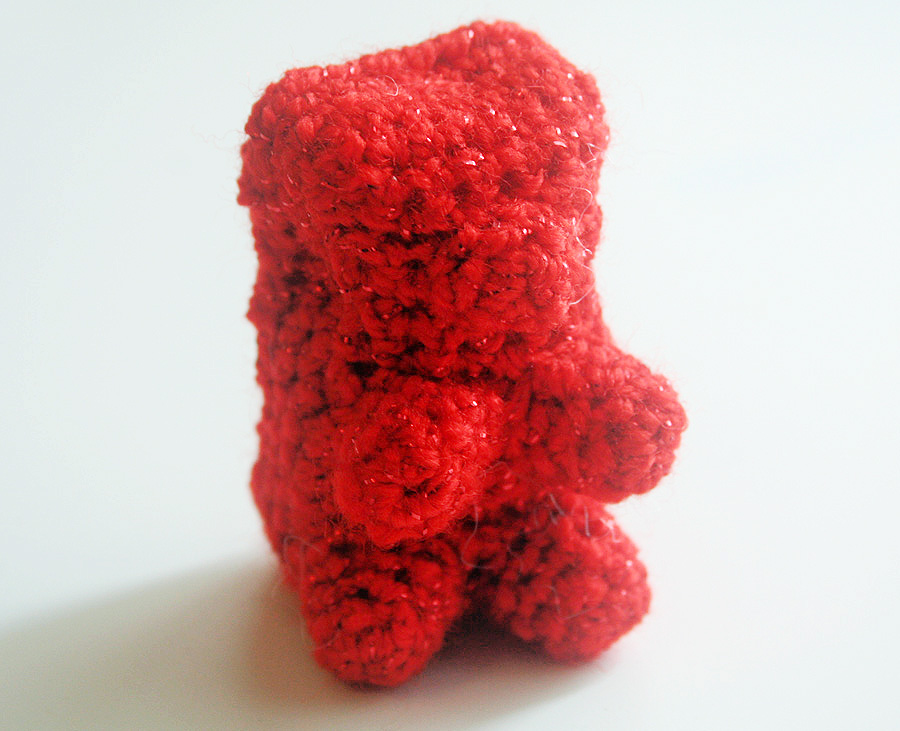 I also really liked the idea of creating a project in which you could use all the Bonbons in a single packet and feel like you got a good bang for your buck. (But if you want a yellow/gold gummy bear, you are gonna have to spring for a second pack!)
The tricky part of this project for me was making sure he looked like a gummy bear and NOT a teddy bear. I looked at zillions of pics of gummy bears online, and really, there are all different styles and kinds. But the kind that stick out in my mind are the ones that are kind of long and rectangular and really look like blobs, so there was that fine balance to achieve between blob and bear. I think he came out great!
I'll post the pattern if LB doesn't end up choosing it, so you guys will get the pattern regardless :). Stay tuned!
p.s. here's a pic of some early incarnations while I worked out my plan of attack…