I have a very cute giveaway for you guys! Joyce Wan's board book "You Are My Cupcake" (ages 4-8) is coming out this August, and she offered to give three of my blog readers a copy of it!
Described by the publisher as, "A scrumptious board book, filled with sweet terms of endearment. This bite-sized board book is an ode to all the names we call our children: cutie pie, sweet pea, peanut, pumpkin. With a candy-colored palette and irresistible art, this is the perfect baby shower gift!" The book will retail for $6.99 and will be available August 1st wherever books are sold.
Publishers Weekly also just released a delicious review of the book: "You are my cupcake… My sticky little gumdrop… My mushy little sweet pea," coos this plucky board book featuring terms of endearment based on cutely personified foods. Embossed for a satisfying tactile effect, Wan's digitized characters, reminiscent of Japanese animation, have chocolate-brown eyes and rosy cheeks. "Baby, I could just eat you up!" concludes the adoring final spread. All that's left of the cupcake is its smiling, green liner. Presumably, no actual cupcakes were harmed in the making of this crowd-pleasing plum."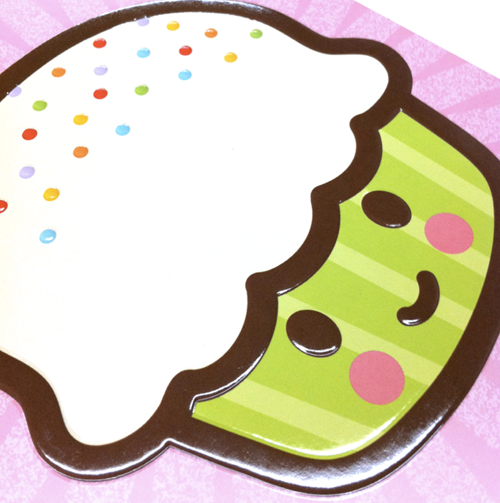 The companion book called "We Belong Together" will be coming out in the Fall.
All you have to do to enter is leave a comment :). You can earn additional entries by linking to my giveaway on Twitter or on your blog, and you must put either of those links in separate comments, since I will just use the number of blog comments to determine the winners. If you leave a comment with two links in that same comment, that's just going to count as the same entry! I used to edit and separate links and comments for you guys in the past, but it's too time consuming, so if you don't end up doing it properly, then I'm afraid I can't count it correctly.
I'll run the giveaway for a week, so I'll use Random.Org to choose the 3 winners on Tuesday, July 19!
If you have a wee one who is just learning to read, or you need to get a present for a friend with a kiddo, "You Are My Cupcake" will be a yummy surprise!
EDIT!
P.s. Joyce told me that since the book doesn't come out until August, she will not be able to ship the winners the book until the last week of July. Hope that is ok!!!