Remember that banana split tank top I made for Onch's Eat It All Party?
When Hairy asked if I wanted to participate in a "fashion meets art" show at Big Umbrella, I immediately thought of the banana split tank top. However, when I wore it, I found it was really heavy, too big for me, and ill-fitting. If I were to put this banana split on display, for sale, I wanted it to be 100% awesome! So I thought for a long while about how to re-purpose it and still make it wearable.
I have been seeing a lot of DIY'ing of denim, with a heavy punk influence and metal studs. I never was really punk, so I wanted to think of a way to embellish a jacket my way. DIYummify! I kept thinking about Madonna's jacket in Desperately Seeking Susan. I love that movie! Obviously, there are not a lot of design similarities.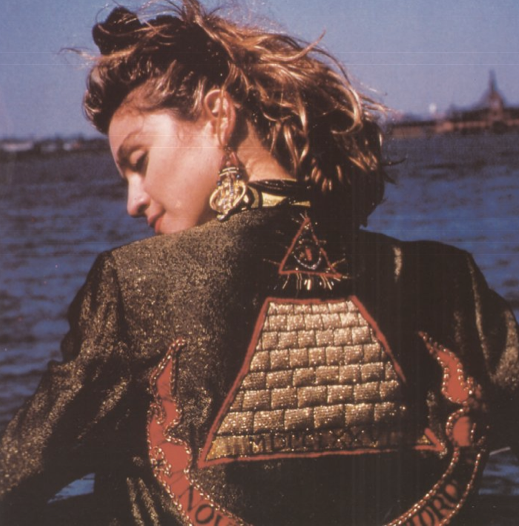 I think I mostly internalized all the gold glitter! 😛 And making something feel mystical. Ice cream is VERY mystical, yes? Using my crocheted banana split piece as the main graphic, I then decided to ask Hairy help me think of a phrase or a lyric that would go with my ice cream as well as evoke something slightly rebellious and kitsch. He suggested "pour some sugar on me." This lyric reminds me of my buddy Elysse and a gumdrop nipple, but I will say nothing more about that! I also threw in a bunch of different heart-shaped cabochons. The word "SUGAR" has iridescent glitter on it, but I couldn't capture it in photos. Sadly the jacket is waaaaay too big for me. It's actually Manda's old jacket. I txtd her last night to see if she had a jean jacket she didn't want anymore, and lo and behold she said SHE DID. If the jacket doesn't sell at the gallery, I will post it on Etsy!

I used Simple Times as a giant weight while I waited for the fabric glue to dry on my crochet piece. I think Amy Sedaris would be proud of this usage of her book. (Also I sewed the edges of the banana split down after I used glue as an achor.)


I wanted to stuff some items into the pockets of the jacket in case someone ended up buying it. While I don't smoke or condone smoking, I just felt it seemed appropriate! If I could have found candy cigarettes in the neighborhood at midnight, that would have been ideal. I have never bought cigarettes before and it was kind of awkward and I asked the guy at the store to pick a brand. I also got a pack of matches and had Hairy right "Dez"'s phone number on it, Dez being a character from Desperately Seeking Susan. I also included some gum and some money. I tried to crumple everything up to make everything seem "used."
If you are in SF, you should come out for the show opening. It's today, Friday, from 6pm-11pm, at Big Umbrella.