Today Hairy and I trekked over to Fort Mason to check out the first day of Renegade Craft Fair. It's also open tomorrow, so you should go have a shop!
I also met my lawyer for the first time! She flew in from NY to check out the fair, so that was cool to hang out with her in person. We also met up with Tess, so I got to have TWO rounds of shopping through the fair, which is a rare treat considering I'm usually vending now and just do a quick 5 minute walk around the place!
They've also started to step up the food situation at Fort Mason. It used to be turkey sandwiches and hamburgers and hot dogs, but now they have shawarma and knishes and fancy cucumber beverages. Thumbs up!
Since I am a big lame-oh, I didn't take an pics at the fair, but I thought I would share some of my fave shops, or, at least shops I remembered to grab business cards from!
Rusty Cuts


It looks like she pulled most of her handmade from her Etsy in order to sell it at the show, but I really loved her handmade/upcycled dresses! I was very tempted to get a Star Wars one!
w.ho made it


It also looks like her new collection is on the table now and not so much in her Etsy shop, but I instantly fell in love with these neato jewelry holders made from tea cups and stuff. The knobs on top are magnetic for easy on/off!
I Adorn U


Apparently these arrow bracelets were so popular today that she already sold out! I met Mary Beth on Etsy after buying a few of her cute bunny jewelry holders, which don't seem to be in her Etsy shop right now. Tess bought a jewelry holder today as well! They come in tons of cute colors!
Bossa Nova Baby


Okay, her Etsy shop totally does not represent all the cool designs she has at the show! I LOOOOOOVE this cardigan she sells that has a cute little whale on it. I was VERRRY tempted!
Knickerocker


That is actually a pic I took of the underwear I bought today! She has sooo many cute undies designs that are not in her Etsy shop, including this amazing pair of rainbow undies with tiers of rainbow ruffles on the bum!! If you go to the show, you HAVE to check them out.
Lemon Bird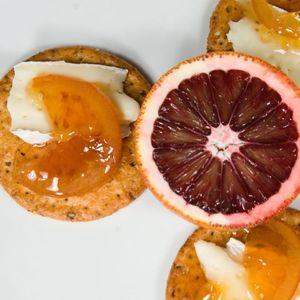 So, Hairy loves fancy jams and pickles, so this was the booth for him! He bought a strawberry with lemon basil jam, but they had all kinds of cool yummy stuff.
Wood Thumb


Wooden ties! Ties made out of wood!
Nice


This shop had a ton of cute stuff in it, but I was particularly drawn to her upcycled lamp shades that looked like they were made from vintage doilies and other stuff like that.
Skeletal Dropkick


I seem to be running into this issue a lot in this post, but I couldn't find a photo of my favorite object from the show. Anyway, there were tons of cool mugs that looked like monsters, with open mouths and pointy little teeth!
Plastique


Cool acrylic jewelry! My fave was the Golden Gate Bridge knuckleduster.
Before leaving, Tess and I also indulged in purchasing mini vegan apple pies on a stick. YUMMY!