Hey Gang!
Sorry for the lack of commenting and updates. I was unable to do either, and I thought it was just a momentary glitch. But then I asked my webmaster/brother tonight, and he said it looked like the blog had actually been hacked!!! I think it's better now, tho. I seem to have a lot of problems with this blog breaking!
Anyway, I hope everyone had a fun Halloween!! I was so involved in my projects that I had NO brainpower to spend on Halloween. We ended up going to a bar with Manda who dressed up as Punky Brewster and we people-watched. Then we ate some foods at Baghdad Cafe after closing down the bar and did more people-watching!
This is basically the only entertaining pic from the evening: Manda at Baghdad being the guinea pig for Hairy's animated-gif app on his iPhone: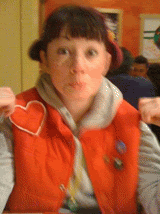 I was going to post the rest of the scarf pics that I took on the day I had to email my manuscript, but, then I figured, if I showed pics of everything, it wouldn't be a very fun surprise!! (However, the pics I've been showing you will not be the final pics for the book. I have to plan those shoots out and take them a bit later!))  So here's just one more. I had basically been up all night, worked until noon, shot pics, edited them, and went to sleep from 2pm-6pm before I had to meet my friend Pickle for dinner in San Leandro. It was a long day!!!
So now, my next project is making goodies for this event at the New People building . SF Bazaar Bizarre is teaming up with New People to bring you "New People Artist Village Vol.1: New People x Bazaar Bizarre". This artist's village will be in celebration of a new art exhibit at the SUPERFROG Gallery entitled "Tokyo Creators Market: An Exhibition by 7 artists from Tokyo." If you haven't visited the New People building yet, here's a great opportunity!
WHEN AND WHERE
Friday November 20th 2009 6pm-9pm
Saturday November 21st 2009 10am-8pm
New People
1746 Post St,
San Francisco, CA 94115
When there's a banner, I will post it to my MySpace, etc!
In other news, I got a few pics from Margaret from her wedding. I will put them behind a cut!
xo!
So I didn't wear a wig after all. I kind of wish I had done my hair differently, but I don't really have hair skills. Half the people at the wedding had already seen my regular hair, so it seemed extra silly to put a wig on for the actual wedding.
I told Hairy that for my next formal event, I need to ditch the glasses. He seems to think they are fine, but I think there is something too casual and not very elegant about wearing them!
Here's a pic from when I gave my most awesome wedding toast! I made the bride cry by re-telling the story of how she and her man fell in love!
Fish face!
And because food is always important:
Steak AND salmon!! Protein power!!!