So we will be in Houston for the weekend for Margaret's wedding. I am packing my curly Shirley Temple wig! Today I went shopping with Manda AAAALL over the planet looking for red shoes to go with my red bridesmaid dress. It was not easy, let me tell you. I either felt like a tacky cougar or a businesswoman….nothing wedding-appropriate AND RED.
My mom berated me and told me that if I hadn't waited these few months to shop, that it wouldn't be the winter season, and that there would have been more red shoes a few months ago. AH! Whatevs!! What do I know from fashion seasons?!?! I kinda hate that there are colors that are supposed to go with seasons. I dislike fall colors especially!
I managed to wrangle a pair of super pointy, Marc Jacobs, strap heeled shoes in a kinda shiny patent at Nordstrom Rack. Trust me, everything looked terrible, and this was the least of all the evils. It's not my wedding and I don't have to look awesome, nor will people care much, but I admit, I feel a bit defensive because I'll be the weird girl with the full sleeve, and I don't want to look like I don't have the class to clean up nicely!!! Weird, I know!!
Today I drove all the way up to Petaluma to drop the baby doggies off at their new kennel. I hope they have a good time and are not sad!! Then I drove all the way back down to Palo Alto to go shoe shopping. On the drive home, I kept myself awake (only had 4 hrs of sleep last night) by practicing the speech/toast I have to give at the wedding!!
Anyway, sorry for all that text!! I will leave you with a few fun items from the interwebz!! *Click on images to go pages*
I've added Coco Perez to my blog reader on Blogger.com (where I host the YuckyStuff site). I am enjoying it! Check out his post on chocolate and fashion!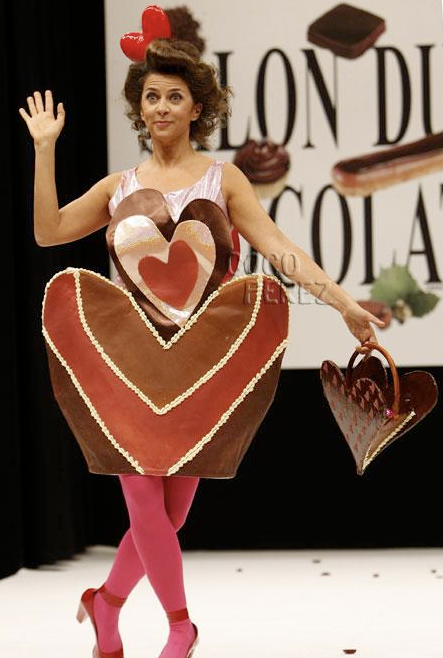 Hairy showed me this post about Hello Kitty toys with ORGANS!!!!

Lastly, I am into this t-shirt dress from FredFlare.com. Although, I would be inclined to embellish the white-tee part, I think with an applique or some bling or a drawing of a lollipop or something!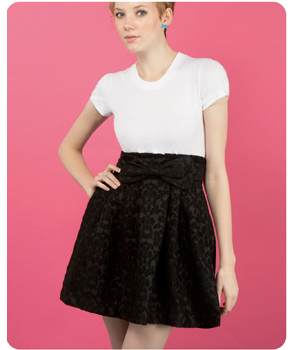 Everyone have a great weekend!!! I hope you all get to see Where the Wild Things Are. I am going to wait to come home to see it with my bestie!!!!
xoxo