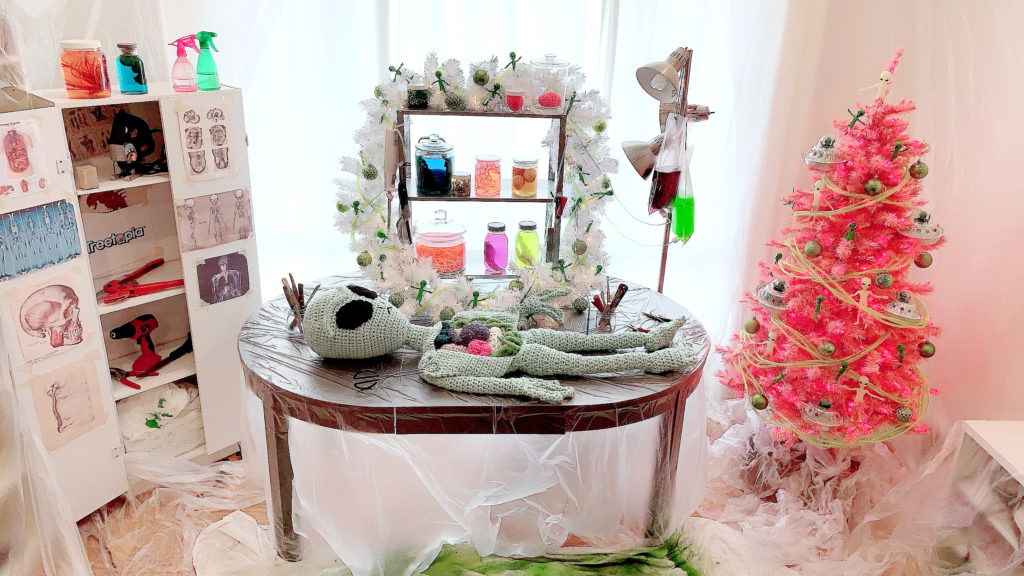 Pink Halloween Tree – Alien Autopsy Style!
Quote from my mom: "It's funny. AND YUCKY."
It's that time of the year again when Treetopia celebrates its biggest scare-fest! They partnered with 12 influencers – including me! – to join their brand ambassador, Jennifer Perkins, in a very unique influencer- hop. Everyone is decorating a room in their homes with a haunted house theme featuring colored trees and foliage from Treetopia, and you have a few ways to win your very own tree! Scroll to the bottom of this post enter. #TreetopiaScaryRooms
While looking at tons of images of haunted houses, I for some reason got really inspired by a particular Alien Autopsy room and completely ran with that theme.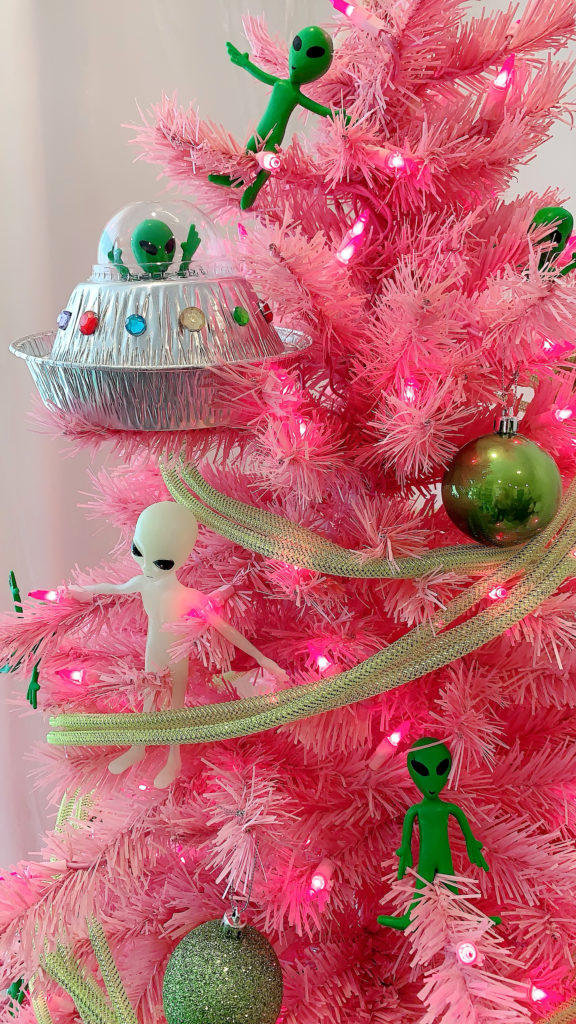 I had so much fun decorating my 5 foot pink tree with pink lights courtesy of Treetopia. I used little green aliens, medium-sized glow in the dark aliens, assorted green tree ornaments, and I made my own UFOs with pie tins, treat container toppers, flat back rhinestones, and really awesome stretchy mesh tubing! I love the contrast of all the green decorations with the pink tree.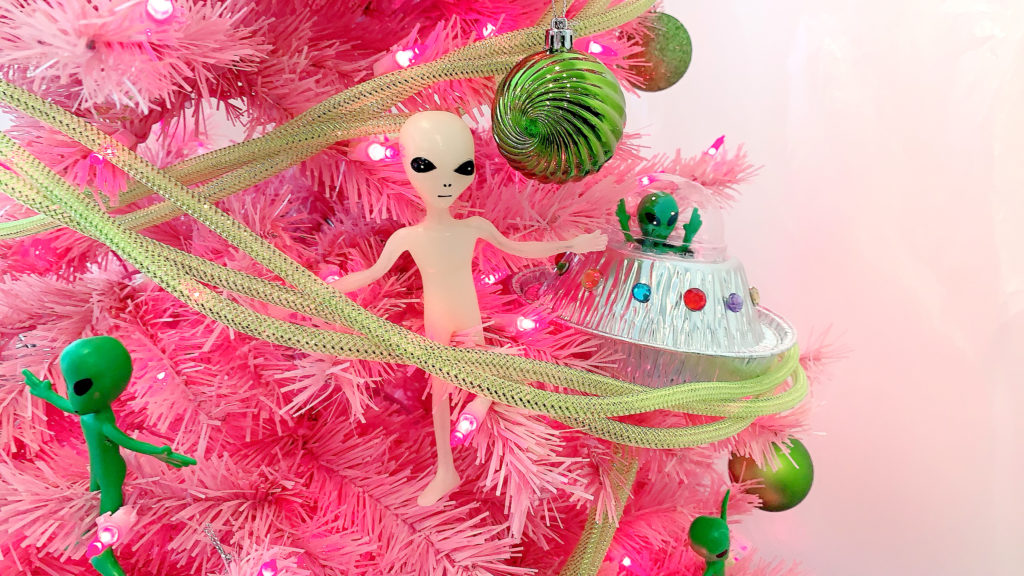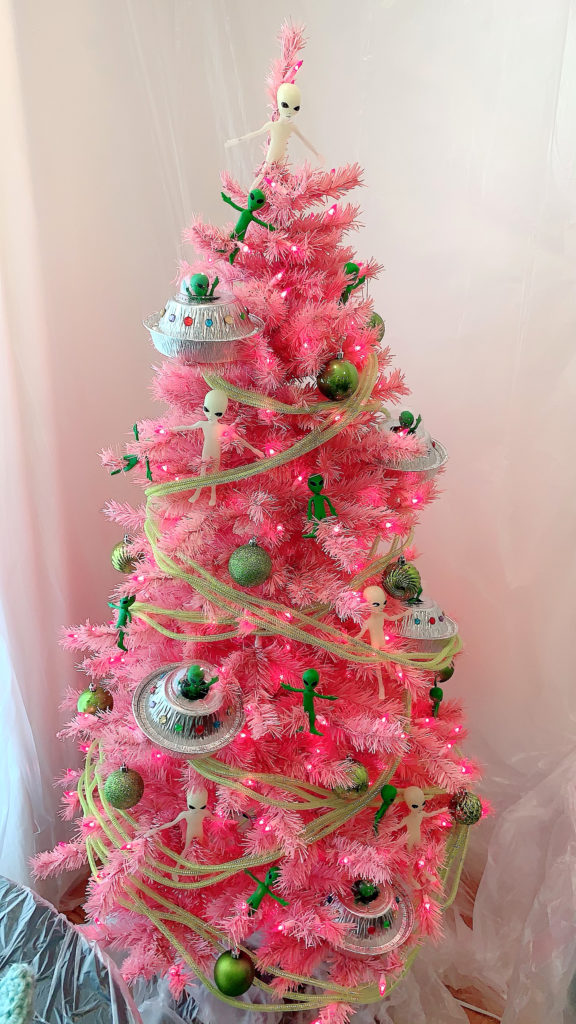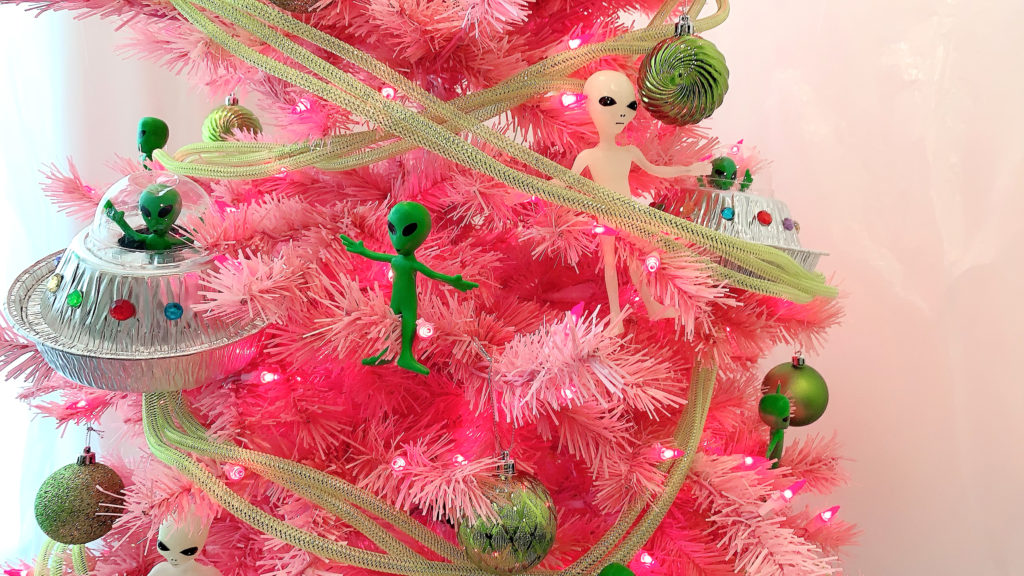 A Closer Look At Our Lab
While I focused on crocheting the guest star of my Scary Room – George, the crocheted, autopsied alien – Manda helped me create the crazy laboratory around him. She started by draping everything with plastic painter's sheeting to create that "secret pop-up laboratory" look.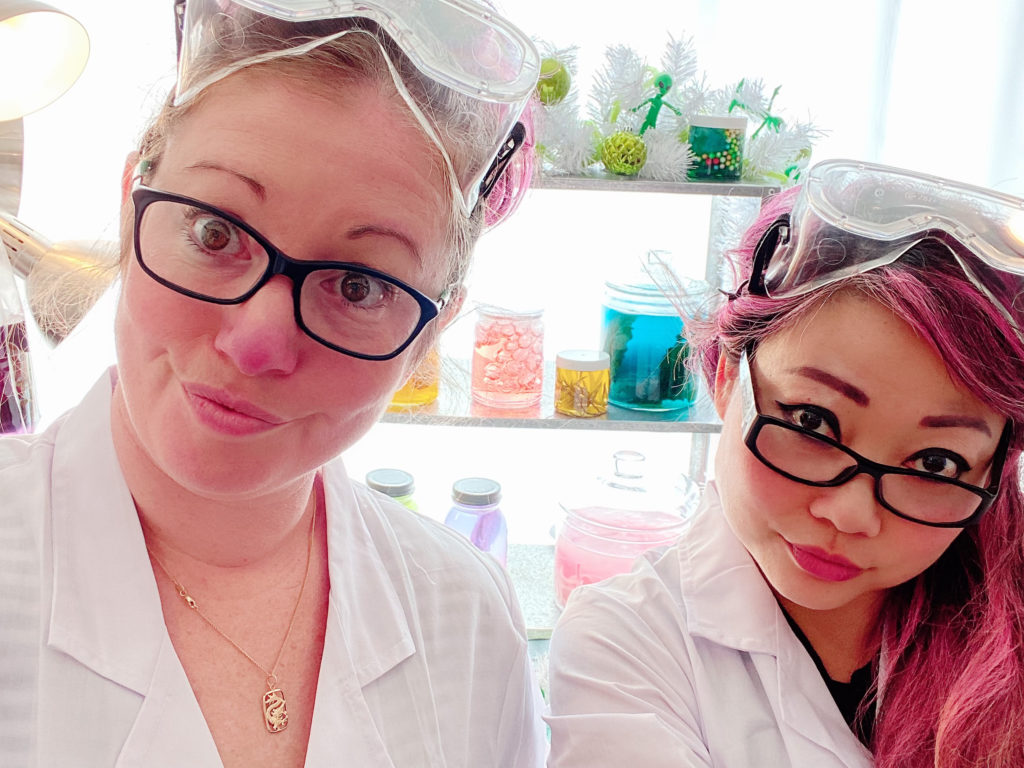 Initially, my goal was to crochet a bunch of organs to suspend in jars filled with colored water, but I was really pressed for time, so Manda improvised and started digging around in the kitchen for anything and EVERYTHING to put in our jars.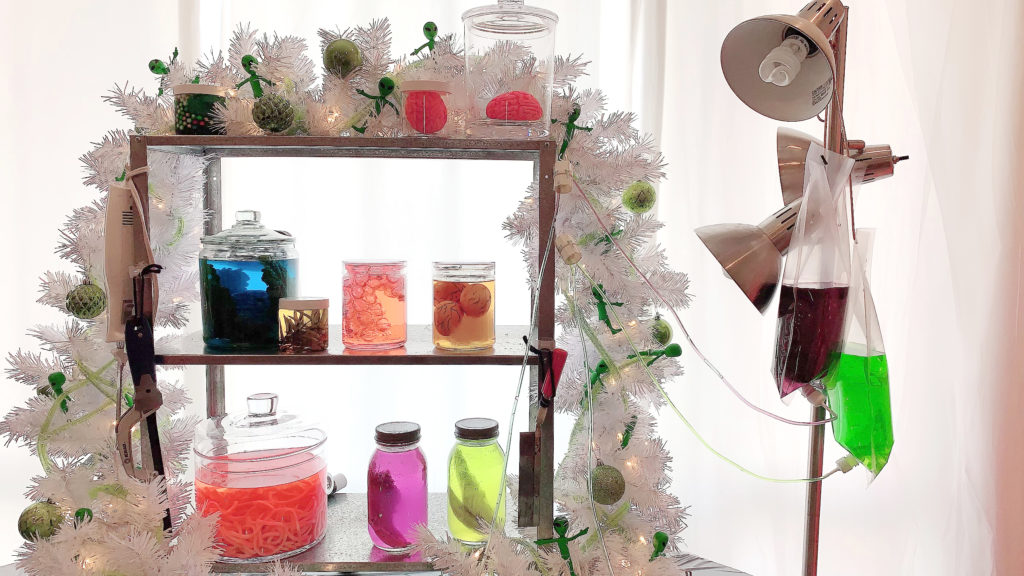 Me: What's in the blue jar?!
Manda: KALE. AND A ROCK.
We surrounded our laboratory shelf with a 10 ft. pre-lit white Christmas garland which Manda also decorated with aliens, green tree ornaments, and plastic aliens to coordinate with our tree, because who says labs can't be festive, too?
The "I.V." bags are actually something you can water your plants with as you set how much it "drips," and we just hung them on a silver lamp that I almost gave away because I don't really use it.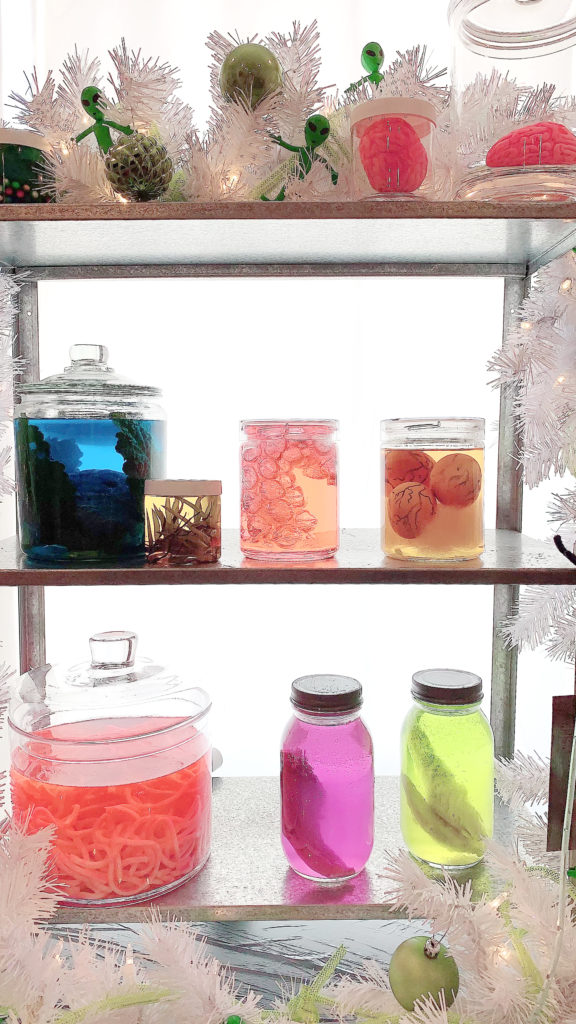 Other things in our jars: jumbo bubble wrap, eggs that Manda drew veins on with Sharpie, Polyfil stuffing, udon noodles, FROZEN CHICKEN BREASTS, a dried up air plant, and 1 actual crocheted organ.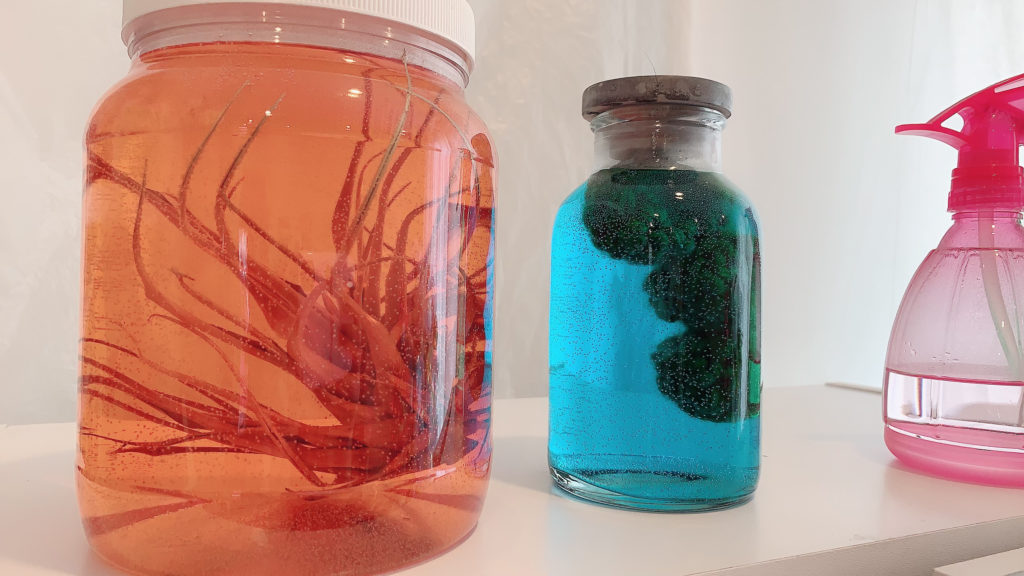 We just bought a new cabinet for our living room to hide our vacuum cleaner in, but it made its debut as our mad scientist storage area including anatomical research photos and other intimidating looking tools we happen to have in our garage at the moment.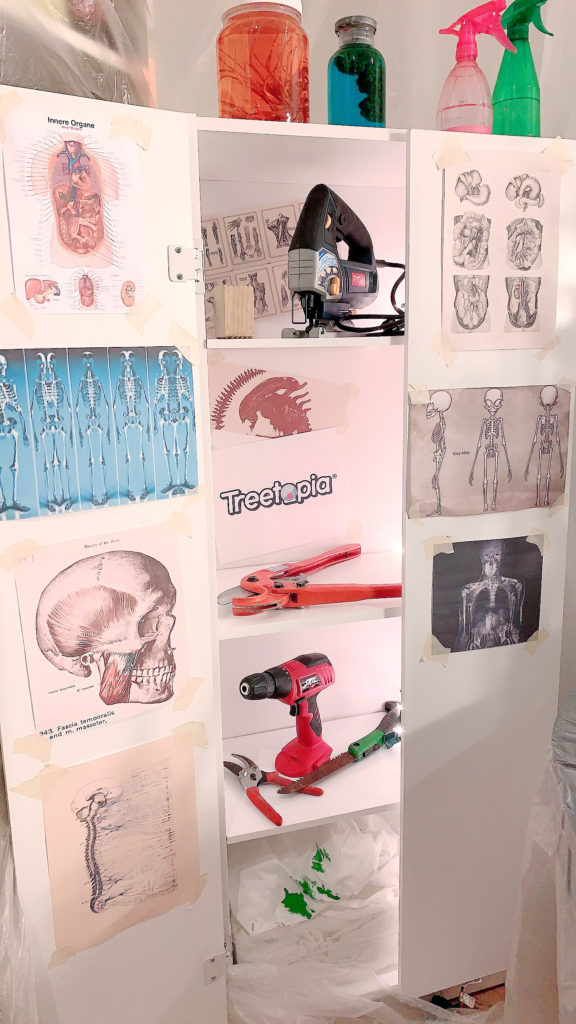 George, The Crocheted Alien Who Was Tragically Autopsied But Feels Relatively Okay About It
So, I spent a million hours crocheting this alien autopsy, but I didn't get great photos of him because he was on my dining room table, and I couldn't get high enough to get his whole body in the frame.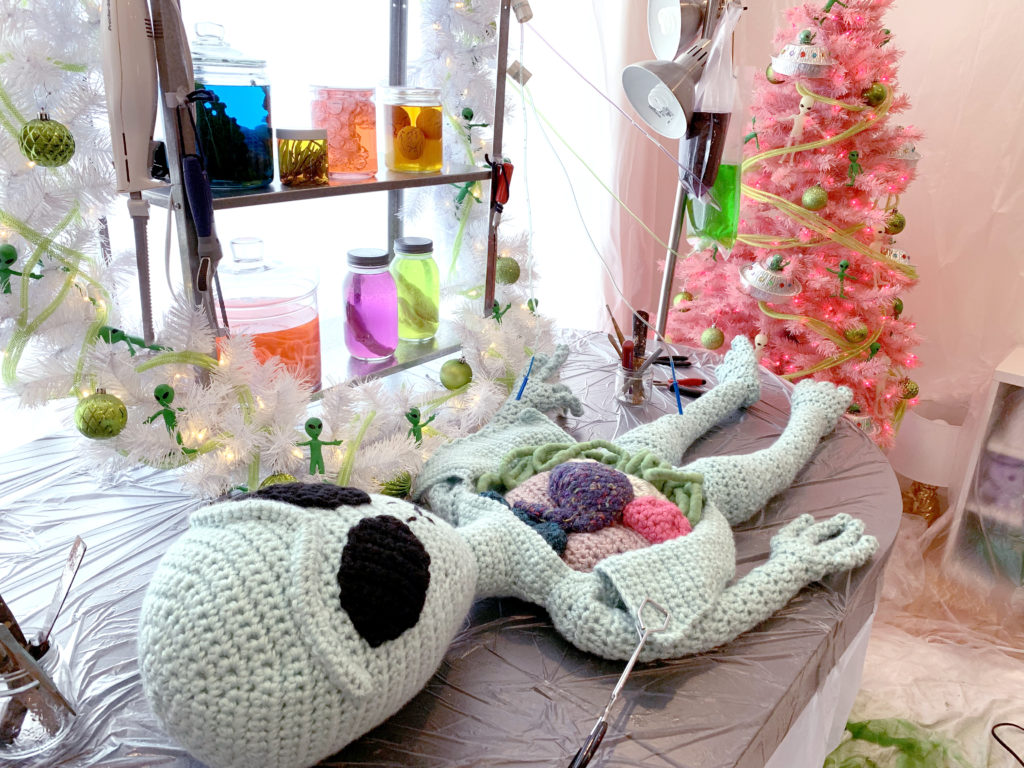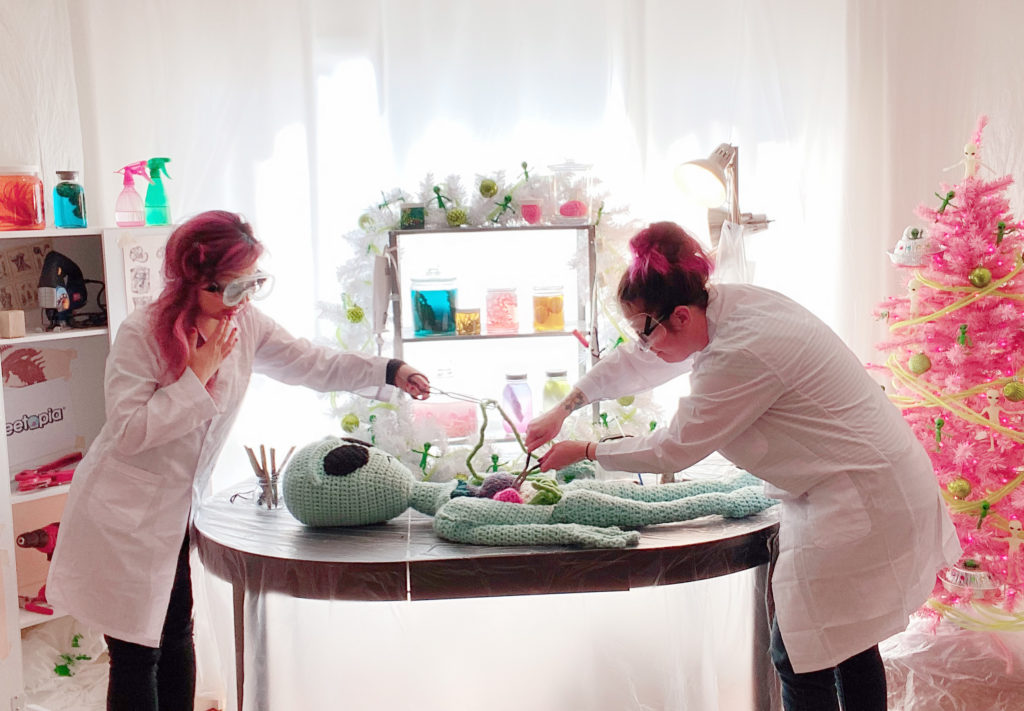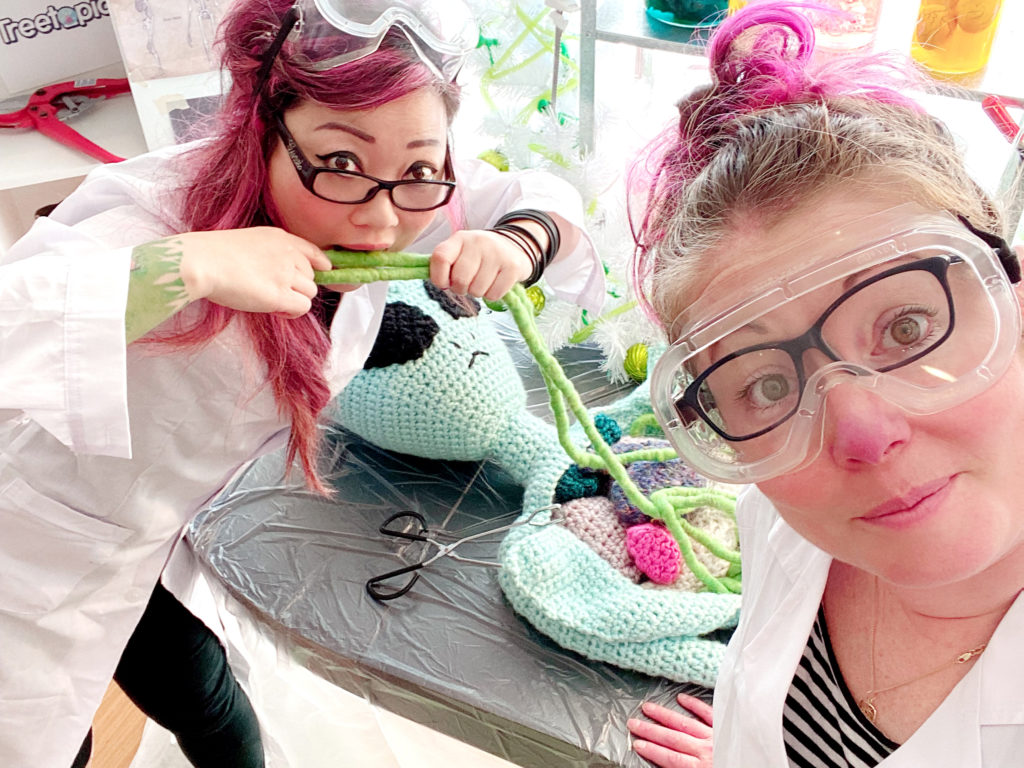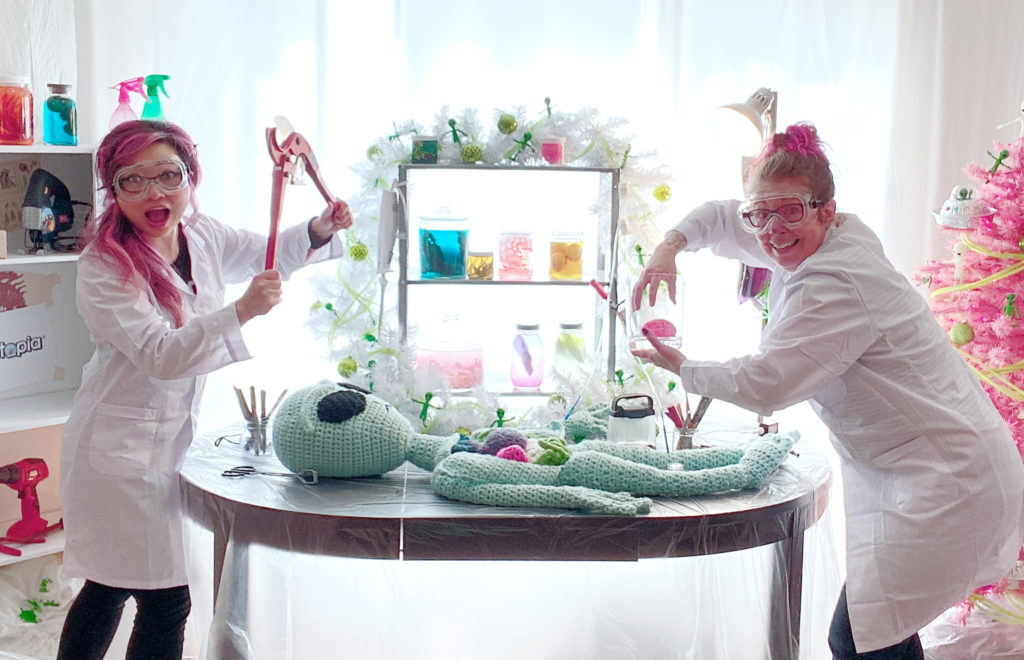 Win Your Own Halloween Tree!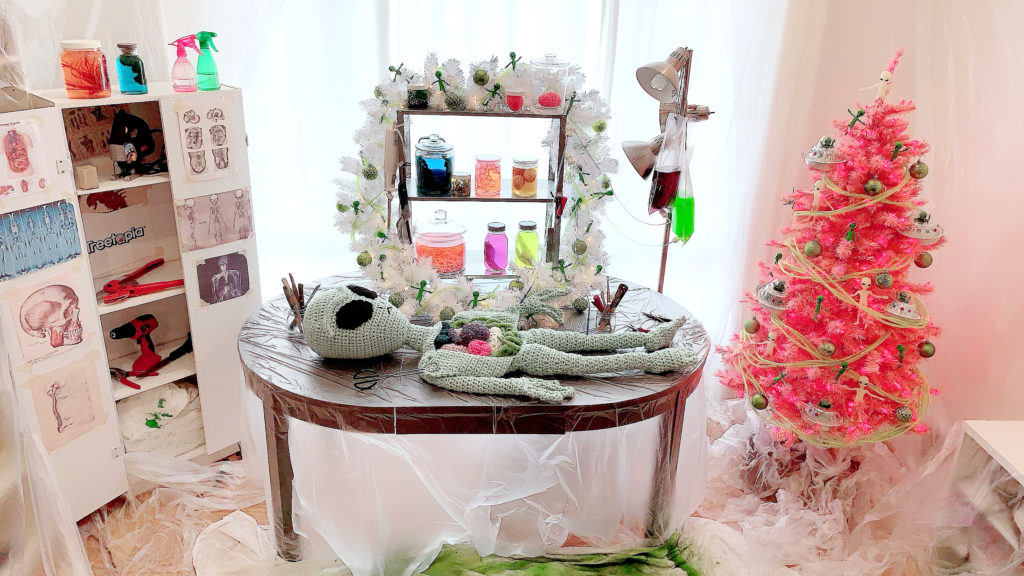 Giveaway #1: Open to U.S. residents over the age of 18 only. Treetopia is hosting a treasure hunt! Find the Treetopia logo hidden in my photo above, screenshot it, and use your screenshot to enter to win at this link: http://bit.ly/TreetopiaScavengerHunt You can also take screenshots from the other bloggers in the Treetopia Scary Rooms blog-hop! It started on September 23rd and ends on October 10. There will be three winners! You can see the types of trees you might win in their terms & conditions.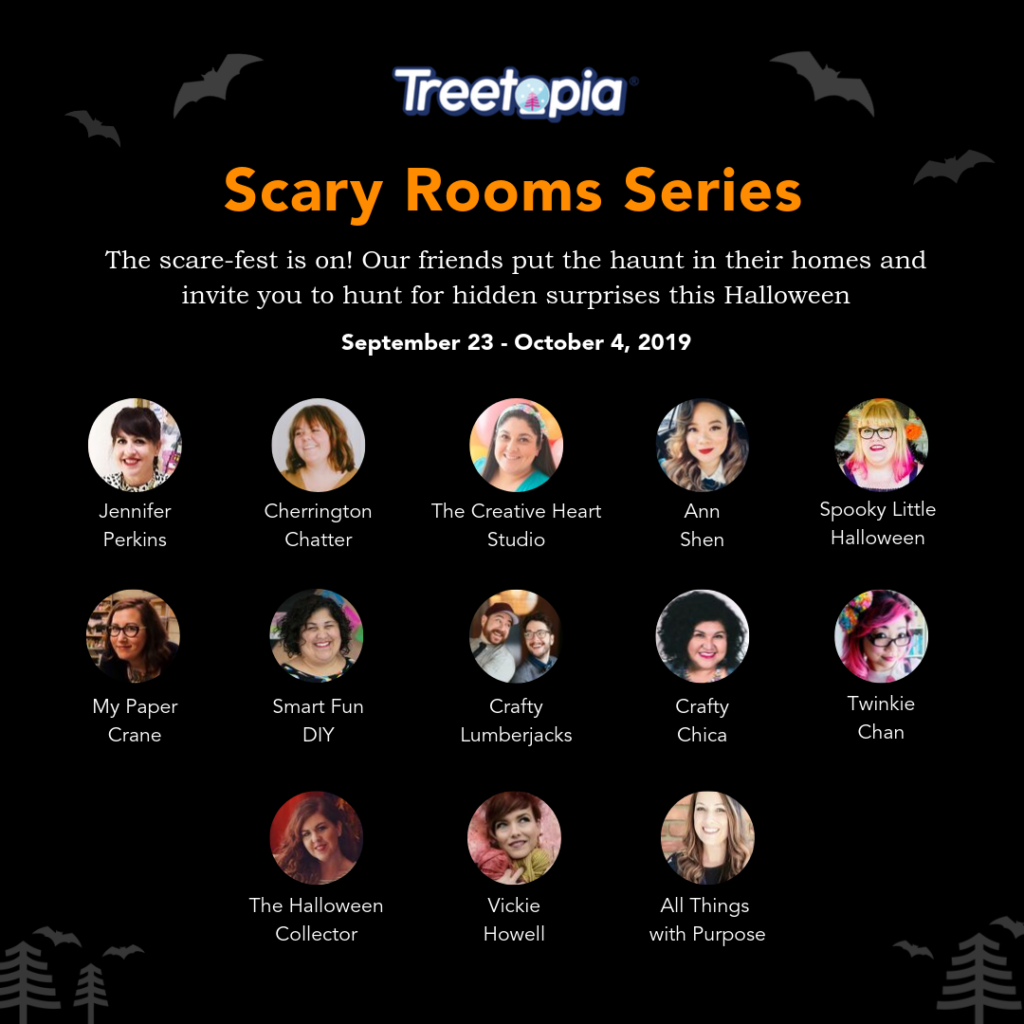 Giveaway #2: Open to U.S. residents over the age of 18 only. I am also hosting my own giveaway right here on my blog. You can enter to win the same 5 foot pink tree that I used for my alien tree. It's the perfect shade of pink and pre-lit with pink lights. I must admit, it casts a pretty eery glow at night. To enter to win, use the Rafflecopter widget below. I will choose 1 winner on October 5th, and your tree will be coming from Treetopia! Good luck!! I can't wait to see your Halloween Trees!
a Rafflecopter giveaway