"I DO NOT DO BODY CON" is something I decided for myself when body con dresses seemed to be The Thing. My comfort zone is fit-n-flare, trapeze, and A-line. When Unique Vintage asked if I might want to help them promote a certain list of dresses from their site, I saw this hot pink polka dot dress and wondered, "CAN I WEAR THAT?!"
Of course anyone can wear whatever the heck they want. I guess the real question was, "Would I feel COMFORTABLE in that?" It seemed like the perfect opportunity to take that plunge and squeeze myself into this 60s inspired wiggle dress.
Why yes, yes I am wearing some Spanx underneath there. I don't exercise, I don't really watch what I eat, and I'm turning 40 tomorrow. SPANX PLEASE. Tbh, Spanx do help a little, but they are not a miracle. I still have a bit of a belly pooch, but I have organs in there, and also cookies, so, it's just logical, and totally okay. Being okay with our bodies is always a weird battle, at least for me. We're always our own worst critics. Especially with a big birthday coming up, I'm like… WHO AM I… WHAT AM I DOING… DEFINITELY NOT YOGA?… SHOULD I BE?!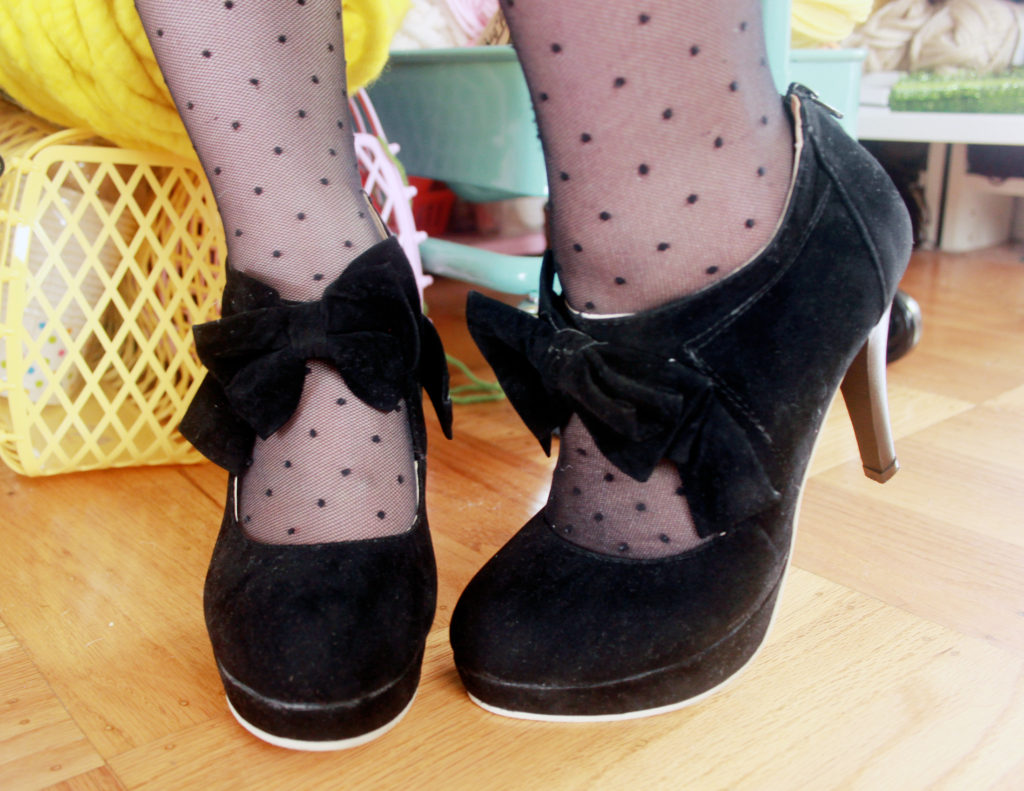 I should definitely use my gym membership more. I want to be able to run from the zombies when the apocalypse comes. I don't want to be That Girl who trips on a root and dies within the first 5 minutes. I wanna be a survivor! Hopefully I won't be wearing these particular shoes when that moment comes, but I sure do love these shoes a lot, and they are surprisingly comfortable, although the heel is pretty thin, and feels like it might snap off at any moment. You know, on a root.
I also threw on one of my current favorite necklaces: a little donut gem with some girly girl pearls. I gotta be me.
Have a great weekend everybody!!!!!!!! I have no idea what is in store for me and my big birthday. Manda planned everything, and it has been top secret. All I know is that a) she called a zoo and b) she asked if I had any banana-themed clothing……   <3
Outfit details: Dress – Unique Vintage (on sale!), Necklace – Fatally Feminine, Shoes – Amazon.com, Hair flower – Tarina Tarantino, Belt – some random other dress.