I started seeing these cute little blush compacts pop up on my social media, and they are too cute to pass up!
My old blush is nearly tapped out, so I decided to check out Love Flush by Too Faced. Like the lazy non-makeup-guru that I am, I didn't even see any of these in person. I just straight up picked one randomly, googled some swatches, and ordered it from Sephora. This shade is Justify My Love, and I'm actually really happy with it. I thought it might be too light for my skin, but it's actually kind of perfect. I generally like my blush to be slightly on the cooler side, so I might check out some other shades in person at some point, but I'm super pleased with my blind purchase!
(Sorry this is a crappy phone cam pic… Non-Makeup-Guru strikes again!)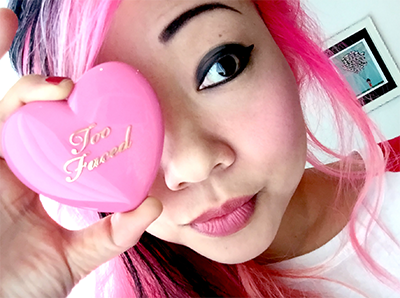 The other cool thing is that Too Faced is cruelty-free! I'm not sure that this blush is vegan, but they maintain a list of their products that are.