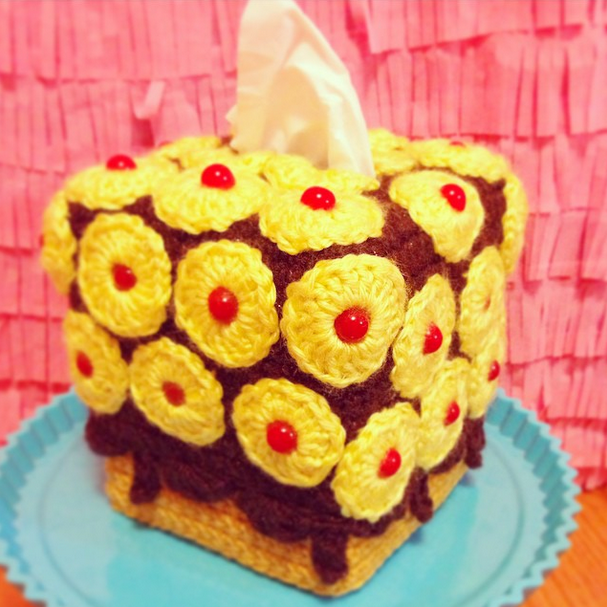 (Apparently I wrote this blog entry in February but never posted it!? I have no idea why I didn't. Here we go!)
I posted this photo on Instagram the other day, and I was sort of surprised that people liked it so much, since it's an older project of mine that I recently re-made.
Over the holidays, someone special-ordered one of these bad boys for a Christmas present. I had only ever made one (I can't even remember when), and I had never written down the pattern. So I winged it again and sent it off. I didn't write down the pattern AGAIN cuz I was in my holiday freakout mode.
The cute part of the story starts when the recipient of the gift contacted me and said that she wanted to order TWO MORE of these cozies, one as a return-present, and another for another friend. These ladies are like the Pineapple Upside Down Cake Tissue Box Cozy Club! Even though I can't take on very many orders right now, I really wanted to make some pineapple dreams come true, and I actually wrote down the pattern while I crocheted the above cozy (edit: the yarn I use for the "syrup" keeps getting discontinued so I have to keep re-writing the pattern…!!!!).
I guess the point of the story is that I so appreciate you guys, and I'm so happy that you continue to like my work, both old work and new work. I'm also always so floored when people share my work with others, either as physical items/gifts, or just photos online. I like that there are people out in the world that like the same weird stuff that I like.
And for those wondering if I will release the pattern for this cozy: yes, that is the plan. When I get some free time to shoot step-out photos, I plan to post this pattern for free on the Tissue Box Bakery website, which I know is SORELY inactive, but always on my mind!