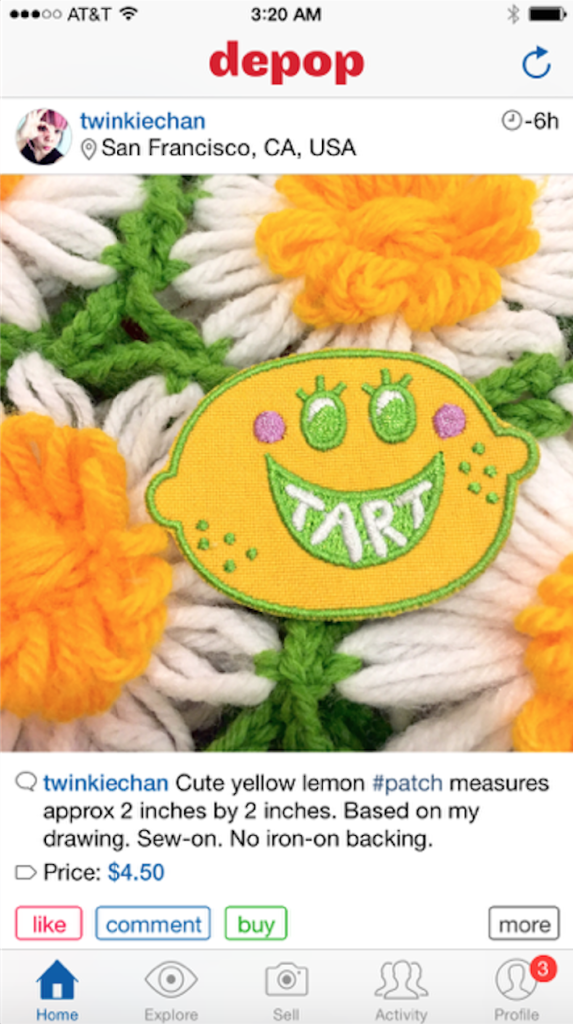 Have you guys heard of Depop? It's an app that combines Instagram with a shopping experience. Follow your favorite people and check out what they've been posting for sale from their closets, special collections, and more!
Depop got in touch with me and asked if I'd like to try setting up a shop. I've seen a couple of my friends list items from their closets on there, so I thought I would give it a spin!
Here's a link to my shop, but you need to create a Depop account to make a purchase. It's super easy, and Depop uses PayPal so it's secure. You can comment, like, private message, all your favorite Instagrammy stuff, and also get some retail therapy! I am hoping to list more of my yarn stash as well as some cute clothes, so stay tuned! As a seller, the listing process is super easy. You can take a snap on your phone and instantly upload the photo to your shop, instead of shooting items then uploading them somewhere, editing them, and loading them up somewhere else. Depop even has some filters to edit your photos.
Depop also wanted to sponsor a lil giveaway for you guys, and they picked a few items from my shop for your prize package: a 1.5 inch pin that says I Heart Snacks, a cute strawberry patch based on my drawing, and a crocheted carrot pen cozy!
To enter to win, use the Rafflecopter widget below! Giveaway is open worldwide, for ages 18 & over, and will run for a week until next Thursday night, April 16th, at midnight PDT. Winner will be chosen randomly via Rafflecopter/Random.org, and winner must reply to my email within 24 hours, or I will randomly choose a new winner. No purchase necessary. Good luck! P.S. Please make sure my email address can get through your spam filters! I will only be contacting winners via email. twinkie@twinkiechan.com
P.P.S. NO giveaway accounts! Thank you!
a Rafflecopter giveaway