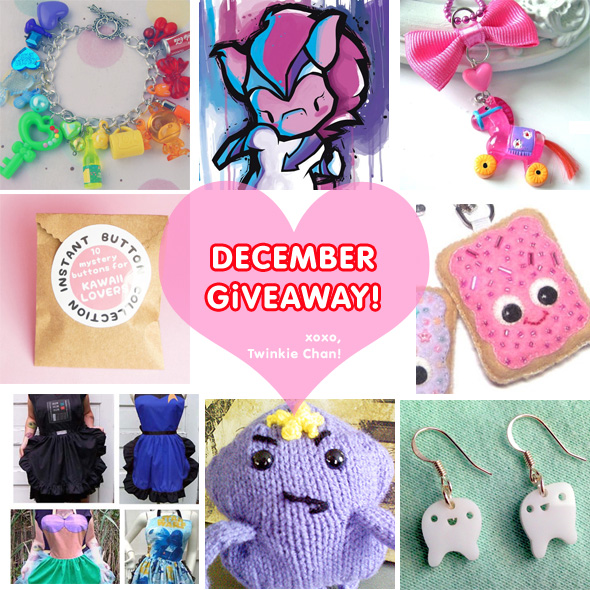 Hi! It's the 16th of the month, so it's time to launch a new blog sponsor giveaway! (Sorry it wasn't on the 15th this month …. it has been so crazy here since I've been working hard on your holiday orders!)
Thanks so much to my generous sponsors for offering us these wonderful goodies!
ONE lucky winner will receive: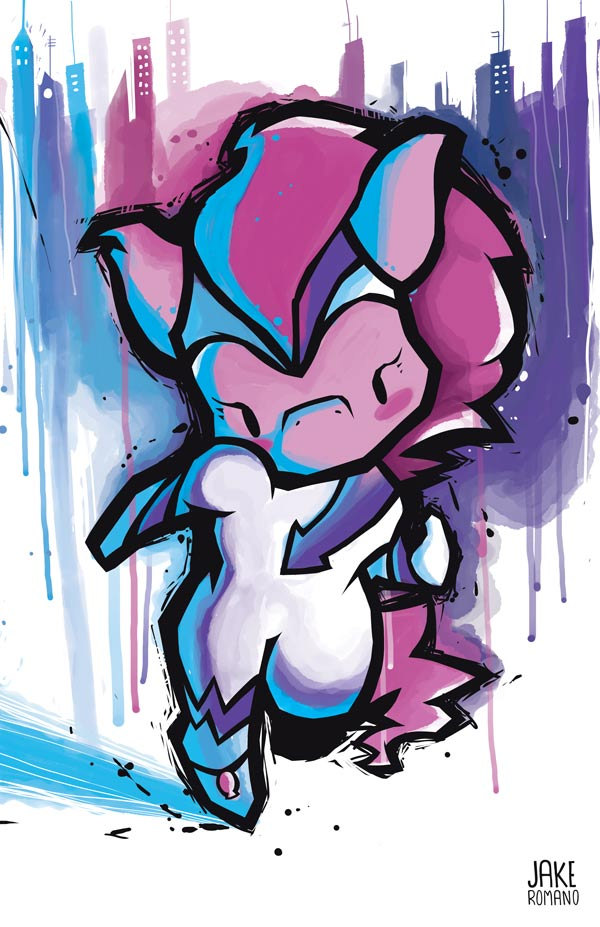 1. A full set (6) of Power Ponies prints by Jake Romano. Each is 11″ x 17″.
2. An Instant Button Collection from The Pink Samurai: 10 Mystery Buttons for Kawaii Lovers!  This is a blind bag full of super cute pinback buttons. Also, The Pink Samurai's booth at Blue Genie Art Bazaar is up until Christmas Eve and is fully stocked with stuff for crazy cat people, kawaii lovers and geeks! They're open 10-10 every day and have 200 other artists and makers there, too!
3. Cute teeth earrings from Super Good! Teeth get tired being cooped up in your mouth all the time.  Maybe you should give them some fresh air and hang them from your ears instead! Teeth measure approximately 11 x 13 mm. Surgical steel hooks. Handmade, for freedom!! (She'll also throw in some fun stickers!)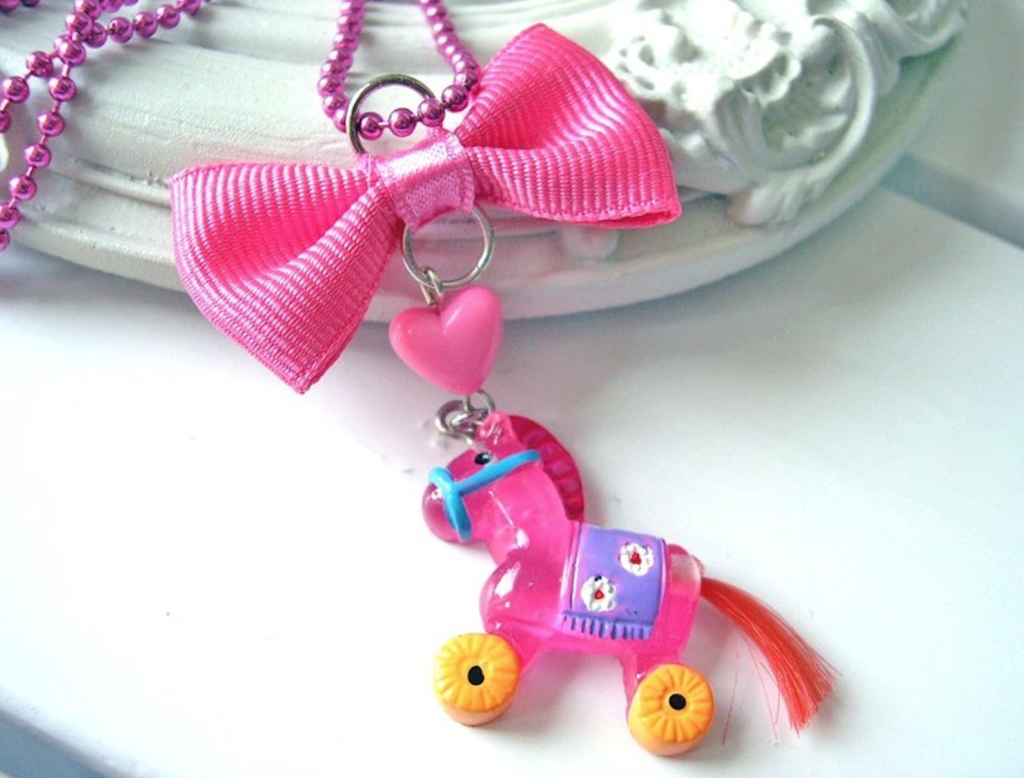 4. An adorable pink horse necklace from Dina Fragola. A cute little toy horse topped with a heart and a bow strung on a long  pink ballchain. Can be worn in 2 different ways.
5. One plush Poptart keychain of your choice from Clairey Lou Creations! You wont lose your keys with one of these cuties on them!

6. A $15 gift certificate to Knit Kritters!
7. A rainbow candy charm bracelet, from Kelsea Echo, similar to the one pictured above, made just for you! This charm bracelet is the first piece from her new Rainbow Candy collection, which launches this week! Follow along via social media or check back during the week to see the newest pieces.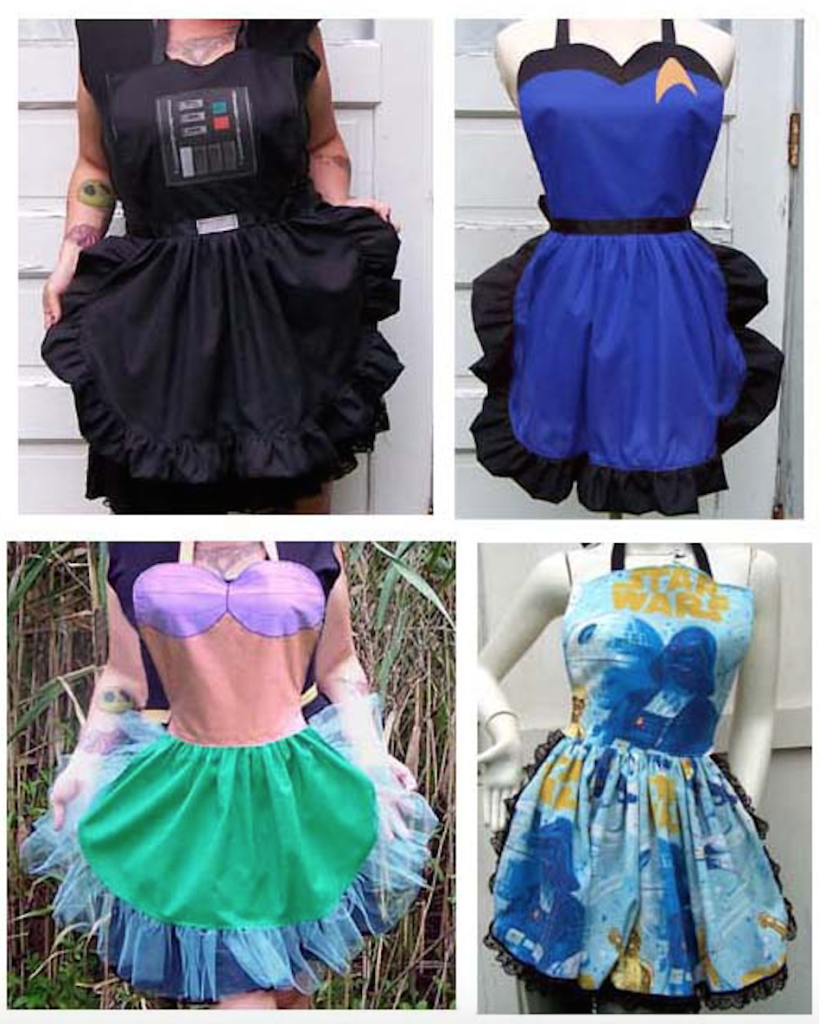 8. A $30 gift certificate to A Little Geeky!
Just follow the Rafflecopter widget below for all of your chances to win! (p.s If you are new to Rafflecopter and think it's weird, I just ran into this hand dandy guide.)
Giveaway is open worldwide, for ages 18 & over, and will run for a week until next Tuesday night, December 23rd, at midnight PST. Winner will be chosen randomly via Rafflecopter/Random.org, and winner must reply to my email within 24 hours, or I will randomly choose a new winner. Good luck! P.S. Please make sure my email address can get through your spam filters! I will only be contacting winners via email. twinkie@twinkiechan.com   P.P.S. NO giveaway accounts!
a Rafflecopter giveaway