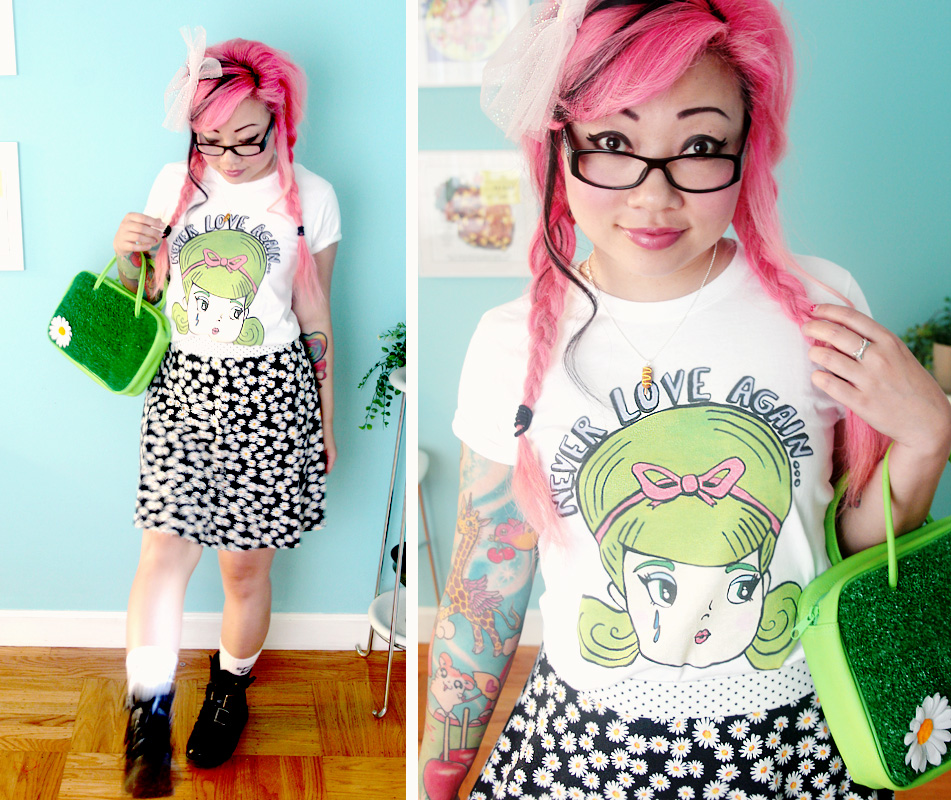 Sometimes you end up following cute people on Instagram, and you have no idea how or why, but then they put out a t-shirt, and you just want to support their art and buy one!
This tee is by Brooke Vera for an online shop called Dollys. (Mine is a size small.) I also grabbed a handful of her cute vintage-inspired pins!
Also from Dollys are these socks that say Spoiled Brat. They are one-size, and frankly, are a bit too long in the foot for me (and my feet are not that small … they are like a 7.5 – 8), so these are for the average big foot, not the average tinygirl, so bear that in mind. I'm gonna wear 'em anyway because they are a lil sassy without having, like, bad words on them! Sorry for the terrible photo. I took all these photos around 7pm, so it was already getting dark after running my errands!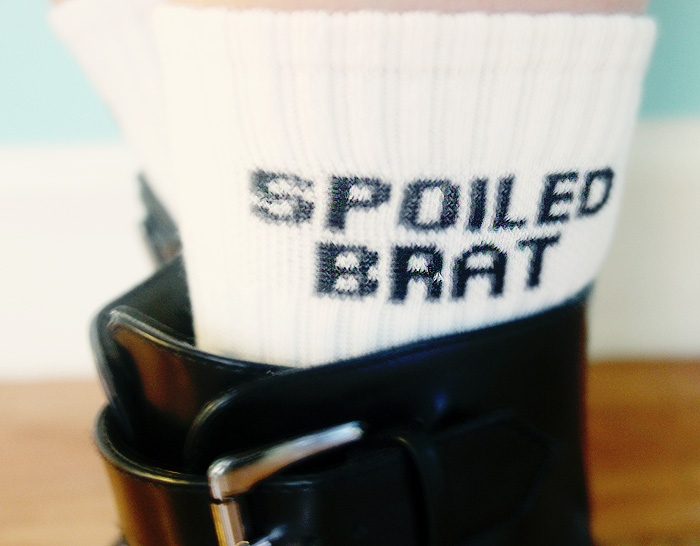 The skirt is from Target. I mean, how can any blogger worth her salt NOT own anything with daisies on it for this summer?!!!? I  keed. But really. I don't often wear skirts like this, because I have NO waist. There is like one inch of space between my ribcage and my pelvis, but the skirt was just really swingy and comfy and DAISY. I grabbed a size large, because that's what I usually am on the bottom these days, and I even tried it on, but now I feel like I should have gotten a medium. OH WELL! I can't even remember the last time I tucked in my shirt.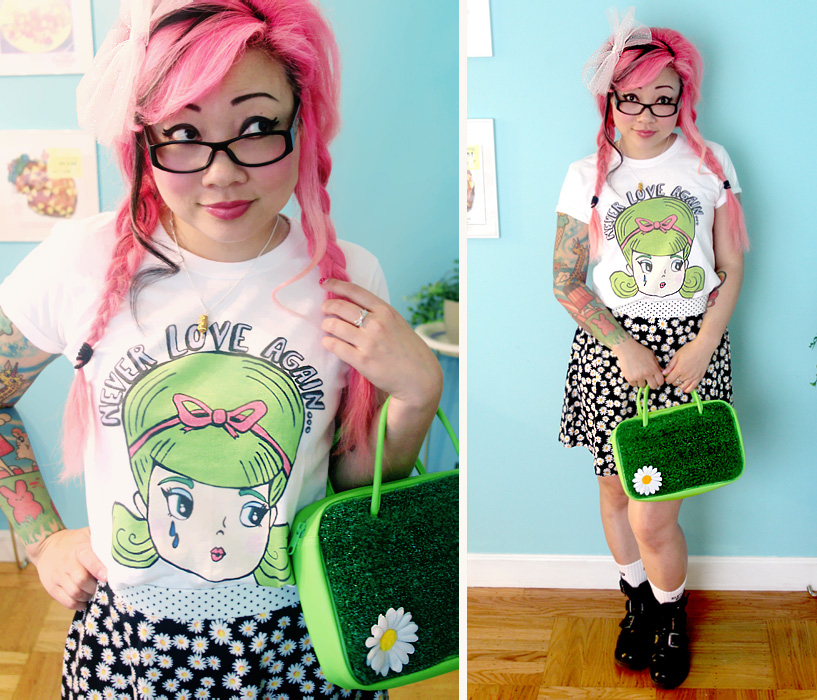 I used to have an astroturf purse back when I had an office job. I bought it in Milan when I went to Italy, just me and my mom, a kabillion years ago. It had a shoulder strap and a clear green bottom and was my prized possession. My boss HATED IT. She actually bought me a grown-up purse (it was black with a red horse-hair panel on the front) so that I would get rid of the astroturf purse. I loved that astropurse, though. It came in very handy. One time, at a book signing, I apparently missed my friends and co-workers, and they inquired at the bookstore if I'd been there by asking if a girl with an astroturf purse had been inside. They said yes. SPOTTED: ME. While chatting with my buddy Candace and waxing nostalgic about astroturf, I impulsively bought a new one from Amazon. I haven't actually used it yet, like, outside my house, so I regretted the purchase for a while, but now that I see it put together with an outfit, I'm in love with it again! No regrets!! Just, too many purses…
When I looked at the sad face on my t-shirt girl's face, I wondered what necklace could cheer her up. Clearly, corn dogs. This one was sent to me by Tiny Hands and smells like maple syrup (thank you for making it smell like syrup, and not like… meat).
To be frank, I kind of had outfit regrets when I ran my errands. Remember, I'm shy about my knees and kinda wished I had covered my old-lady-knees with some leggings or something, but it has been fairly hot here (I know that 70 degrees is not hot, but, work with me, I live in SF by the ocean), so it was kinda nice to be free and flowy with lots of ventilation, but I kept thinking that everybody was like, "Put some pants on, old lady!! The site of your knees is making me gag!" I know in reality, nobody could give a flying eff whether I was wearing leggings or not, but these are the strange thoughts that buzz through my head…
I will have a lil recap of Renegade SF soon, plus, I DO plan to have a Leftovers post on Etsy. I just have a pattern to write, a sample to crochet, and a video to shoot (for a fun surprise debuting in October), so look out for some goodies next week!
***