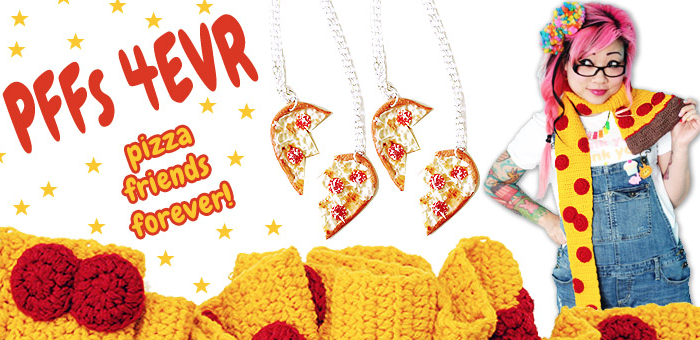 Hey, pizza-lovers! The Pizza Scarf at YummyYou.com is waiting for you! It is super soft and super tasty-looking with bright yellow cheese, a bubbly crust, and tons of pepperonis!
We also released our new BFF (PFF?) Pizza Heart Necklaces for you and your pizza-best friend-forever! These amazing mini heart pizzas are another collab with jewelry artist Fatally Feminine Designs! You each get half of the heart-pizza, and when you get together, you can combine your pizza-heart-powers!
The "Partay! Pizza Partay!" song from the Pizza Party board game commercial back in the 80s is TOTALLY STUCK IN MY HEAD!!!!!!!
I'll try go get more pics of these soon. If you guys get one, you can always tag @Yummy You on Facebook or #yummyyou on Instagram (@iloveyummyyou) so that we can see! <3