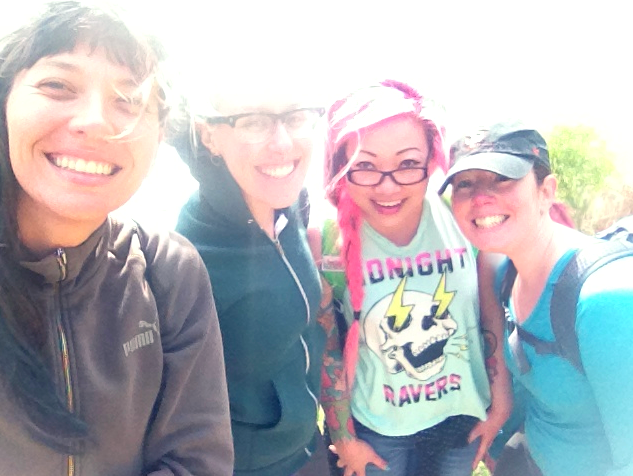 I'm so sorry the blog has been a bit quiet this past week. I've been making a lot of kitty donuts but also have been in kind of a funk.  Elysse planned a ladies-only hike around Lake Chabot in Castro Valley, and I thought that being outside sounded like a really good idea!
Manda texted me a few days ago that she wanted to try doing one active thing once a week, so I encouraged her to go on the Lady Hike, too.  We all have a lot on our plates right now, and she kinda started to bail on the hike because of this, but in rare form, I sent an email saying that I hoped she would still go, because, we are always busy, and we always de-prioritize exercise/taking care of ourselves. Creating change in our lives is tough, so I hope that we can all support each other in it by pushing each other to do things out of the ordinary. I know that I always put exercise at the very bottom of my list, and then I don't end up doing it, and then I feel unhealthy and lazy and lumpy and old, but it's a hard cycle to get out of when you have a lot of other things going on. Luckily, we both made it out to the hike!
Okay, I admit, that I didn't tell Manda that this was a 9 mile hike. That is really a lot for people like us who NEVER exercise and lead very sedentary lives aside from walking Bibi & Bunny. I didn't want to say anything about the hike that would dissuade her from going!  I'm a terrible friend! But Elysse said that an out-of-shape person could handle it, and that there weren't too many inclines, so I figured that Manda would be fine, too. The weather was PERFECT (to me!), not too hot, but sunny and beautiful, with a crisp breeze to cool down the arm pit sweats.
At about mile 7, Manda and I wanted to die. I felt sore in places I never felt sore before (MY BONES!??!). I could tell that there would be a point when my legs simply would stop moving because they felt like they weighed 80 billion pounds with cement shoes.  We kept talking about pizza and waffles and spaghetti. Elysse and her buddy Kristen (sp?) work out regularly, so they were flitting along like forest sprites while Manda and I were like "AREWETHEREYET AREWETHEREYET AREWETHEREYET."
I'm proud of us for going and surviving! Manda has some blisters, and the balls of my feet are puffy and sore, but I'm so happy Elysse organized this, and I hope there will be more in the future. We rewarded ourselves later with hot showers, Prosecco, and pasta in North Beach!