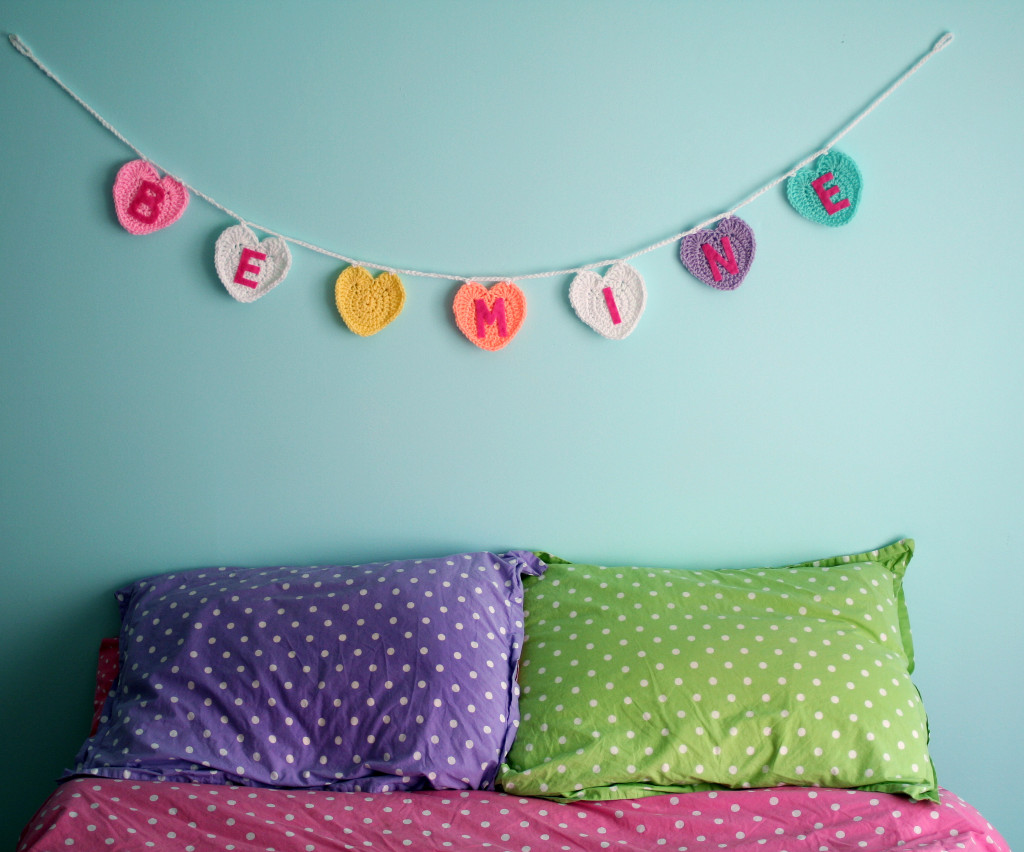 I know you're like, "It's not even Christmas yet! Why are you posting a Valentine's Day pattern?" Because the February issue of Crochet Today magazine is out today and includes a "Favorite Blogger" feature of me, plus a link to THIS free pattern!
Hello! Okay, I was first told that I would be in the issue of Crochet Today that dropped in December, but as it turns out, I'm in the February/March issue which dropped in January! Sorry for the mix-up! I have a feature in the magazine titled "My Crochet Life." If you've come here from Crochet Today: hello, new readers!! Here is your free crochet pattern for the Conversation Heart Garland!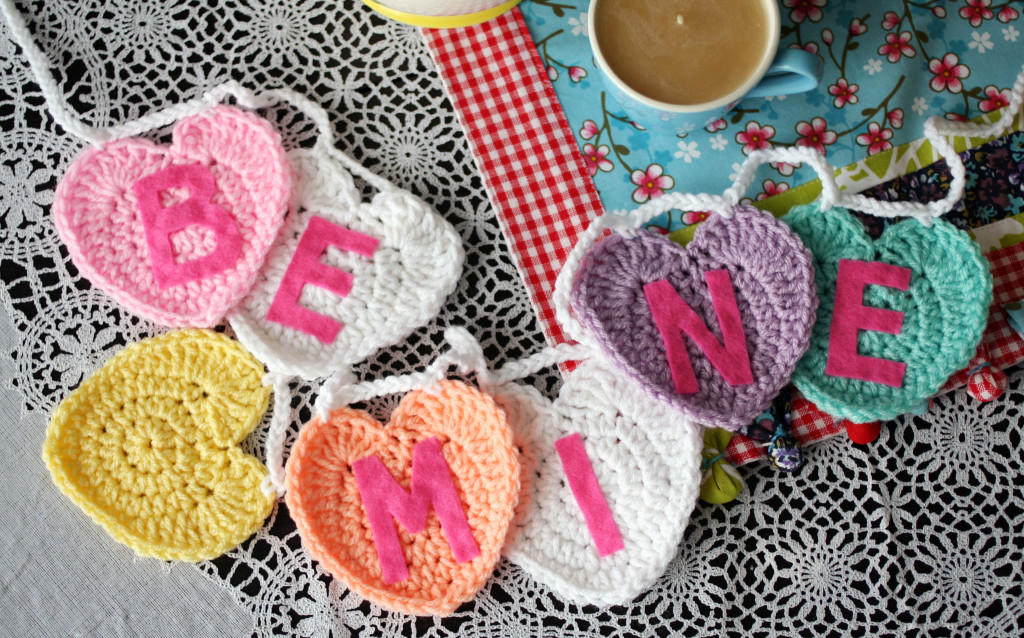 If you are familiar with working in the round, this pattern is pretty quick and easy, and you can make your garland as long or as short as you like, in whatever colors you like. Plus you can have lots of fun cutting out your own felt lettering for various messages!
What You'll Need
I hook and G hook
Small amounts of Red Heart Super Saver in these colors: Petal Pink, White, Lemon, Mist Green, Light Coral, and Pale Plum
tapestry needle
scissors
optional: hot pink or red felt and fabric glue
Abbreviations
ch(s): chain(s)
hdc: half double crochet
htr: half triple crochet
dc: double crochet
rnd(s): round(s)
sc: single crochet
sk: skip
sl st: slip stitch
tr: triple crochet
(  ): work everything in the parenthesis into the next stich
[  ]: work everything in the bracket the number of times indicated
Heart
With I hook and whatever color heart you'd like to make first, make magic circle, or ch 3 and sl st to 1st ch to form loop.
Rnd 1: Ch 2 and work 10 hdc into loop. Sl st to 1st hdc to join. (10)
Rnd 2: Ch 2 and work (2 hdc) into each hdc around. Sl st to 1st hdc to join. (20)
Rnd 3: Ch 2 and work [(2 hdc), 1 hdc] 10 times around. Sl st to 1st hdc to join. (30)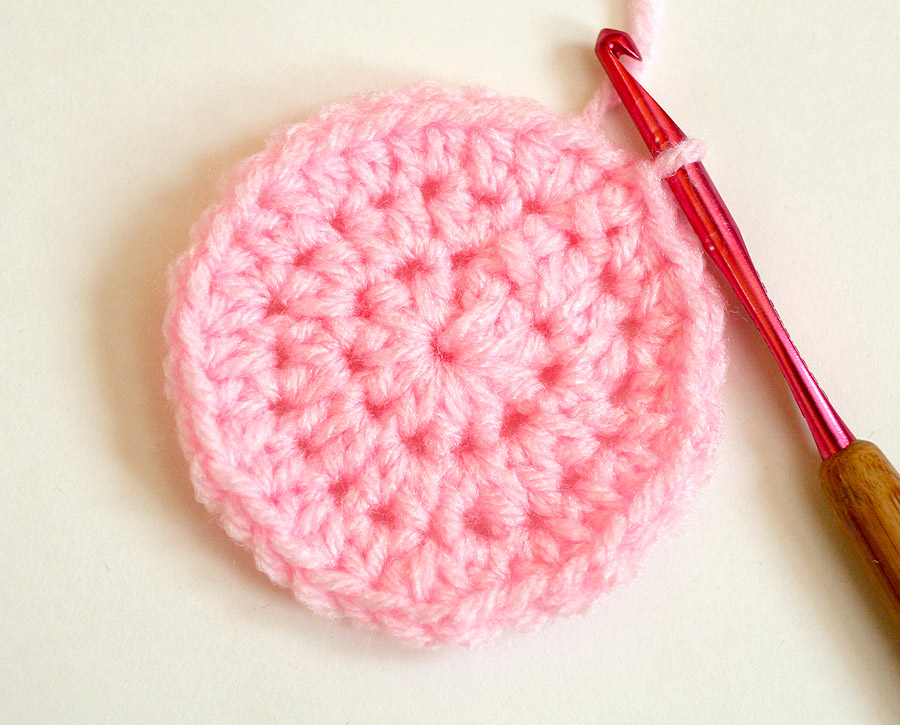 Rnd 4: (you may want to follow the chart below) sk 2, (6 tr), (3 tr), 2 htr evenly, dc, (2 hdc), 4 sc evenly, hdc, (2 hdc), dc, (2 hdc), hdc, 4 sc evenly,(2 hdc), dc, 2 htr evenly, (3 tr), (6 tr), sk 2, sl st. Break off and weave in all ends.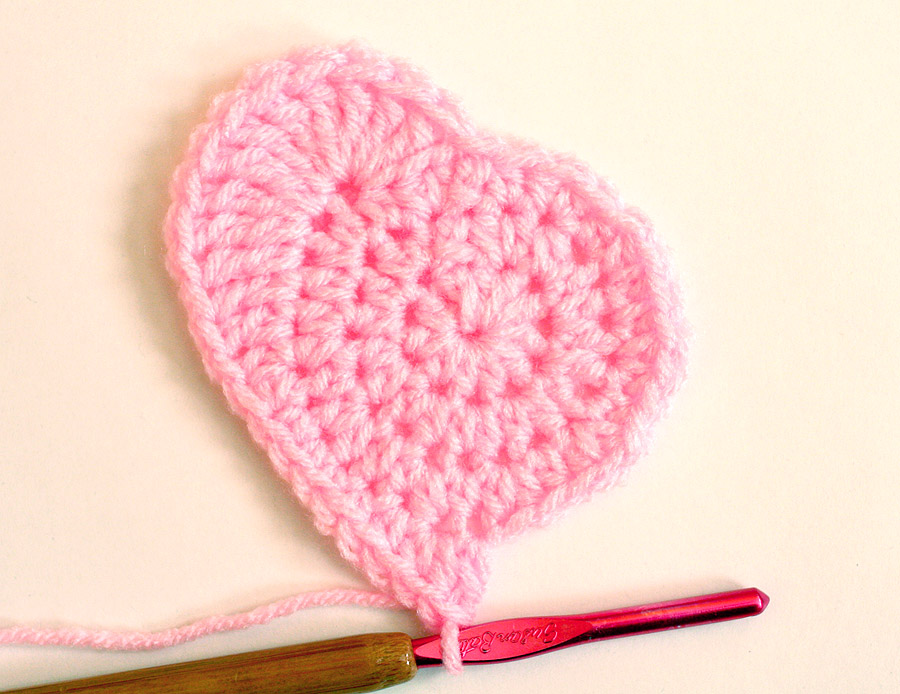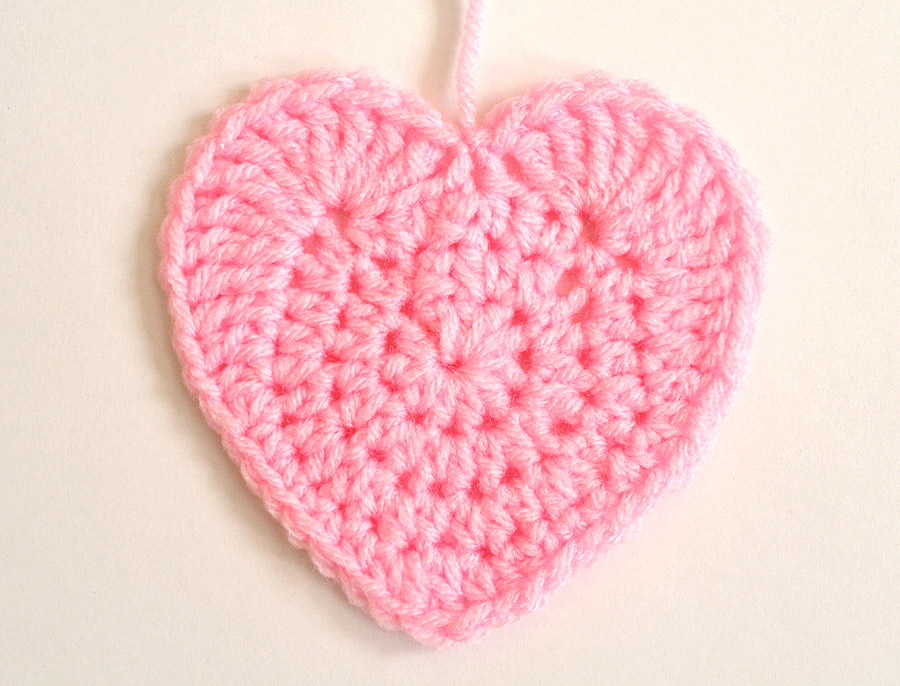 You should decide how many hearts you want to make and in which order they will hang, because you you will crochet them together in reverse order. The "Be Mine" garland that I made went in this order: Pink, White, Yellow, Orange, White, Purple, Green. So you would actually start stringing the Green first, and then the purple, etc.
Assembly
1. If you want to include lettering on your hearts, you can do that now, or at the very end. It's up to you!
2. With White yarn and a G hook to create tight chains, ch 10 and sl st to 1st ch to form a loop. This will help you hang the garland more easily.
3. Continue to ch 30.
4. Take your Green heart (or the final heart in your sequence), with right side facing you, and work an sc into the top right of the heart. For me, this is the 3rd tr from the center (see photo below). Ch 8. Work another sc into the top left of the heart, which for me, is also the 3rd tr from the center. You may need to smush and pull and flatten everything out, but the chs across the top of the heart should run pretty much in a straight horizontal line, and it shouldn't warp the heart in any way. If there is a sag, take away a ch or 2. If the heart is getting squished on top, add more chs.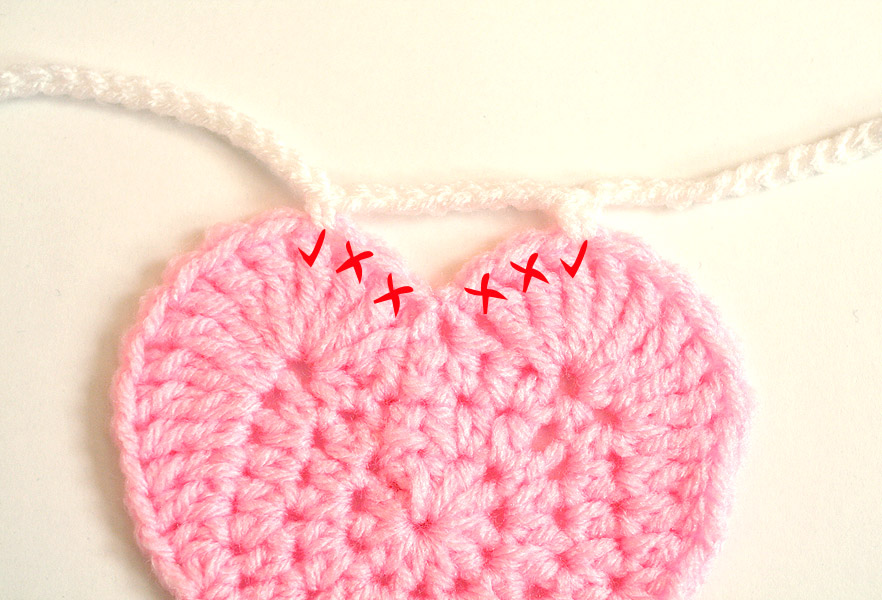 5. Ch 15. Take your Purple heart (or your next heart in the sequence), and work sc in the top right corner of the heart, ch 8, sc in the top left corner of the heart.
Repeat Step 4 with all of your hearts.
6. Ch 30. Ch 10 more and sl st to 10th ch from hook to form your hanging loop, and break off and weave in all ends.