This pattern is pretty much the easiest pattern ever: it's a rectangle.  The end.
It's great for beginners! Great for kids! Host a holiday crochet party where everyone makes one crocheted candy and then string them all together to create a group garland! Or, everyone can keep their own candy and string them as ornaments. I will probably glue pinbacks and hair clips to the backs so that I can wear them. There are a lot of possibilities with just one little crocheted rectangle!
For more advanced beginners, you can get some great striping. You can alternate different colors every other row, and carry the unused yarn. Or, you can alternate colors ever 2 rows, and just drop the unused yarn and pick it up on the way back. Working a thin sparkle or sequin yarn with your regular yarn also and some subtle bling. Either way, all you need is a little bit of yarn and a styrofoam ball to get going!
I also tried filming a video tutorial for this. People have been asking me to do videos, but they are quite a bit of work, so I haven't really been super eager to get on that task, since I do everything 100% by myself.  But since this project is SO EASY, I thought it would be a good ice breaker for me to film a video and for you to break out some crochet hooks!
What You'll Need
Worsted weight yarn is the easiest to use for beginners, but this pattern can be used for any weight yarn. 
I hook for worsted weight
1 ½ inch Styrofoam balls, or you can also use Polyfil stuffing
scissors
tapestry needle
optional: ornament hooks, gold or invisible thread for hanging ornaments, beads, pompoms, thin ribbon
Notes
Gauge isn't really important in this project. For a 1 ½ inch Styrofoam ball, you want your crocheted rectangle to be 4 ½ inches wide and 3 ½ inches long. See template at the end of the pattern.
Abbreviations
ch(s): chain(s)
sc: single crochet
sk: skip
st(s): stitch(es)
Directions
 –  You are going to crochet a rectangle that is 4 1/2 inches wide and 3 1/2 inches tall. You can use the template at the bottom of this tutorial as a visual guide. Just print it out at full size, and you can fit your work against it. Work enough chains to wrap around your Styrofoam ball. (4 ½  inches, 17 chs). Photo 1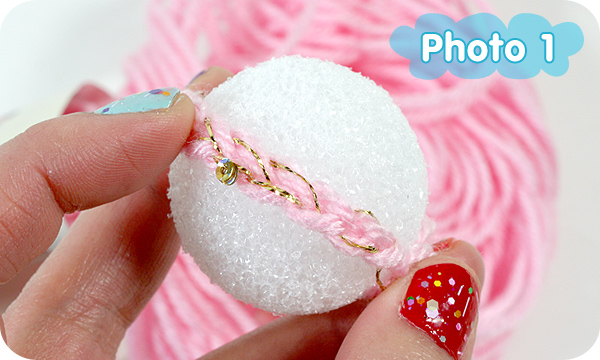 Row 1: Sk 1st ch and work 1 sc in each remaining ch. (16)
Row 2: Ch 1, turn. Work 1 sc in each st. (16)
Rows 3 – 14: Repeat Row 2, until your rectangle is 3 ½ inches tall. (16) Photo 2
– Break off, leaving about 18 inches of yarn for sewing.
– Place Styrofoam ball onto the center of your crocheted rectangle Photo 3a and sew one short edge of the rectangle to the other short edge, encasing the ball in a tube. Photo 3b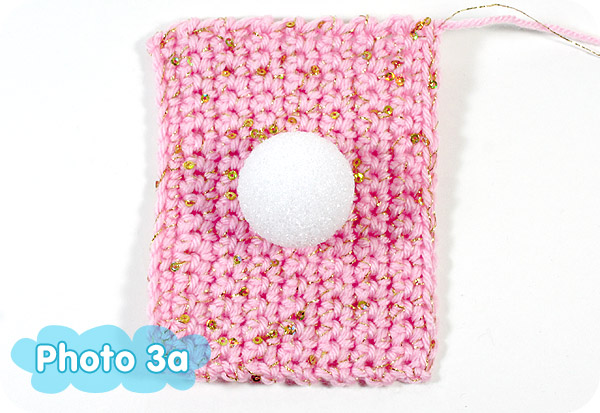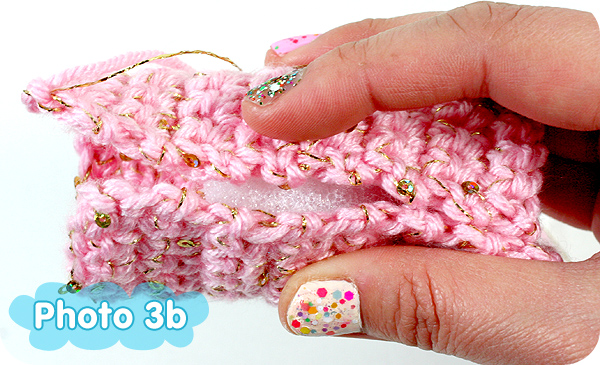 – Cut two lengths of yarn (can be same color or a contrasting color) about 8 inches long each to tie the ends of your candy together. Using a surgeon's knot Photo 4a two times will help keep your knot tight while you create a cute bow. Photo 4b, 4c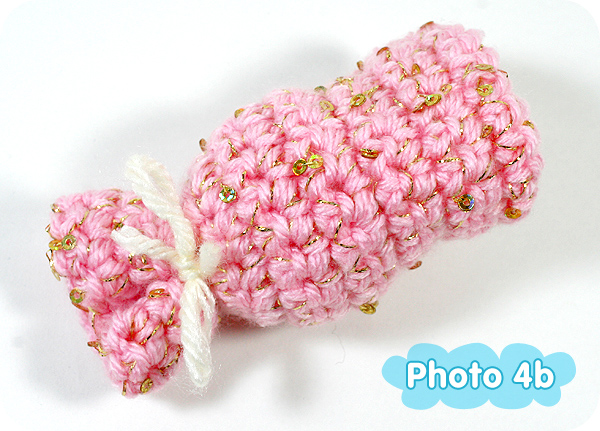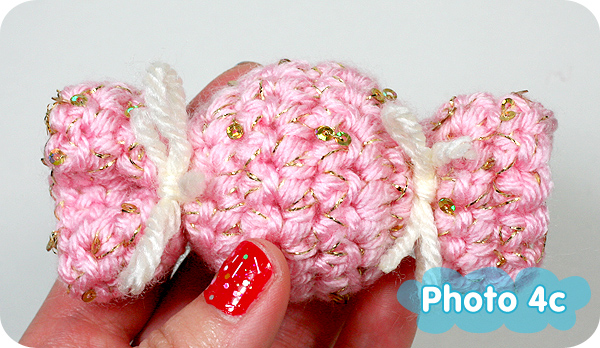 – To hang as an ornament, simply loop some gold thread, invisible thread, or, or an ornament hook to the center of the candy.
– To create a garland, work about 12 crocheted candies. You have many options for stringing the garland. You can simply thread some yarn through a big tapestry needle (long enough to pierce your Styrofoam ball and come out the other side) and sew the candies together, or you can use a thin, sparkly gold ribbon, leaving space in between each candy. Or, you could string a bunch of colorful or sparkly beads between each candy, or even use colorful pompoms as spacers.