Mother's Day is only a few days away, but you still have time to DIY something special!
When I needed some emergency help in proof-reading my Asparagus Pen Cozy pattern, Kim came to the rescue and then also suggested that the pattern could be used to create lavender flowers. I loved this idea, since my mom loves lavender, so I decided to make a crochet lavender bouquet for her… of pen cozies! (Dad, don't tell Mom!)
What You'll Need:
my Asparagus Pen Cozy crochet pattern that I wrote for Michaels.com that you can now find at this link on my blog. In the pattern, I refer to working a Leaf, but they left out the part where I explained how to work a leaf! Regardless, for my lavender flowers, I changed the leaf a tiny bit. To work a lavender leaf: Ch 3, sk 1st ch, 1 sc, 1 sl st. Done! I also worked a shorter green stem and a longer purple top than for the asparagus spear.
H hook
small amount of worsted weight yarn in Green
small amount of worsted weight yarn in Purple
regular ball point pens
optional: small terra cotta flower pot (the green one I used is biodegradable)
dried beans or pebbles to fill the flower pot
The particular yarns I used were just from my stash. I picked 2 shades of Purple.
KnitPicks Brava Worsted in Grass, Deborah Norville Everyday Worsted in Orchid, Plymouth Encore Worsted in 1606 Purple Bell.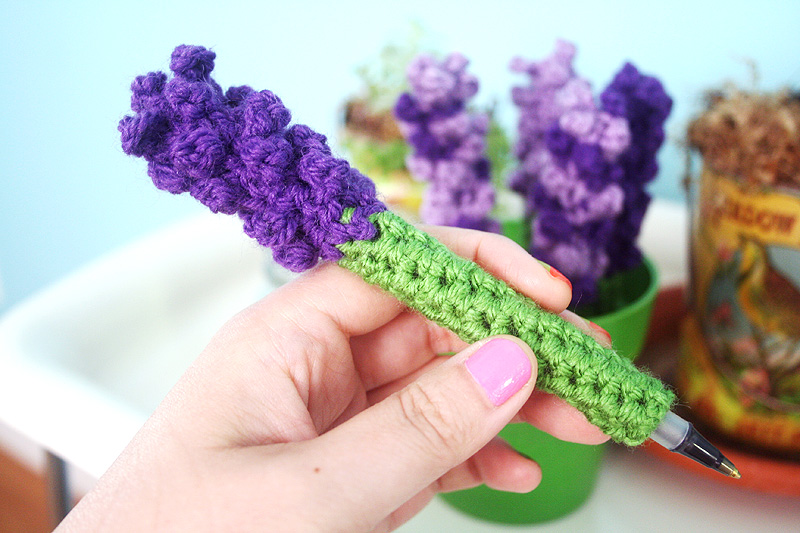 I dabbled in mixing 2 purples in one pen. One has 2 leaves in one color alternating with 2 leaves in another color. The other is mostly Orchid with a few leaves in Purple Bell here and there.
Do you guys have any fun plans with your moms? We are going out for a family dinner on Saturday night!