Someone left a message on my blog recently that she hoped one day that Normalynn and I would collaborate. Well, today's the day. Dreams *do* come true!!! 😛
I actually met Norma Lynn many years ago at Renegade Craft Fair here in San Francisco. She visited my booth and explained who she was, and I definitely already knew her work as well. She is really the sweetest person ever, and her website is filled with photos of delectable crocheted cake sachets and lots of free patterns.
I approached her after receiving that message on my blog, and our collaborative crochet pattern is the Panorama Egg, just in time for Easter!
photo by Norma Lynn of her candy eggs
my eggs are noticeably more… gaudy!
I have one really strong memory associated with these eggs.  I actually didn't really know what they were called until this project! Years ago (maybe still), you could buy a kit with a big chocolate egg shell and a tube of icing and decorate your own  egg. Manda and I managed to get our hands one of these as kids, and late at night in my bedroom, when we were supposed to be asleep, we cracked the kit open. The chocolate was bad, of course. But worse: Manda cut open the tube of neon yellow icing and squirt it DIRECTLY IN HER MOUTH. AND SHE LOVED IT. Somehow, right now, that doesn't seem all that strange, but back then, when our sugar intake was monitored more, and when being weird with ourselves was less okay, this was a ballsy, hilarious, and super-disgusting move! I think those 3 words sum up modern-day Manda very nicely. 😛
photos from Blumchen.com, whose sugar eggs are already sold out this year!
After chatting with Norma Lynn and doing some internet research, I came upon the faux cake folk art of KookyCrafts. All the colors and kitsch got me super inspired, hence, my crazy colors!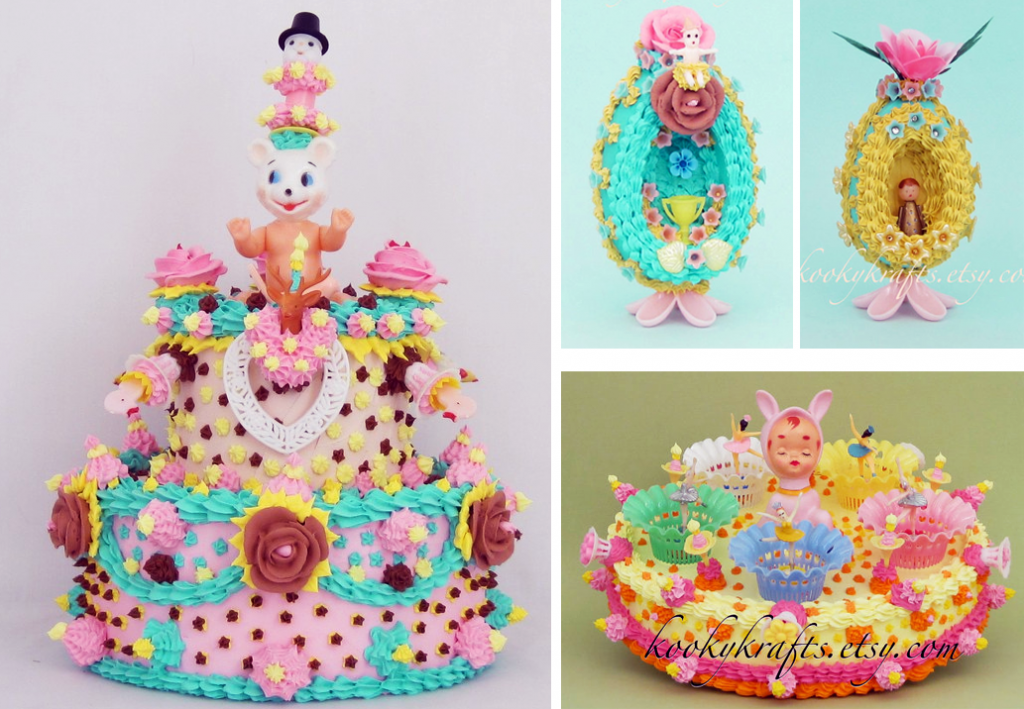 Norma Lynn ended up doing basically all the work on the pattern.  I was more like her pattern tester :P. I so appreciate all the work she put into this project! And I hope that you guys have time to try out the pattern and show us photos! I know there are lots of possibilities for colors and decorations! Please check out Norma Lynn's site for our panorama egg patterns!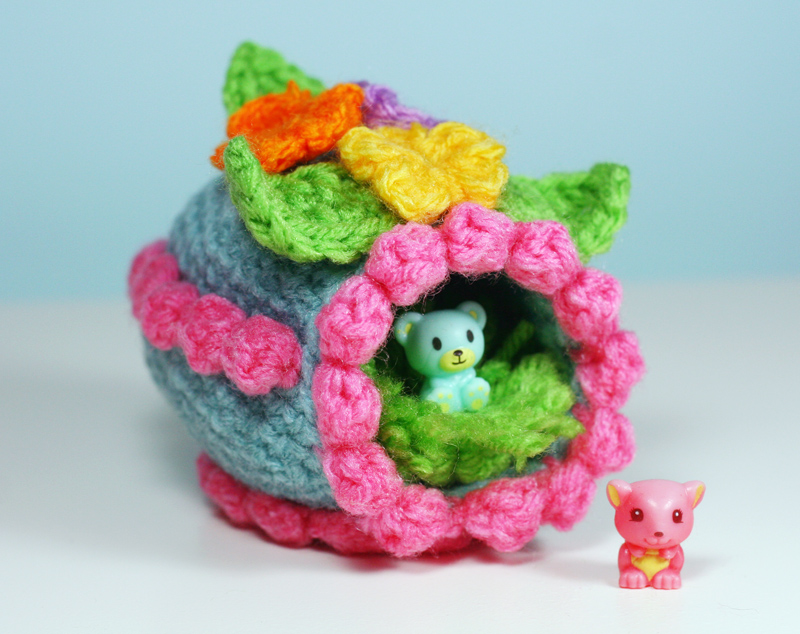 While working on my samples, I did a little research about starching and stiffening crochet projects. I generally have no need for this, as I don't make doilies or baskets or bookmarks or anything like that, but you might consider starching/stiffening your egg projects. Here are my personal thoughts:
1) Spray starch isn't going to be enough hold for this. I would suggest a liquid starch or a half white-glue half water mixture.
2) I watched a few video tutorials on the internet, and basically you stick your finished crochet project in a bowl, squirt your stiffening liquid all over it and soak it down real good.
3) Gently gently squeeze out a lot of the liquid. I had nothing egg-shaped around the house to use as a form, so I tried stuffing the egg with 2 plastic grocery bags. I wanted it to be fairly well stuffed to fill out all the curves and get a nice, rounded egg without any lumps or bumps. Also take the time to arrange all your decorations and make everything look nice.
4) Let it dry! If you prefer to glue on your decorations instead of sewing, I might suggest stiffening your plain egg first, and then gluing on the decorations after the egg is dry.
5) Inside decorations like the grass and bunnies and chickies don't need to stiffened.
6) Try lots of different decorations like plastic cupcake toppers, pom poms, rhinestones, sequins, small toys, plastic flowers, ribbons, bows, any of your favorite things!