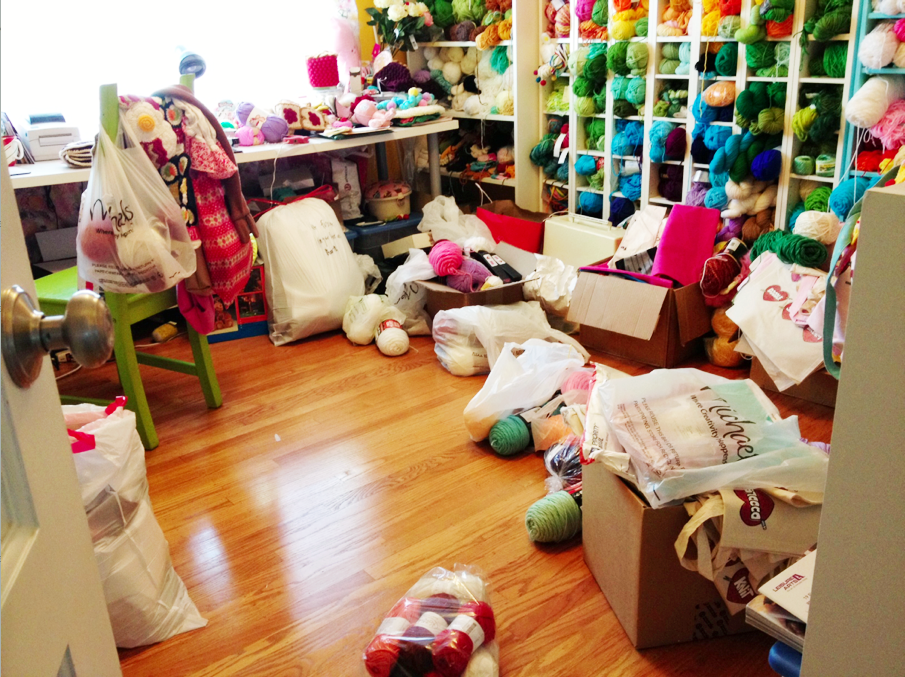 I just took this photo five minutes ago. My craft room has been a hot mess since the beginning of December. I mean, it could be worse, but for me, this is pretty bad. I also left out the part where there are now a bunch of boxes in the dining room, too…
I really do not like the site of cardboard boxes. The plastic bags don't help either. The big problem is that I have all this stuff, but there's nowhere to put it. This frustration sends my anxiety through the roof, and then I just have to walk away and re-focus my energy on the projects and deadlines I have in the meantime.
I basically closed my Etsy shop this month to help me catch up, and while it has definitely helped, I still feel behind and in a frenzy. This constant, mentally-manic feeling has made me re-think a lot of things about my business and how to make everything run as smoothly and smartly as possible.
But while I'm thinking about that, I've always been curious: what drew you to my blog? What keeps you reading here? Are you only here to see crochet-related posts? Are you un-interested in crochet and just more interested in random life-style stuff? Are you only here for Bibi?
Lemme know! While I've always stressed the importance to me of blogging for me, I'm definitely interested in how I can blog for you! Let's clean this place up! (metaphorically… I have to deliver a project by Tuesday, write a new pattern by the end of the month,  draw some new graphics for another top secret collab, and crochet a scarf sample for a different top secret collab…)