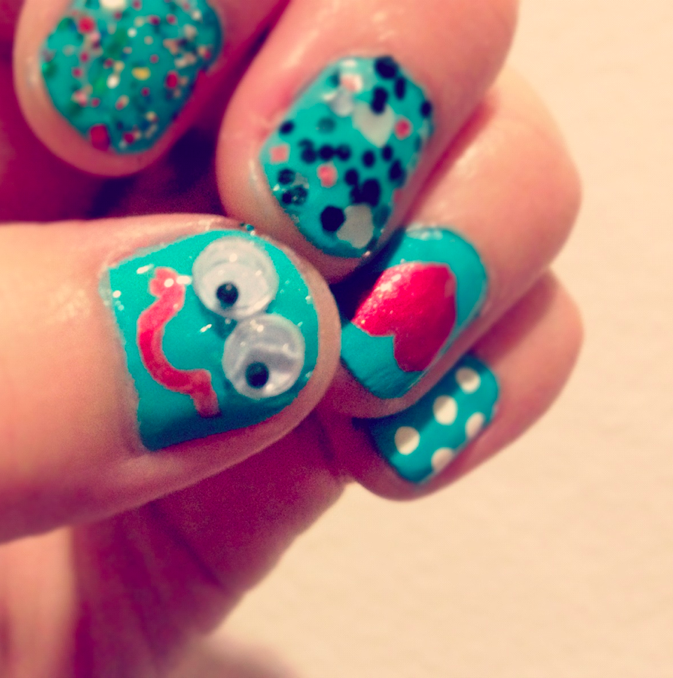 It's been a while since I've been able to give myself a mani! Our internet has been really awful the past few days, so I decided to take a break and get some paint on these nails.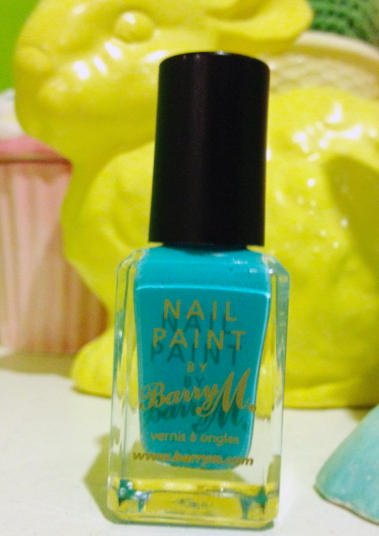 A few of you may know that I used to be extremely faithful to Orly's "Blue Collar" as my go-to candy blue nail polish. But I feel like the formula has changed, and the polish dries too dark now to be my favorite.
It has been a long journey to find something to replace it, but that journey is over!
Meet Barry M's "Turquoise!"
In sunlight, the polish is much lighter in the bottle, and I was afraid it would be TOO light, but it's actually perfect and covers in 2 coats.
I've also been wanting to try gluing googly eyes on my nails for a little while, but I've never gotten the chance…UNTIL NOW!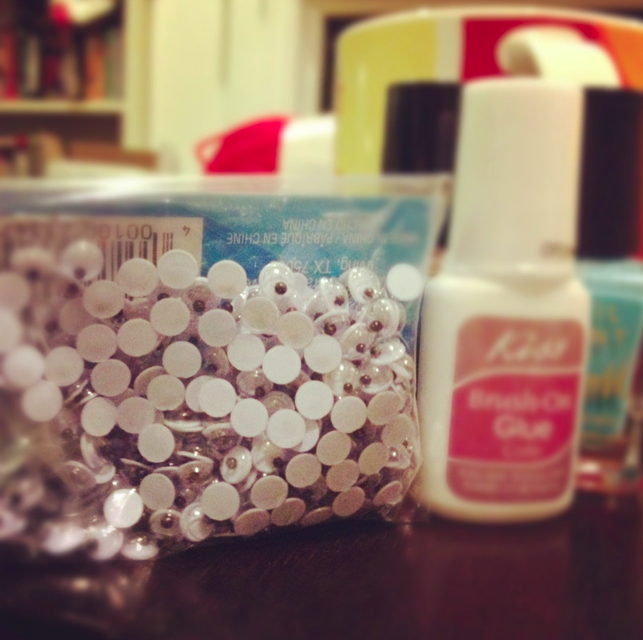 I never paid much attention to googly eyes before, but I was surprised by how many different sizes there are available at Michael's! I decided to go with the 5mm. On Twitter, I asked if I could just super glue these suckers on to my nails, but then I was told about NAIL GLUE. OF COURSE THERE IS NAIL GLUE.
I used 2 coats of Barry M Turquoise and then dabbed some nail glue on my nail. The bottle says you're supposed to glue directly to the nail, so I don't know how well this will work on top of polish.  Then I carefully placed the googly eyes. You actually have some time to move around and arrange the eyeballs, so don't freak out too much.
Then I busted out some nail art pens to draw the mouth and some polka dots and hearts. The Sally Hansen nail art pens are more spendy than I'd like, but they make drawing on your nails so darn easy! I finished off my other nails with some Deborah Lippmann "Happy Birthday" and this other glitter from an indie nail polish company that I didn't really end up liking.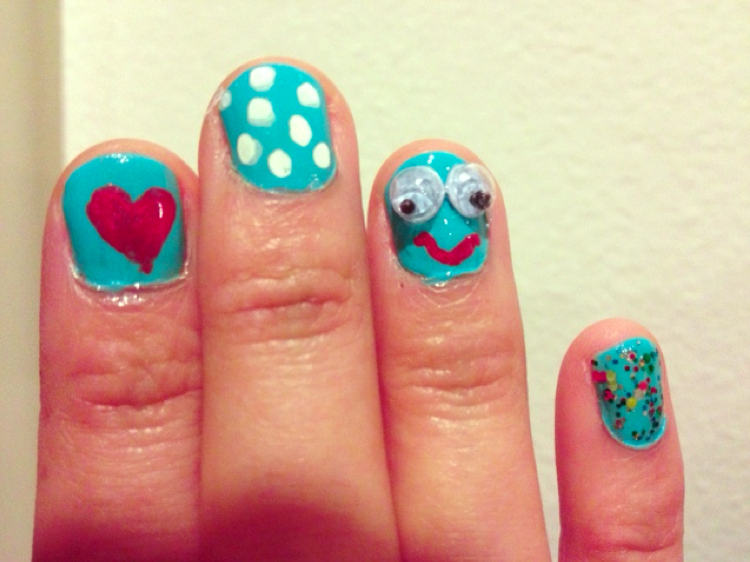 Pardon my strange Jimmy Dean E.T. fingers and horrible cuticles. I have come to terms with not being a hand model for some time now. Also, I am really the complete opposite of ambidextrous, so the heart on my right hand appears to have a leak on the bottom, plus my polka dots have shadows that I could chalk  up to camera blur but I won't.
If you decide to glue eyes onto your nails, may I suggest making sure that BOTH thumbs get a face, because it's really fun to watch the googly eyes google when you type on your smart phone.
Here's a short stupid video I made of the googly eyes in action. Happy Friday!