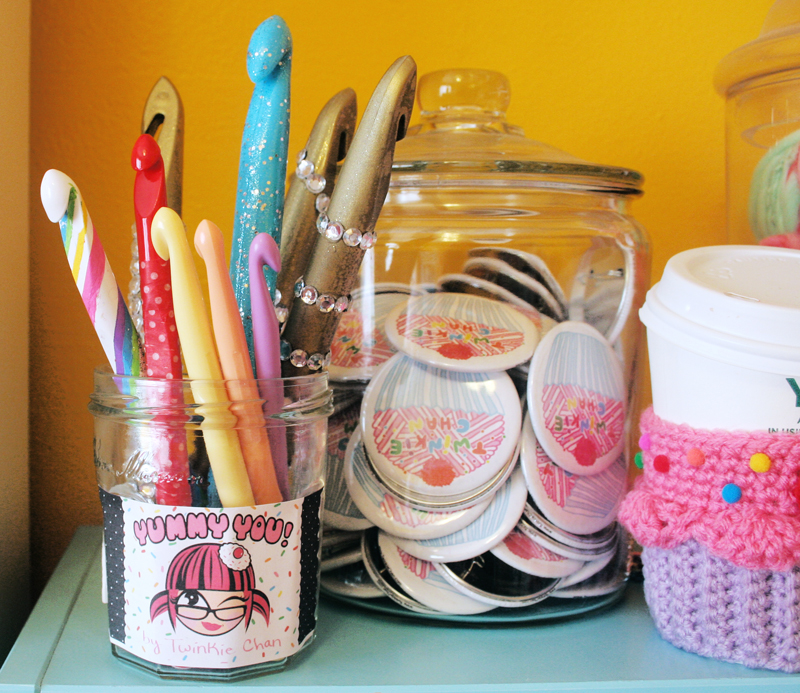 I really like the idea of making the tools of our trade super cute and fun! You may recall the candy cane inspired hooks Manda and I made a little while ago, and also the blinged out crochet hook tutorial with Elsie. I wish we could keep churning out the candy cane hooks, but they are quite time-consuming to make and sell at a reasonable price. It's still a fun project you can try yourself, though!
You could also purchase  rainbow plastic hooks, but whenever I use them, I snap them in half. There are also the super cute Hamanaka hooks, but they have the Boye-style crochet hook that I can't seem to keep any yarn on!  So I stick to my good old metal Susan Bates with the bamboo handle. It's not PRETTY, but they are my favorite so far.
I still love to think of ways to decorate crochet hooks, though, so the other day, to prep a booth space for Yummy You! at a licensing show, I busted out my nail polish and my washi tape.
I used plastic crochet hooks as a base. I feel like the plastic WHITE hooks are a bit stronger/sturdier than the clear rainbow ones. I covered one (already blue) hook in glitter polish, and I wrapped washi tape around the other and painted the top of the hook with red polish.
Maddy tried wrapping her hook in washi tape as well, but she said she had to take it right off (at least it's easy to remove!). I haven't actually tried crocheting with this hook yet, so maybe it's for decoration only and not for actual usage!
I just thought I'd share some of the hooks I'd modified with you guys for fun :). There are also some pretty cool polymer clay-handled hooks on Etsy you could check out on Etsy for DIY inspiration or purchasing!