So Amy texted me the other day asking me for my address cuz she said she'd found something cute and bought one for both of us. I fancy Amy as a mischievous little devil so I asked her if this was actually a prank and something poo-related.

Here is the video of me opening this surprise!

CUTE, RIGHT?!

Lo and behold, I think it was the next day that we saw each other and decided to wear our matching pjs. looooo3 and her mister were in town, so we met up with them, Amy, Kevin, Jessica, and Greg at Straw which is a new little carnival-themed restaurant that Tiffany told me about. They have all sorts of yummy foods that are bad for you, plus they have a cute tilt-a-whirl seat that we wanted to take a picture in, but then some peeps actually sat in it to eat, so no photo! Then we decided to be super fatties and have dessert at American Cupcake, and Tess also dropped by to say hi. This is when I decided that Amy and I needed to document our matching pjs. This is also when we remembered we are really awkward, and you should probably never hire us to do much of anything.

Here's the winning photo: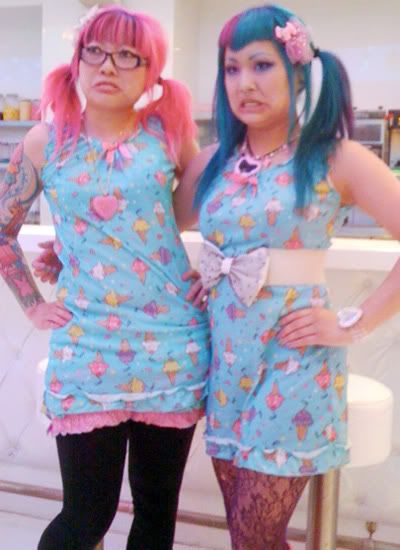 I know you'll want that as your wallpaper for EVERYTHING.
And here's a fancy animated gif I made of our epic awkward that made everyone else feel extremely uncomfortable.
We should probably be drunk next time for this to work better.
P.S.
If you want to turn your night-time wear into day-time wear, follow these tips!
Amy: PUT A BELT ON IT.
Twinkie: PUT A CARDI OVER IT.