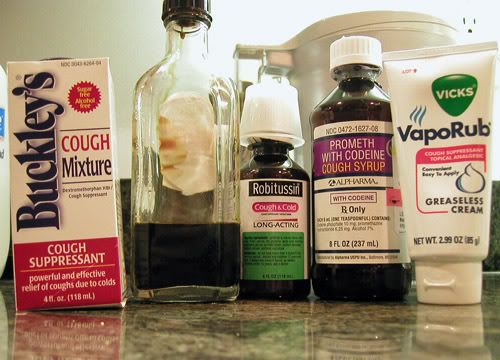 Apparently I have contracted SARS. I noticed all the various syrups I have collected and decided to take a picture today.
Buckley's: This is some random stuff that Hairy picked up when he went out for cough syrup. Apparently its motto is "Tastes real bad, works real good." It is sugar-free and alcohol-free. It tastes like a burning hot mess of yuck. And it doesn't work very well. Hairy also made me breathe it in with steam. It burned my eyes. I do not recommend. He took a picture of my face underneath my towel and steaming hot bowl. My eyes were squeezed shut and my mouth was open, taking in the steam. It looked like I was being born.
The Chinese Cough Syrup: This is some syrup that my mom used to give us when we were kids. I don't know that it works very well, but it tastes GREAT. It has loquat or kumquat syrup in it, as well as other minty type things. Manda insisted I take some, so I did. Can't hurt.
Robitussin: The old stand by. I'm not sure that it works very well. I got the long lasting 8 hour kind. I took it before we took Bibi to the dog park, and then we came home to eat dinner and I passed out until midnight. I would say it lasts for 4 hours.
Prescription Stuff with Codeine: I picked this up last year when I had the SARS cough. It's been really hard for me to get a good night's sleep and I was hoping that codeine would knock me out. No such luck!! Woke up today with 1/4 of a Ricola drying out my tongue.
Vapo Rub: I just picked this up today. My mom is also sick and has been using it. I am desperate. I will try anything. I gooed myself up with this a few hours ago. I'm a little disappointed it doesn't last very long. I'll goo myself up again before bed time and hope for the best.
In crafty news: I have been making stuff for my cousins in Hong Kong this week because my parents are going there next week. I'll take a pic of my girl cousin's scarf tomorrow. I'm not sure if I can finish my boy cousin's scarf in time, unless he gets back to me. I made him a video with questions. God bless technology! This is yarn that he picked when we visited him in Vancouver. He asked me to pick the biggest baddest blue button I could find. I haven't been having much luck with good blue buttons! Also, sorry about the SARS coughing.
I am a terrible knitter. I had to google how to cast on, and I remembered the rest. The neckwarmer he saw for $70 was knit, so I wanted to knit his as well. Ah well. It's the thought that counts, right?