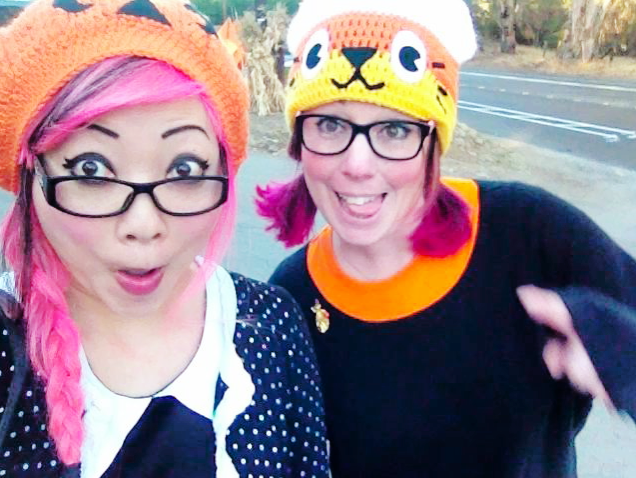 On Sunday, Manda and I visited a pumpkin patch together in Portola Valley and test drove our Halloween-themed hats! I'm wearing the trusty
Pumpkin Slouchy Beret
, and Manda is in a brand new sample of a Candy Corn Kitty Hat that I sketched out and crocheted on Saturday night. (Not listed on Etsy yet. I need to shoot product photos!)
We made a little video, and here are some fun moments!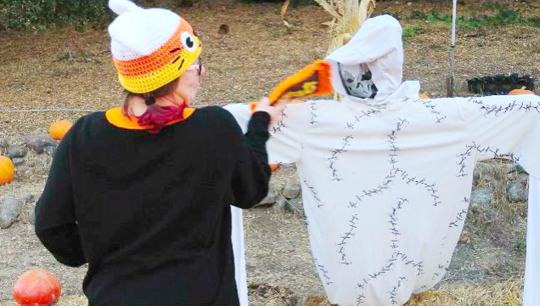 Watch the video to find out why Manda was so mad at the skeleton guy that she slapped him upside the head with her purse.
I will be posting a free pattern for this little ghost on my blog later in the week (I hope! I'm also in Elysse's wedding this week!).  What is it? Watch the video!
As long as I've known her, she has been addicted to sugar. She is chugging candy corns out of a Candy Bar Clutch!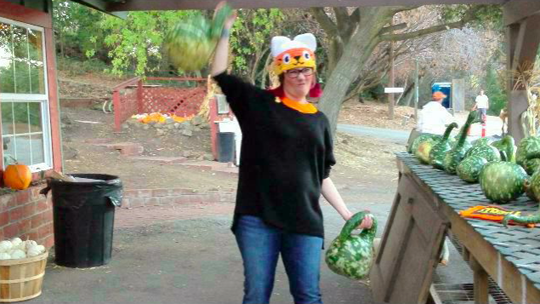 These crazy giant gourd things look like kettlebells.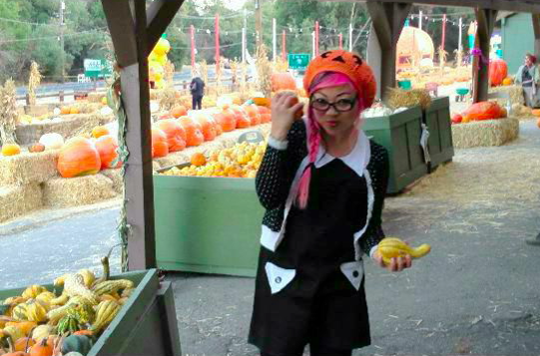 Really hard core squash-lifting.
Okay, here's the video! While we were at the patch, one of the guys working there asked where we got our hats. Manda said I made them. He asked if I could put a name on a hat, and I told him it depended on how intricate the name was. He pointed to a name on his own hat in some olde english-y font. I'm good, BUT NOT THAT GOOD! How about a pumpkin hat, buddy?
Here's our video from last year! Do you guys already have Halloween plans for this year? I don't think we have any yet. No costumes planned. Today I joked that I could be
Dora the Explorer and Manda could be my monkey-friend
, and she asked me to make her a monkey hat … but … You don't REALLY want to be a MONKEY for Halloween do you!?