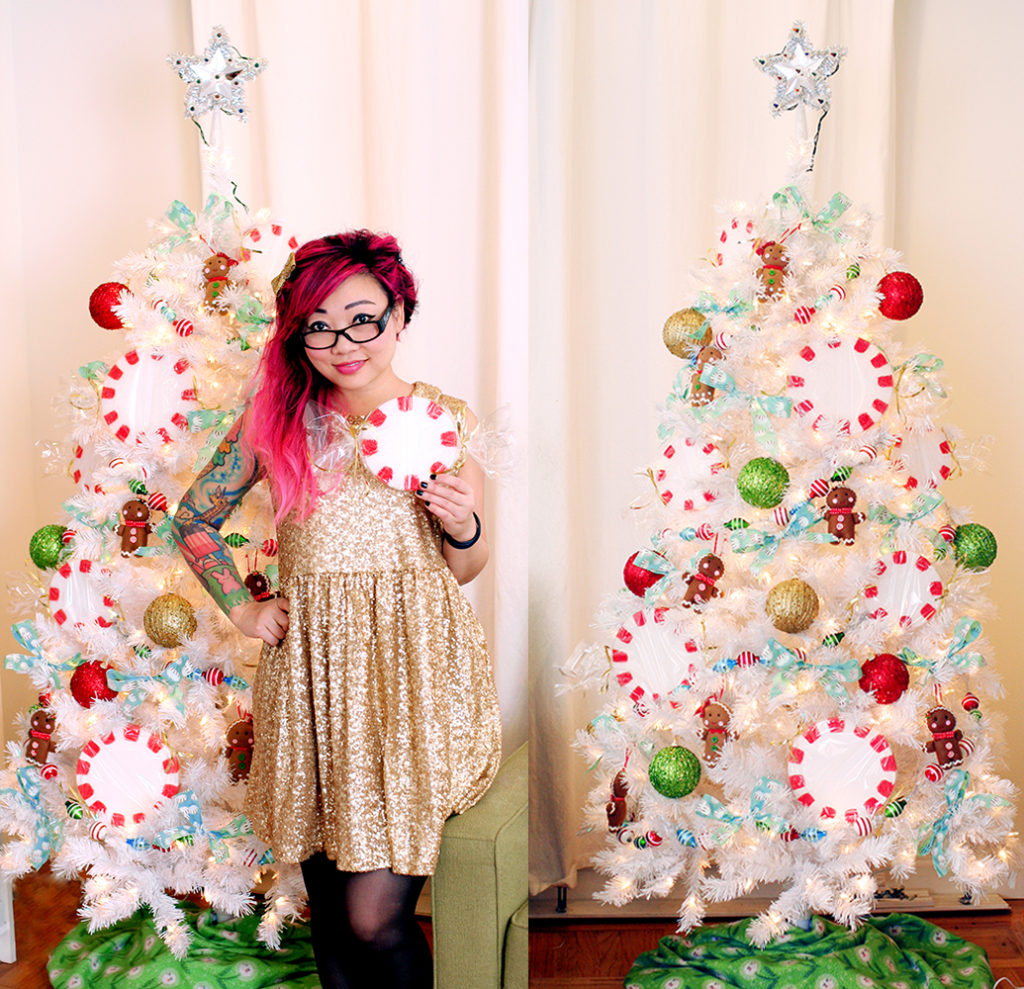 I know! I can't believe I have my Christmas tree up already, either! Actually, this is the first of 3 trees. We also have a pink one and a lavender one, but this is my brand new white tree gifted by Treetopia, since they kindly invited me to be on their Design Council 2017: Christmas in Treetopia!
This year, I wanted to make giant peppermint ornaments. At first I was going to crochet them, and if I have time, I might still try that and post the pattern here later, but in the interest of time and working at a desk 40 hrs a week, I decided to give myself a break and paint some styofoam disks. This tree just really represents giving myself a huge break in general. I usually try to stick with handmade and vintage ornaments, but we don't always have time for any of that, so this tree is decorated entirely with Treetopia ornaments and stuff I bought at Michaels at 50% off, plus a really basic and easy DIY.
I started with the Arctic White 6 foot tree and these Colors of Christmas Beaded Ornaments. Treetopia did provide these items to me, but my review is honest, and both the tree and the ornaments are beautiful. When it comes to fluffing an artificial tree, you need to take some time, but it's worth it! The tree is pre-lit, and you can change from white lights to blue lights. I layered in some gingerbread ornaments (yes, you could definitely crochet those!), ceramic(?)/glass(?) garlands, and bows made with ribbon from Michaels.
I really love that ribbon! It's a minty green blue with peppermints on it, so it was 100% perfect for my tree theme. I then bought floral styrofoam in two different disk sizes, painted some small red stripes with acrylic paint, and then wrapped my big candies inside cellophane tied off with gold ribbon.
This is the first time I really tried to plan my tree out as far as color scheme. My normal design personality is sort of a kitschy mish-mash of pastel randomness. It will be interesting to get all the trees up and decorated at once! I also have a garland and a wreath from Treetopia that I need to decorate, so stay tuned for that!
If you want a chance to win a tree and ornament set for you and a loved one, you can enter to win Treetopia's 6th Annual Secret Santa Sweepstakes on their Facebook page. Choose your favorite look from our 2017 Design Council and telling us why it suits your holiday style. Ready those sleigh bells and sing your way through the merriest time of the year! Duration: November 14-25, 2017


Can I end with some #HolidayCraftConfessions ? (I started using this hashtag on Twitter. Feel free to contribute!) I could NOT find my vintage tree skirt, so I just pulled the fleece cover off my chair, which I use to protect the chair from dog hair and muddy paws. Also, I didn't have the proper extension cord to light my tree topper. And you know what? It's ok. I lived.