I have a fun giveaway for you guys! THIS GIVEAWAY IS CLOSED! Check out SUPERSIZE CROCHET by Sarah Shrimpton. I had the honor of receiving an early PDF of the book. It's filled with 20 projects that all use super giant chunky yarn! Fun, right?! You can buy the book directly from the publisher F&W or from Amazon (affil. link).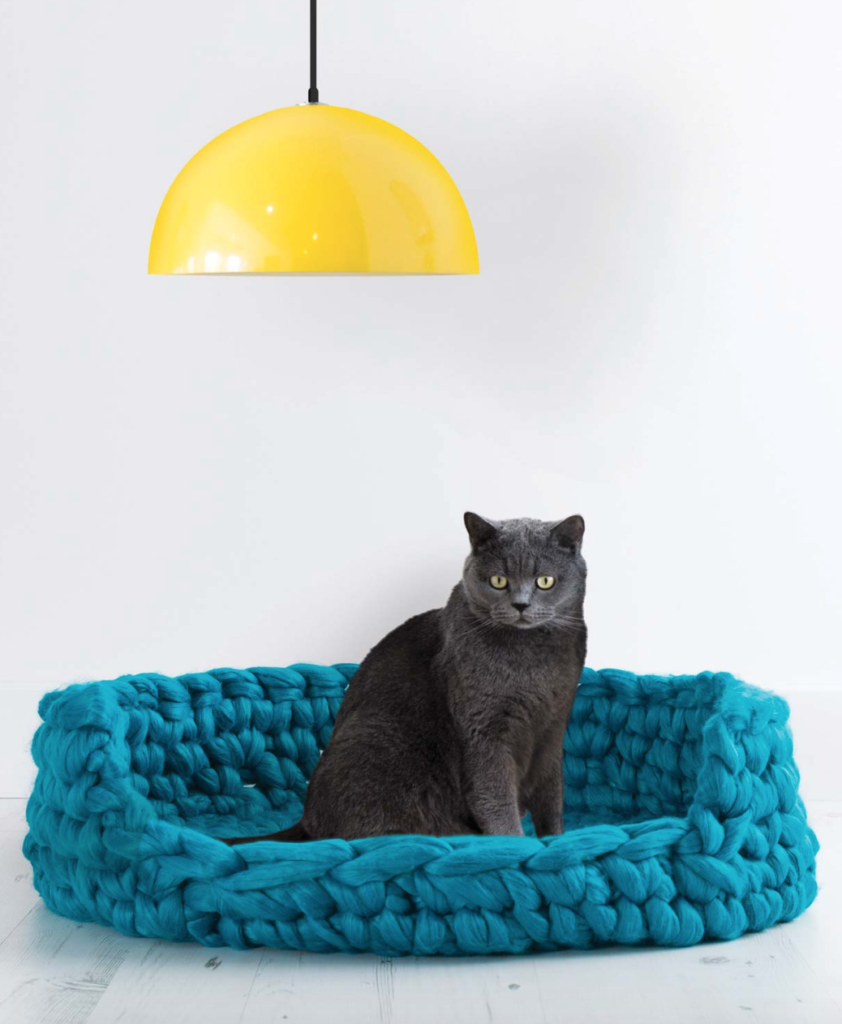 The twenty projects inside range from big, colorful rugs, to oversized cowls, to humongous blankets, and more. The bonus part is that the patterns are fairly simple, so even beginners can enjoy the max out of the book (please note that the book is in UK crochet terms rather than US, but there is a handy chart at the back for conversion). Sarah also provides a Top Tip for each project, and there is a section at the beginning of the book that focuses on general tips for working with gigantic yarn.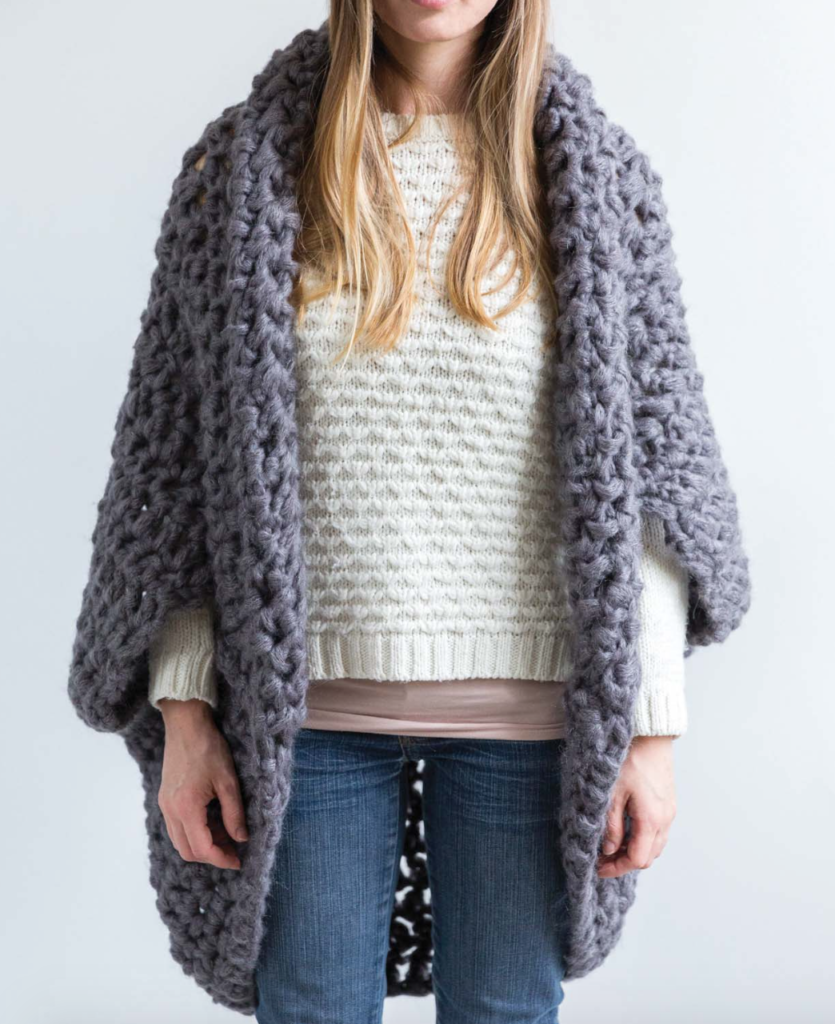 I decided to make the Cocoon Shrug and show you guys. Disclaimer: I wanted to buy the exact yarn that Sarah used (Rico Fashion Gigantic Mohair), and I could only find it from the UK, AND THEN… I didn't order enough balls because I spaced out, and there wasn't enough time to ship more from the UK. So my first effort was kinda more of a bolero … which was fine, but I really wanted a full-on cocoon!
Here's my rainbow bolero. Rainbolero.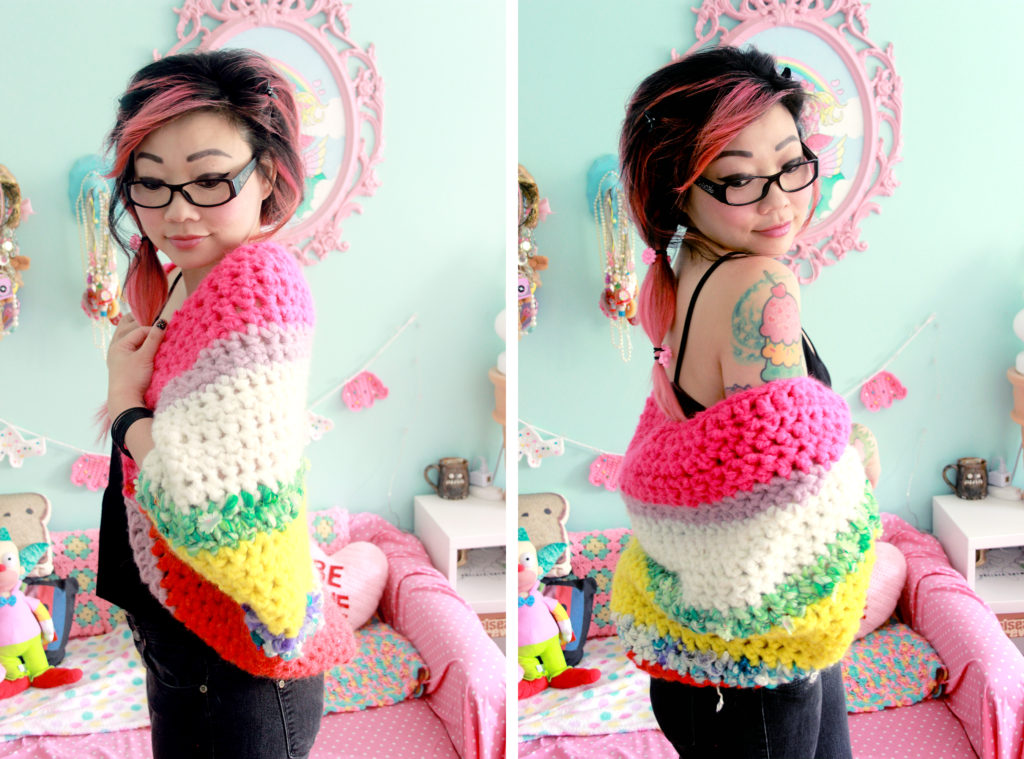 Here's my 2nd attempt: a purple cocoon! After my Rainbolero Debacle, I ran to Imagiknit yesterday and was like SHOW ME ALL YOUR BULKY YARNZ. Diane helped me decide on Malabrigo Rasta. The color that I wanted was a deep purple with black, but there weren't enough skeins, so this is the color "Baya Electrica." I had to alter the pattern a tiny bit since the Malabrigo Rasta I used was not quite as chunky as the Rico Mohair. I also wish that I had grabbed one more skein.  So… I feel like I didn't achieve the full cocoon experience, but… it's close.
This project eats up a LOT of yarn, but it also works up really quickly, and it feels so satisfying! Maybe I'll actually make a full-size cocoon one day! Third time's a charm! Plus a gazillion yarn ballz!
THE GIVEAWAY
Are you ready to make your world super cozy with some gigantic yarn?
I am giving away one electronic copy of Supersize Crochet. All you have to do is leave a comment here on my blog, telling me about a project you've made with super gigantic yarn, or one that you are looking forward to making!
Giveaway is open worldwide, for ages 18 & over, and will run for a week until next Tuesday night, May 23rd, at midnight PDT. Winner will be chosen randomly via Random.org, and winner must reply to my email within 24 hours, or I will randomly choose a new winner. No purchase necessary. Please make sure that my email address, twinkie@twinkiechan.com, will get through your spam filters.
Although my blog is toward the end of the Supersize Crochet blog hop, do check out the other bloggers below for more project previews and possible giveaways!
Monday 1st May – Sarah taking Sew and So Instagram Account
Tuesday 2nd May – Sarah's guest post  Sew and So
Wednesday 3rd May – Maria from Dinki Dots
Thursday 4th May – Shelley from Spincushions
Friday 5th May – Lazy Daisy Jones
Monday 8th May – Tamara from Moogly
Tuesday 9th May – Sarah from Crafts from the Cwtch
Wednesday 10th May – Sara from Crochet Me
Friday 12th May – Marianne from MaRRose
Sunday 14th May – Ruby and Kim from Frank & Olive
Monday 15th May – Kathryn from Crochet Concupiscence
Tuesday 16th May – Twinkie from Twinkie Chan
Wednesday 17th May – Andrea from Woolly Mahoosive
Thursday 18th May – Kerry at Interweave
Friday 19th May – Blog Hop Round Up