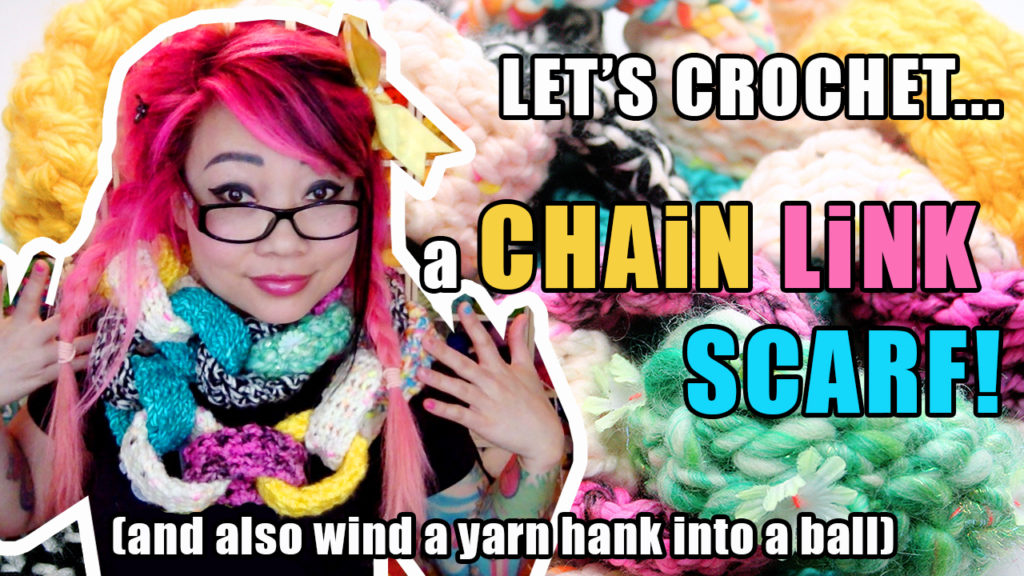 OKAY, I know it's only like the day before Mother's Day, but I posted a YouTube video for a Mother's Day project anyway. You know how it goes with me … I'm a terrible planner when it comes to videos and holidays, and you can always use a bunch of older projects for this year's present, and then you can use this one for future presents! 😛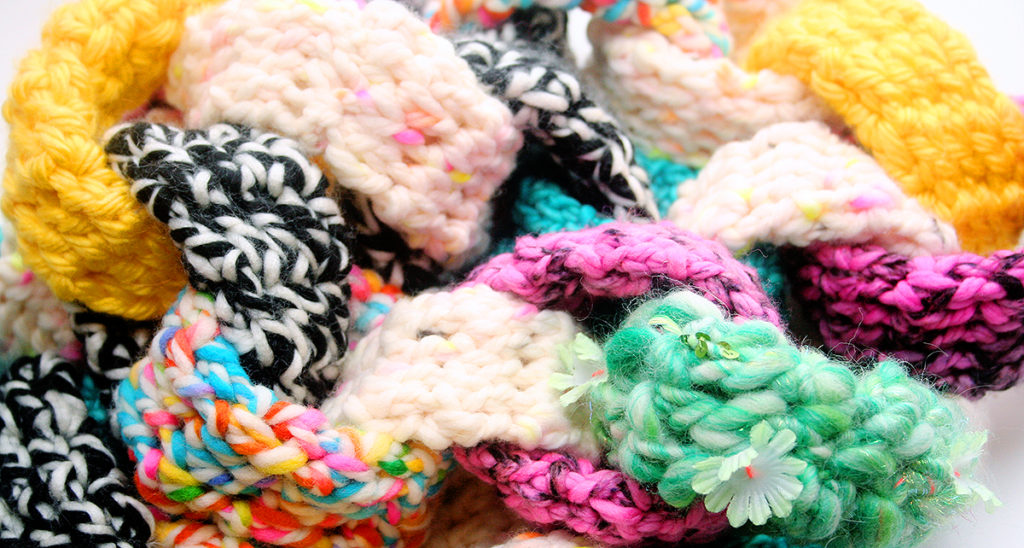 I need to shoot better photos of the scarf and of me wearing it! But anyway, as I explain in the video, I have a store-bought scarf that I wear all the time and that is getting kind of old-looking, so I wanted to make myself a new one. I figured, you might want to make one, too. There are a lot of patterns and tutorials out there for chain link scarves already, so this isn't a new-new idea, and I don't even know if there is some cool tip or trick I'm missing out on. It's just something I made for myself in real life. If anything, it's just inspiration to start digging around in your stash and putting together yarns you might not have normally put together! In my scarf, I have some Madeline Tosh, Lion Brand, Knit Collage, and handspun from Etsy. The other fun thing (for me) about the video is that I lit my hands with my new OttLite (that you can win, too!). You'll notice that the light changes throughout the tutorial portion of the video, because I kept changing the light settings around. I like whatever setting I had it on for the very last tutorial shot! I think that was the cool temp at full blast.
Anyway, I hope you have a wonderful weekend, whatever it is that you're doing! <3
What You'll Need: (This is actually very flexible. The pattern itself is highly flexible and adaptable and you can basically do whatever the heck you want with it! I'll just list some of the stuff that I used for my scarf.)
– A bunch of bulky/superchunky yarn in various colors and patterns
– A larger crochet hook, such as an M13/9.00mm
– tapestry needle
– scissors
– optional: I am also considering making yarn pompoms and sewing them to various places on the scarf. Just have fun with it! Add flowers! Add the stuff that you like!
Abbreviations:
ch(s): chain(s)
dc: double crochet
hdc: half double crochet
rnd(s): round(s)
RS: right side
sc: single crochet
sl st: slip stitch
WS: wrong side
Chain Link: Make as many as you need to achieve the scarf length you desire. I prefer the RS to show on the outside of my work, but do whatever you are most comfortable with.
Ch 9 (or twice the width of your chain link) and, making sure there are no twists in your chs, sl st to 1st ch form ring.
Rnd 1: sc, hdc, dc in remaining chs. (9)
Rnds 2 – however long you want your chain link: dc in each st. Each of my links were about 9 inches long and 2 inches wide. (9)
Finishing: hdc, sc, sl st. Break off leaving 12-18 inches of yarn for sewing.
Assembly:
1. To make the first link in your scarf, sew/whipstitch the last rnd of one Chain Link to the foundation ch. You should now have a ring shape.
2. To add the next link, loop another Chain Link around the previously finished Chain Link and then sew the ends together as before.
3. Keep repeating Step 2 until your scarf is the desired length.
4. If you want an infinity scarf, use one more Chain Link to join the loose ends of your scarf and sew the last Chain Link together.
(I'll add instructional photos when I have more time, but you can always use the video for reference! Now I have to actually crochet my mom's Mother's Day present which is a project from my book!)