Gang! I will be in Pasadena May 14-15 to teach some crochet classes at Vogue Knitting Live! VKL is a 3-day yarn/knitting/crocheting extravaganza which features:
• More than 150 classes
• shopping in the Marketplace with more than 70 vendors selling hard-to-find fibers, accessories, and patterns
• knit-couture fashion shows
• a cocktail reception with singer/songwriter Siedah Garrett, who will entertain attendees with a rendition of "Man in the Mirror"
• a health area where you can get hand and back massages, make and take stress-relieving hearts and lemons, and share why you love knitting & crocheting
• and so much more!
I'm teaching two projects from
my book
, a mini donut fridge magnet and a can-o-soup fridge magnet! They are tiny and adorable, and if you're a beginner, you'll learn some neat skills! I wish I could link directly to each class, but I can't seem to figure that out… : X.
Here's the class list.
I'm teaching Saturday from 2:00-4:00pm (soup can) and also Sunday from 2:00-4:00pm (donut). Look out for the DONUT and the SOUP CAN! I'm also hanging out in the health area from 11:30-1:30 on Saturday and Sunday. I'll be heading the make-and-take for some lemon and heart-shaped stress balls! I would love to see you there! Don't leave me hangin'!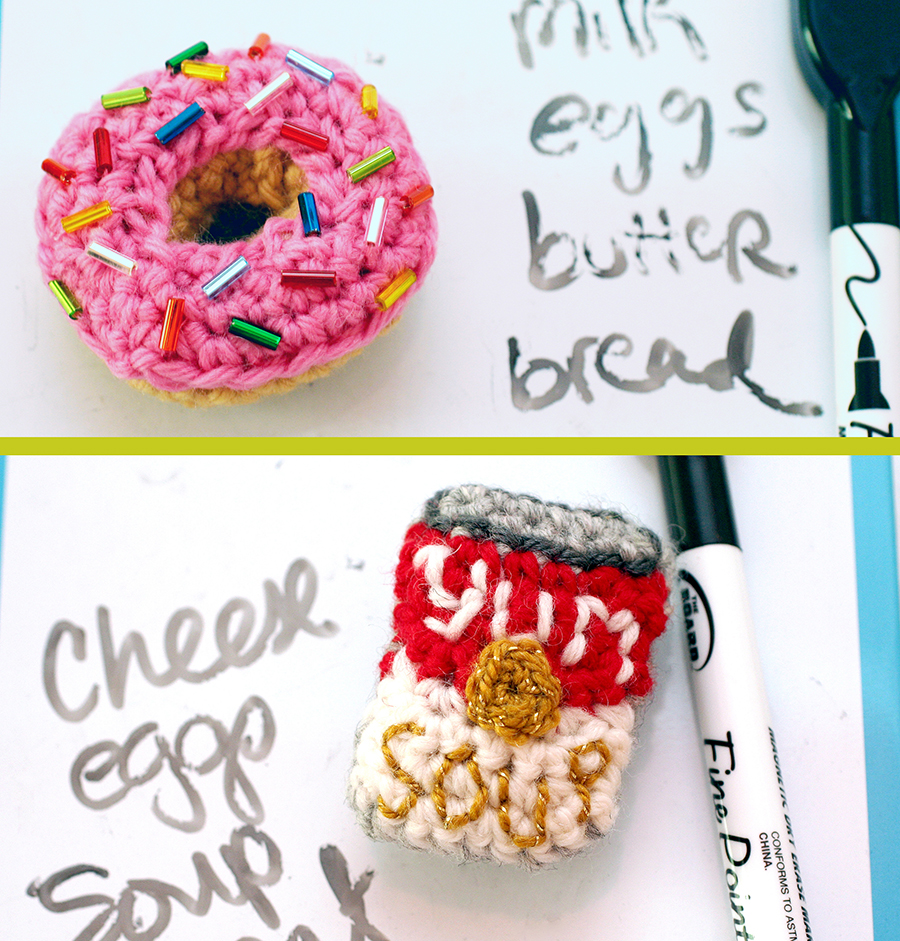 And here's the amazingly awesome fun part!!! Vogue Knitting Live is letting me give one of my classes in Pasadena away FOR FREE! (I want to be clear that you would be entering to win an in-person, 2-hour class at the convention, so you should plan or already be planning to be in Southern California in May.) Starting from this very second right now until Friday at noon PDT, enter to win a free crochet class with me! Simply leave a comment here on my blog, telling me about your favorite thing to crochet, or something you're looking forward to learning how to crochet! I'll choose a winner randomly via Random.org. Good luck!