I have been smoothie-curious for a while and keep talking about how I'm gonna make smoothies all the time. I like eating veggies, and I like eating kale. My go-to breakfast is a toasted PB&J sandwich, cuz it's fast and easy, but eating a PB&J a day is probably not that great for you. I will look at people's smoothie photos on Instagram and think Hey, that looks healthy and delicious and fresh! BUT …. if you know me at all, or if you have read my blog for some time, you know that I am NO WIZ in the kitchen, and lots of food-prep-related things are really not my forte. There are things I can do, and things I can't do, and preparing food is kinda on the "can't do very well" list. Luckily, I'm not a super-picky eater, so even if I make something that's 75% nasty, I'll probably still eat it anyway.
My mom got me a small/personal blender/smoothie-maker thing for my birthday, and this really sent me over the "you must try to make smoothies" precipice. Part of my anxiety about smoothie-making was Will I get the right consistency? Will I make something that tastes nastier than nasty? Will I break the smoothie-maker? Is it too annoying to wash all those dishes?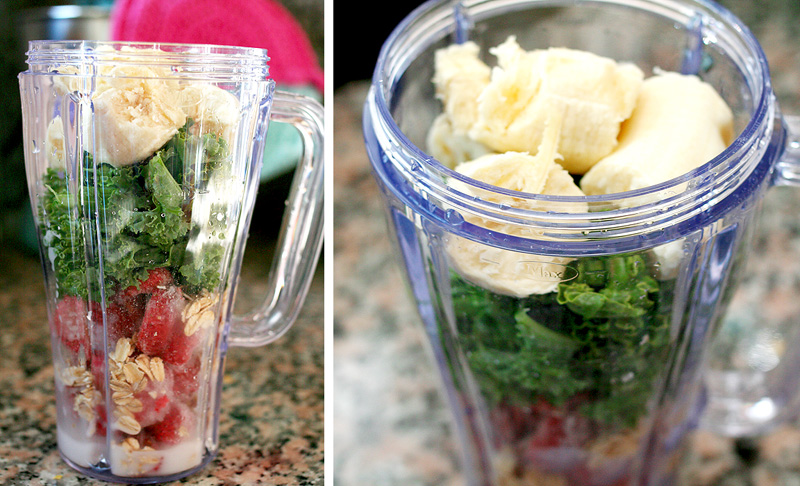 Here's what I put into my very first inaugural smoothie: frozen strawberries, rolled oats, half a banana, 1 big kale leaf with the ribs torn out, chia seeds, and vanilla coconut drink. I zapped this concoction around in my blender, playing with low and high speeds and the pulse function, and like, nothing was blending. I went to Instagram to ask for help, and as it turned out, I simply didn't have enough liquid in there, so I poured in more coconut drink and also like half a cup of plain water. Things really started to whizz around at that point!
Ok ok ok. I know it looks like barf. It had sort of a light brown color and LOTS of green bits in it. Further google-searching has led me to believe that my blender may not be high powered or fancy enough to blend green bits perfectly smooth. Luckily, this falls under the "75% nasty" umbrella, and I can handle chewing through my smoothie a little bit. The flavor was fine, but maybe just a smidge too tart because of all the berries and no sweetener aside from the banana and the sweetener in my coconut milk/drink. The smoothie did end up runnier than I imagined in my head, and I repeated the same mistake the next day. Oh well!
This was today's smoothie: some ice cubes, a banana, rolled oats, 2 TSP of PB2, 2 TSP of cocoa powder, chia seeds, a handful of frozen blueberries, coconut drank, and water.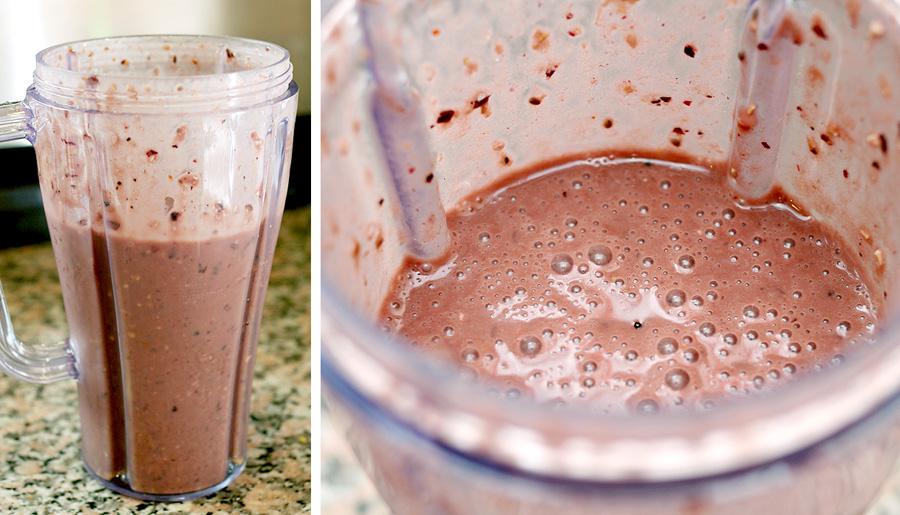 As I mentioned above, it ended up runnier than I would want, but maybe this is just what smoothies are like!? I dunno. I'll try to add less water, but I know if I don't add enough, things just won't blend at all. I am sure I will figure it out eventually! The flavor of this smoothie was interesting. I felt like it had kind of like, a fake sugar taste to it, which I couldn't figure out. It might be my coconut drink, since I haven't actually tasted it on its own yet, but it has cane sugar and no artificial sweeteners, so I'll just blame the blueberries cuz I don't usually eat blueberries… Also, I added honey afterward because it wasn't sweet enough for me, probably due to adding too much water.
Anyway, those are my smoothie adventures so far! If you have favorite recipes, I'm happy to hear them! BTW, this is the blender that my mom got me. This is not a full endorsement, as I am sure there are better blenders out there, but this is the one I got! I like that you only have to clean two pieces (the cup and the blender-blade thingie), and it comes with a travel lid, so you can zap your breakfast and then take it in a car with you. All I need now is a washable/reusable straw!