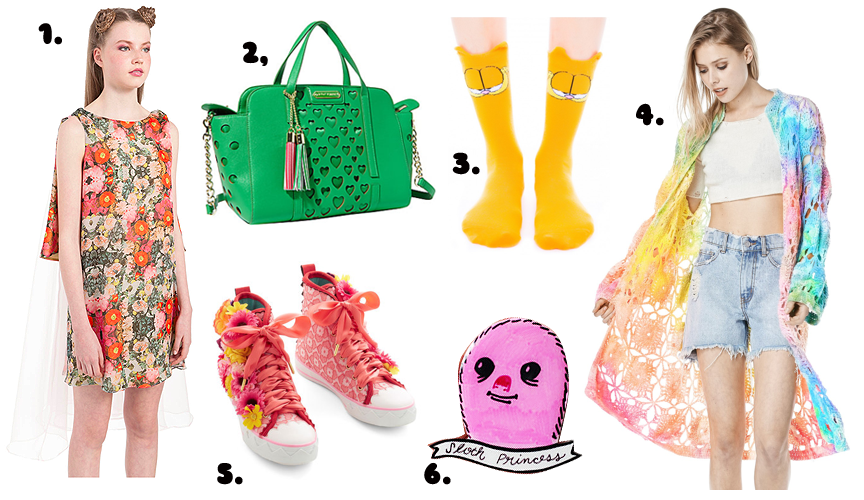 1. You Shall Be Queen Dress – Lady Petrova – This boutique is pretty amazing and fits the bill for any flowery pastel space babe (that's you, too, amirite?).  If you have never visited Lady Petrova, and you like clothes that are kinda out-there and different, it's pretty much a can't-miss.  This dress, while not super pastel, comes with a CAPE, so it WINS. And it's reversible!
2. Open Your Heart Satchel – Betsey Johnson – Still a sucker for Betsey bags, but I realize I must stop buying bags unless I truly deeply and 100%-ly cannot live with out a particular one. Right now I'm using a cheap polka dot tote bag from Target, and it works just fine! Also it's filled with hay from when we ate lunch on a hay bale and Manda dumped her purse inside of mine, spreading hay everywhere.
3. Lazy Oaf x Garfield socks – DollsKill – I have been eyeing these socks since the Lazy Oaf x Garfield collab came out, and somehow I have managed to stop myself from buying them. Maybe I should put them on my bday wish list!
4. Unif Astra Duster – Unif Clothing – I KNOW. GO HOME AND MAKE IT. GO HOME AND MAKE IT. Who has the time to go home and make it…..?
5. Flower Fanatic Sneaker – ModCloth – Irregular Choice always does it right!!! I want to buy some cheap sneakers and cover one in fake flowers and the other in big fake rainbow gems.
6. Sloth Princess Brooch – Modern Girl Blitz – I have no real reasons for this one, except, I just think it's so darn cute!