** Contest and comments are closed! Thank you for participating!!! <3 **
My buddy Andrea and her husband Cliff of Handmake My Day have a fun book out called "The Crafter's Book of Clever Ideas: Awesome Craft Techniques for Handmade Craft Projects." It has 50 projects which take a certain material or technique and offer a "her" project and a "his" project for each. The projects range from easy to advanced (okay, I think anything involving power tools or sewing machines is advanced…) so there is a litle something for everyone, using all kinds of materials and all kinds of methods! You might also recognize Andrea as a winner from Craft Wars that I blogged about before!
I decided to try my hand at a Confetti Launcher project from the book!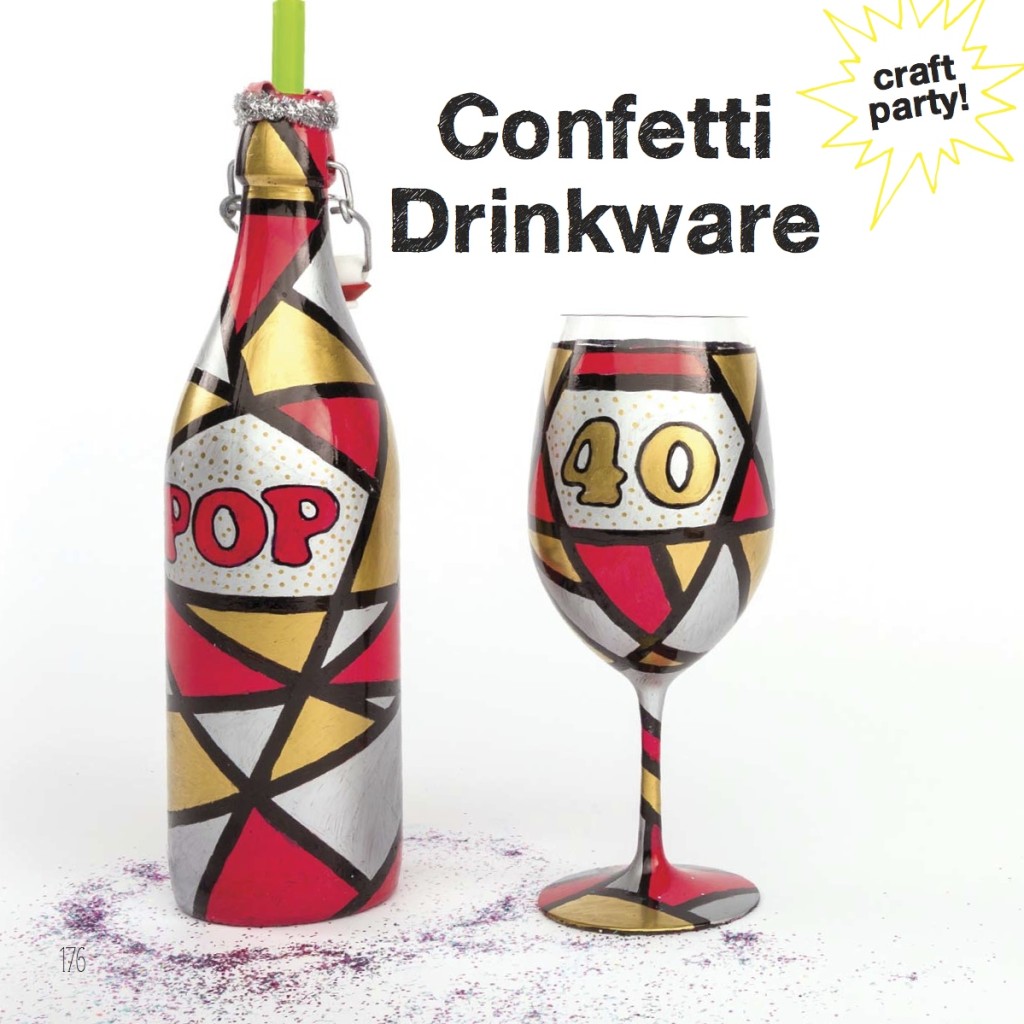 I bought a mini drink bottle (and most of my other supplies) at Michaels. The only thing they lacked were RUBBER BANDS which I picked up at Target. The confetti was a surprise present from The Confetti Bar.
I decided to try the method of bottle painting where you squirt paint inside the bottle and swirl it all around to cover the inside. I discovered that the dry-time on this is about 10 eternities, and my paint is still drying!!! So I can't finish up my confetti launcher yet, because the launching mechanism keeps swiping wet paint off the inside of the bottle! DOH!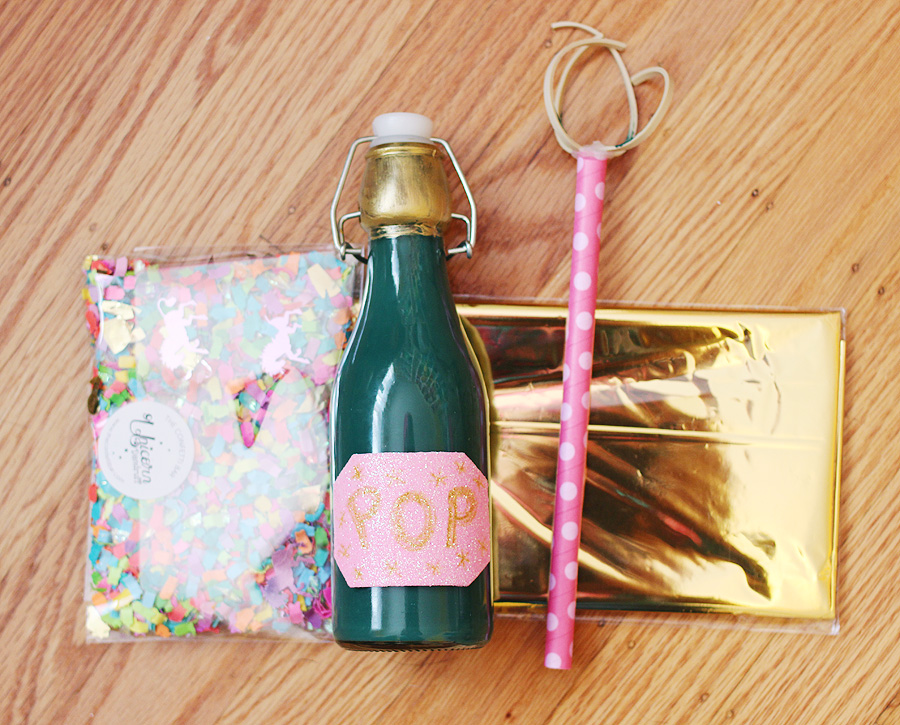 So here's where I'm at, watching paint dry!!! I'll put the whole thing together on April 1 when giveaway winners are announced. That sounds pretty good, right? RIGHT!!!!
I attempted to make my confetti launcher look like a champagne bottle, so, green paint on the inside, and some gold on the outside. I stopped painting the gold on top when I realized it might hinder the gluing I have to do up there later, so I stopped at one messy coat (sorry!). The glitter label is craft foam with an adhesive backing, which REALLY REALLY STICKS TO THE GLASS so be careful while positioning. My gold letters are written in gold gel pen, but I think glitter paper cut-outs would look really nice, too, or, a gold Sharpie.
I personally cannot wait to see this thing in action! **EDIT: Here is a video of me launching my confett popper for the first time! **  I think these would be fun decorations at any party that is celebrating anything at all, and I also think it would be fun to ship it to a friend if you are not able to share a celebration together in person. Here is a fun .gif that Andrea sent me to show you guys how it works! (If the image is not moving, just click on it!)
Are you interested in winning a copy of The Crafter's Book of Clever Ideas? Here are the rules!
Before April 10th you simply need to comment on each blog tour blog post which we will link to as they become available. In total you'll have 9 chances to win a free copy of our book! You can start by leaving a comment on this blog post! New blog posts will be going up every week, so check back often. On April 10th each blogger will randomly choose a commenter from his or her's blog post and contact the winners for address details. Open to US and Canadian residents only.
The Blog Tour Team
Lisa Fulmer: AKA-My crafty Sistah and Craft Wars sidekick
Blog tour link: http://lisalizalou.blogspot.com/2014/03/saturday-with-lisa-march-15-2014.html
Cathie Filian and Steve Piacenza: Our crafty idols
Twinkie Chan: The crochet goddess and quite possibly the love child of a Sunshine Bear and Rainbow Brite
Blog tour link: https://blog.twinkiechan.com/2014/03/26/crafters-book-of-clever-ideas/
Jonathan Fong: An international crafty sensation.
Blog Tour link: http://jonathanfongstyle.com/bacon-and-eggs-keychains-crafters-book-of-clever-ideas-test-run/
Margot Potter: Always amazes the masses with her creative skills.
Blog Tour Link: http://diydoyenne.com/crafters-book-clever-ideas-blog-tour/
Candie Cooper McCoart: Uses her crafty super powers to inspire the world.
Amy Anderson: Known for Mod Podge Rocks and her insanely fun style.
Kathy Cano-Murillo: Otherwise known as the talented and glittery Crafty Chica.
I'll try to keep up as these links go up, but it's probably best to also check Handmake My Day for link updates!
OKAY COMMENT AWAY AND GOOD LUCK!!