I have one copy of an awesome new cookbook to giveaway! Are you ready? It's my buddy Natalie Slater's Bake And Destroy: Good Food for Bad Vegans. I've seen her on TV as a judge on Cupcake Wars, so I think that means she's pretty legit. I'm totally not vegan, but I guess I am a curious and somewhat guilty omnivore. I also have vegan friends, so it will be nice to have some tasty recipes in my back pocket for get-togethers. I had already pre-ordered this book before Natalie contacted me to check out a free copy, but when someone asks if you'll post a recipe for Banana Bread French Toast Cupcakes … YOU SAY YES.
What Natalie may not know… is that … I AM THE WORST BAKER EVER. But I always give it my best! I'm optimistically terrible. And what I like about the recipes as I'm flipping through them is that a lot of them fit on one page. This tricks amateurs like me into thinking that the recipes will be really easy, which I like very much, and it keeps me optimistic. Some morsels that catch my eye are: Totchos (tater tot nachos), Spaghetti Cake with Grandma Sharon's Hater-Proof Sauce, and Whole Wheat Choco-Coconut Donuts! PLUS, the photography is gorgeous AND there are bad-ass illustrations by the one and only Betty Turbo.
And now for your viewing pleasure: Banana Bread French Toast Cupcakes. (My cooking confessions and video summary are below the recipe.)
**********
Makes 12 cupcakes
Ingredients
CUPCAKES:
½ cup (113 g) mashed overripe banana
1 ¼ cups (156 g) all-purpose flour
¼ teaspoon baking soda
1 teaspoon baking powder
1 teaspoon ground cinnamon
½ teaspoon salt
¾ cup (150 g) sugar
1/3  cup (80 ml) canola oil
2⁄3 cup (160 ml) rice or soy milk
1 teaspoon vanilla extract
½ teaspoon almond extract
½ cup (60 g) chopped, toasted walnuts
VEGAN MAPLE BUTTERCREAM FROSTING:
2 cups (250 g) confectioners' sugar
6 tablespoons (85 g) nonhydrogenated vegetable shortening
6 tablespoons (85 g) vegan margarine
2 tablespoons (40 g) pure maple syrup
½ teaspoon maple flavoring
Pinch of salt
Directions
Preheat your oven to 350°F (180°C) and line a twelve-cup muffin pan with paper liners.
Throw your mashed banana in a blender or just smash it with a fork.
Sift the flour, baking soda, baking powder, cinnamon, salt and sugar into a large bowl and mix well.
In a smaller bowl, whisk together the oil, rice milk, vanilla, almond extract and mashed banana.
Stir or fold the wet ingredients into the dry. Small lumps are fine. Finally, add the walnuts, folding gently.
Fill the liners two-thirds full. Bake for 20 to 22 minutes, or until the tops spring back when lightly touched. Let cool in the pan on a wire rack for 10 minutes, then remove from the pan and let cool completely before frosting.
To make the vegan maple buttercream frosting, beat all the ingredients together in a bowl until they're light and fluffy.
**********
Tip: If you have really UNripe bananas like I did, you can slice them and nuke them. I nuked 2 small bananas for 30 seconds. Then you let them sit a little, and they start turning brown. Apparently, according to the internets, the browning is the "ripening."
Okay, Confession #1: I didn't sift the flour because I'm lazy. And also I am house-sitting and have no idea where a sifter is. I know you can use a strainer thingie, but please refer back to the part where I'm lazy.
Confession #2: I used pecans instead of walnuts. I figure this is a preference thing and won't ruin any cupcakes.
Confession #3: I forgot to add aforementioned pecans before spooning the first 3 cupcakes into the cupcake liners…. so I pushed some in with my finger and tried to cover up the evidence.
Confession #4: I didn't toast the pecans. Refer back to the part where I'm lazy.
Confession #5: Let's talk about the bananas again. Soooooooooo after I sliced my bananas and nuked them and mashed them with a fork… I totally forgot to actually measure them out. I just had 2 mashed bananas in a bowl. And then I dumped that bowl into my liquids. And then I saw all those bananas and thought: OOPS. And then….I scooped some out (covered in soy milk and various extracts) and left what I thought COULD be 1/2 a cup of bananas.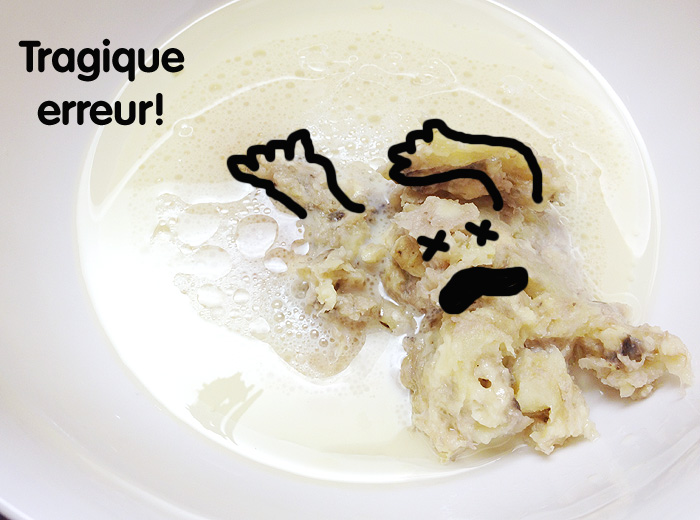 Final thoughts: YUMMMYYYYYY!!!!!!! I see now that the gel-icing moustaches may have been a mistake. The icing was hard to control out of the tube, and I just sort of made a slimy mess everywhere, so I decided to give myself an icing moustache as well, cuz, WHY NOT.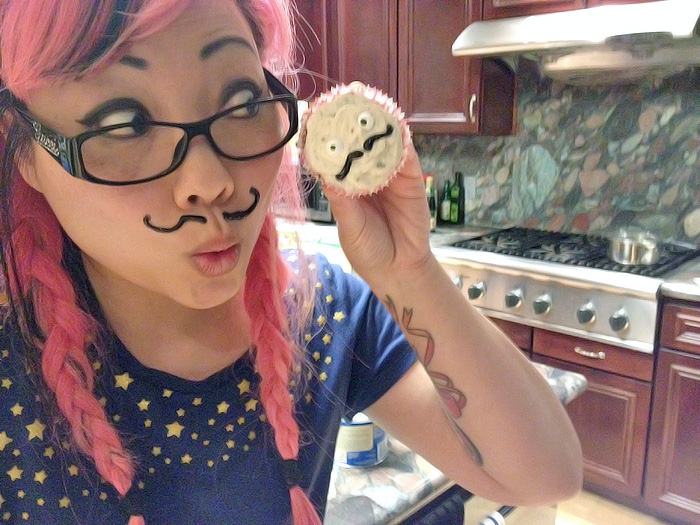 I even eat some of my own moustache in this very informative video:
For a chance to win a copy of Bake And Destroy, follow the options on the Rafflecopter widget! You have until Wednesday night at 11:59pm, September 25th!
a Rafflecopter giveaway